Blush, blusher or rouge is very simple to make. Well, the powdered version at least (see my powder blush recipe). Cream blush on the other hand, required a few failed experiments to say the least. While researching, I found many recipes, and made them all. Most followed the logic of simply mixing homemade blush powder with homemade cream, shea butter or coconut oil. Makes sense right? Cream + blush = cream blush. Nope! The result was always a lumpy, uneven mixture that left an equally inconsistent tint on your face. Fortunately, I do try every recipe that I publish, otherwise I would be sharing something very similar here today.
Let's ditch the "obvious" idea to use cream as a base, and instead turn to glycerine. Botanical powders like berry, beetroot and hibiscus powders infuse perfectly in glycerine and results in a smooth, consistent application that isn't the slightest bit oily. The texture of this blush is more of a gel or serum, rather than a "cream" in the strict sense of the term. So it may be more accurate to call this a gel blush, jelly blush or stain. Below, is a picture of the tint that you can expect if you follow my recipe using açai berry powder.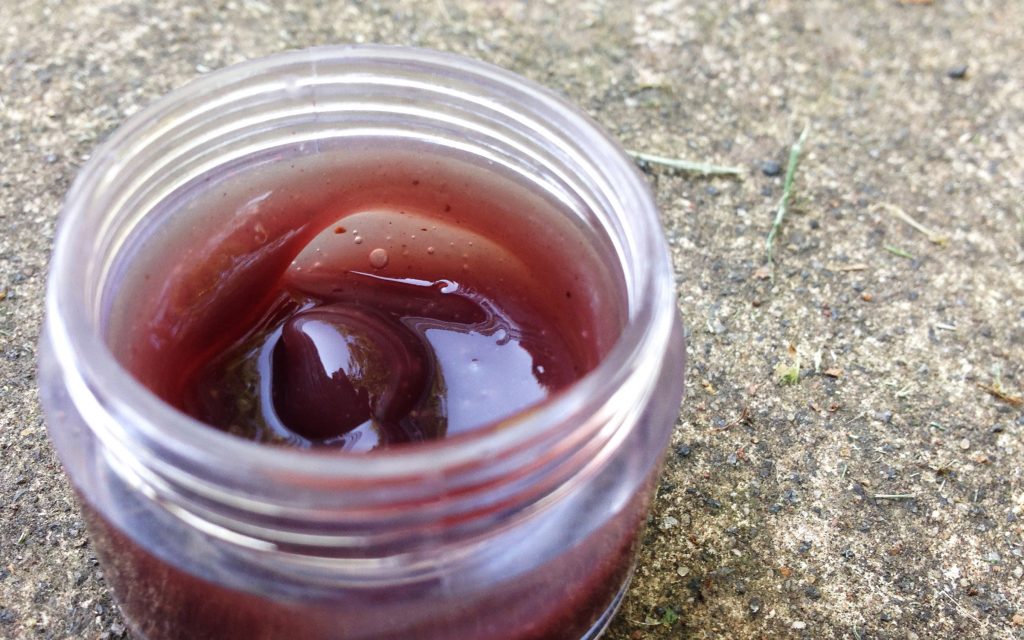 Homemade Blush Recipe (Rouge)

A natural blush (rouge) recipe which uses an açai berry glycerite as the colourant. The texture of this blush resembles a gel or serum.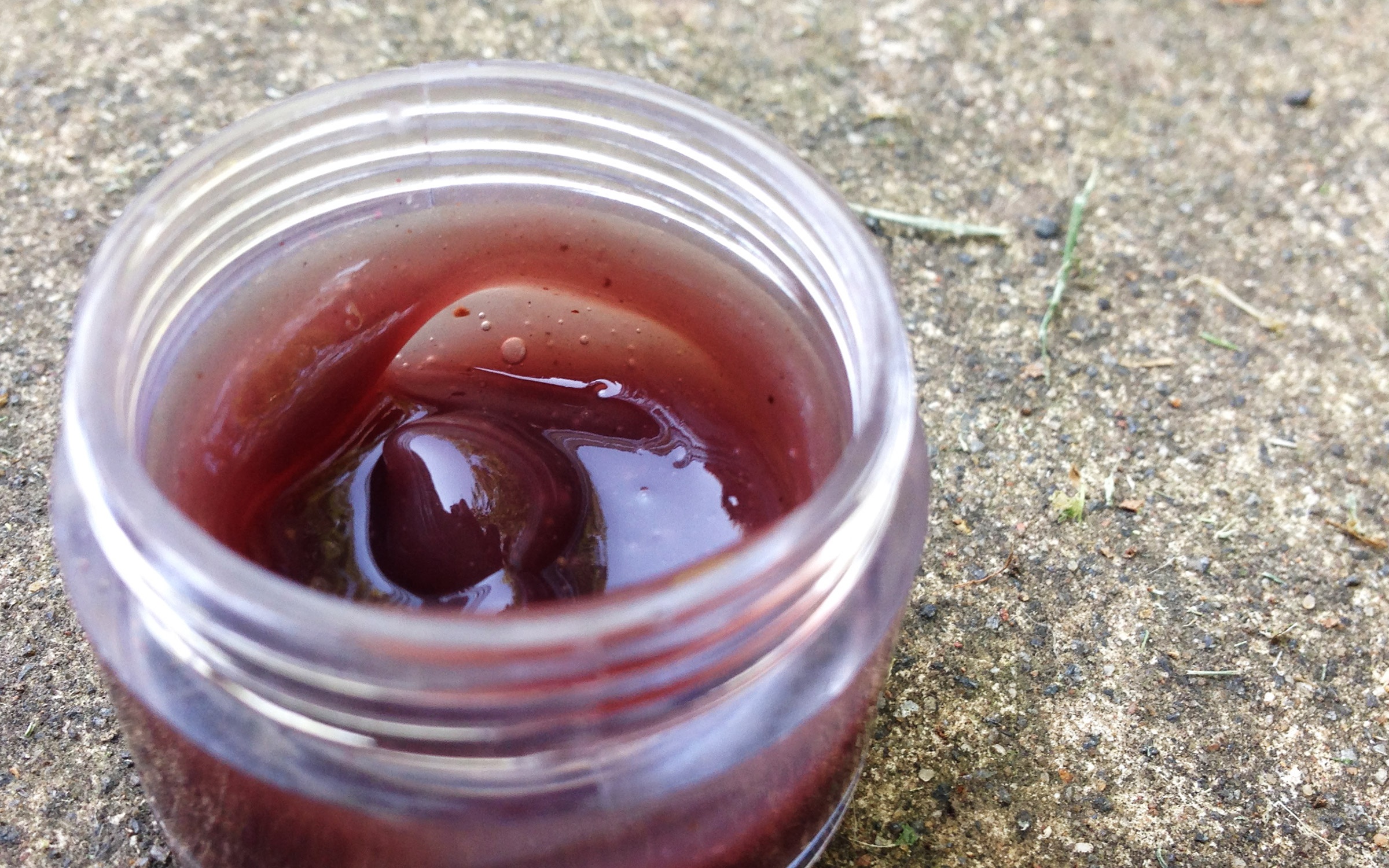 Notes
1.) Substitutes for açai berry powder: Hibiscus powder, beetroot powder, blackcurrant powder or cocoa powder. Any botanical powder of which you like the colour for a blush.
2.) If you don't have aloe vera gel, you can use the glycerite as it is, but you may find that it dries your skin. The aloe vera gel is moisturising and improves the texture of the blush.

Instructions
Makes about 50g.
In a sterilised jar, place the açai berry powder and glycerine. Combine well.
Then add the distilled water to this mixture.
Seal the jar with a lid, and shake well.
Let the jar stand in a cool, dark place for 14 days (2 weeks). Agitate the mixture by shaking it everyday.
Then strain the mixture through coffee filter paper to ensure that no powder is present in your blush. Strain twice if necessary. The strained liquid is called a glycerite.
Stir the aloe vera gel into this strained glycerite.
Transfer your cream blush to a sterilised container, and use within 6 months. Store away from direct sunlight.
© 2020 Copyright Natural Nerd
The glycerine in this recipe is compulsory in order to preserve the product. If you skip the glycerine, you will notice that your cream blush will turn brown within a few hours. This is because açai berry powder is organic matter, and the moisture from the aloe vera will hydrate the berry powder, and turn the mixture brown. Whereas, making a glycerite from açai berry powder will preserve the powder and prevent it from browning.
SUBSTITUTES YOU CAN ALSO USE
If you can't find acai berry powder, or if you prefer the tint of another powder, then you can also use hibiscus powder, beetroot powder, blackcurrant powder or cocoa powder as substitutes.
COST & SHELF LIFE
Cost Price: R10 for 50g
Lasted me about: 60 applications in 6 months.
Estimated shelf life: 6 months (Store in an airtight container away from direct sunlight and moisture).
*Costs accurate at time of writing, and based on the best retail prices I've found.
CHALLENGE
Soft colour: It doesn't provide a strong colour if you are looking to contour your face with makeup. Instead, it just tints/ stains your skin for a more naturally blushed look.
CHERRY ON TOP
Longer stay: Unlike my powder blush recipe, this cream blush does not wipe away as easily. It stays put for longer.
No breakouts: I would always breakout on my cheeks after using synthetic blush. However, this homemade blush keeps my skin as clear as a summer's day.
This can double up as a moisturising lip tint too.
INGREDIENT BENEFITS
Acai berry powder: High in antioxidants which help keep the skin's complexion radiant. (buy here)
Aloe vera gel: Moisturizes the skin without giving it a greasy feel. It contains antioxidants including, beta carotene, vitamin C and E that can help improve the skin's natural firmness and keep the skin hydrated. (buy here)
Glycerine: is a humectant, which means that it draws moisture to the skin, and it functions as a preservative when used as a majority part of a glycerite recipe. (buy here)
Not sure where to find these, or other ingredients? My shopping guide may help you.
I'd love to know how this recipe worked for you? Please share in the comments below.