Apparently, you can tell the true age of a woman by looking at her hands. So I've devised a plan – or should I say, a hand cream recipe that will keep 'em guessing for longer. The skin on the hands is difficult to keep moisturised, because it is thin and has relatively few oil glands. Therefore, it is important to use a cream that readily absorbs into the skin. Many products contain alcohol for this very purpose – to make creams with a lighter texture which absorbs quickly. However, if you've read my quick facts, you'll know why I don't recommend applying alcohol topically to the skin every day. Instead, this recipe incorporates two water-based ingredients to lighten the cream to a texture that is easily absorbed – glycerine and aloe vera gel.
A basic cream recipe that requires easy-to-find ingredients to make a simple emulsion. This cream will absorb into the skin better than an oil-based balm, and will not leave as much of a greasy residue as traditional balms.
Ingredients
Instructions
Makes about 100g. Perfect handbag size.
On the lowest heat setting, heat the vegetable glycerine and aloe vera gel until warm. Heating the ingredients in a double boiler is a good idea, but not absolutely necessary. Be very careful not to overheat or boil the ingredients.
Add the soap to this warm mixture until it is fully incorporated and dissolved.
In a separate pot, heat the beeswax and sweet almond oil until all the beeswax has melted. Be careful not to overheat or boil the ingredients.
When the contents of both pots are approximately the same warm temperature (~70'C), combine them. In other words, add the soap mixture to the oil mixture.
Stir vigorously with a whisk, and continuously until it cools to a warm room temperature (approx. 40'C).
While the mixture is still warm (~40'C), add the vitamin E oil, and continue whisking.
Once completely cooled down to room temperature, stir in the essential oils.
Transfer your cream into a sterilised container. Do not seal with a lid until the cream is completely cooled down to prevent condensation.
Store away from direct sunlight for up to 1 month. To extend this shelf life to 6 months, add 0.5ml of Geogard 221 (preservative) before adding the essential oils in step 8.
Notes
1.) The following essential oils will help extend the shelf life of this product, as they have antimicrobial properties (but they are not preservatives): Origanum, Eucalyptus, Cumin, Lavender, Lemongrass.
2.) The following essential oils are good for dry hands: Rose, geranium, lemon, sandalwood, carrot seed, patcholi.
3.) My personal essential oil blend: 5 drops origanum, 5 drops lemongrass, 5 drops lemon, 5 drops sandalwood.
4.) How to make your own double boiler: You need a pot and a heat proof bowl, or two pots. Fill a pot about half way with water. Once the water has come to a boil, place your heat-proof bowl on top of the pot of water. Leave the stove on a low heat. Place your ingredients in the suspended bowl, and wait for the ingredients to melt. It's that simple. It's the same concept as melting chocolate.
https://naturalnerd.co.za/hand-cream/
This recipe is the intellectual property of Natural Nerd, and is intended for non-commercial, personal use only. To publish or sell it without the author's permission is a violation of copyright law. You may make and sell the products, but you may not publish or sell my recipes.
COST & SHELF LIFE
Cost Price: R40 per 100g
Lasted me about: 1 month (using every day)
Estimated shelf life: 1 month (stored in an airtight container away from moisture and direct sunlight). If you add 0.5ml of Geogard 221, the shelf life will extend to 3-6 months.
*Costs accurate at time of writing, and based on the best retail prices I've found.
CHALLENGE
Cost: Adding aloe vera gel makes this hand cream a bit more costly than my other standard moisturiser recipes, which only require a nourishing oil and beeswax.
CHERRY ON TOP
Texture: this recipe has more of that "cream" texture you're used to. It's light, quickly absorbed and doesn't leave an oily residue.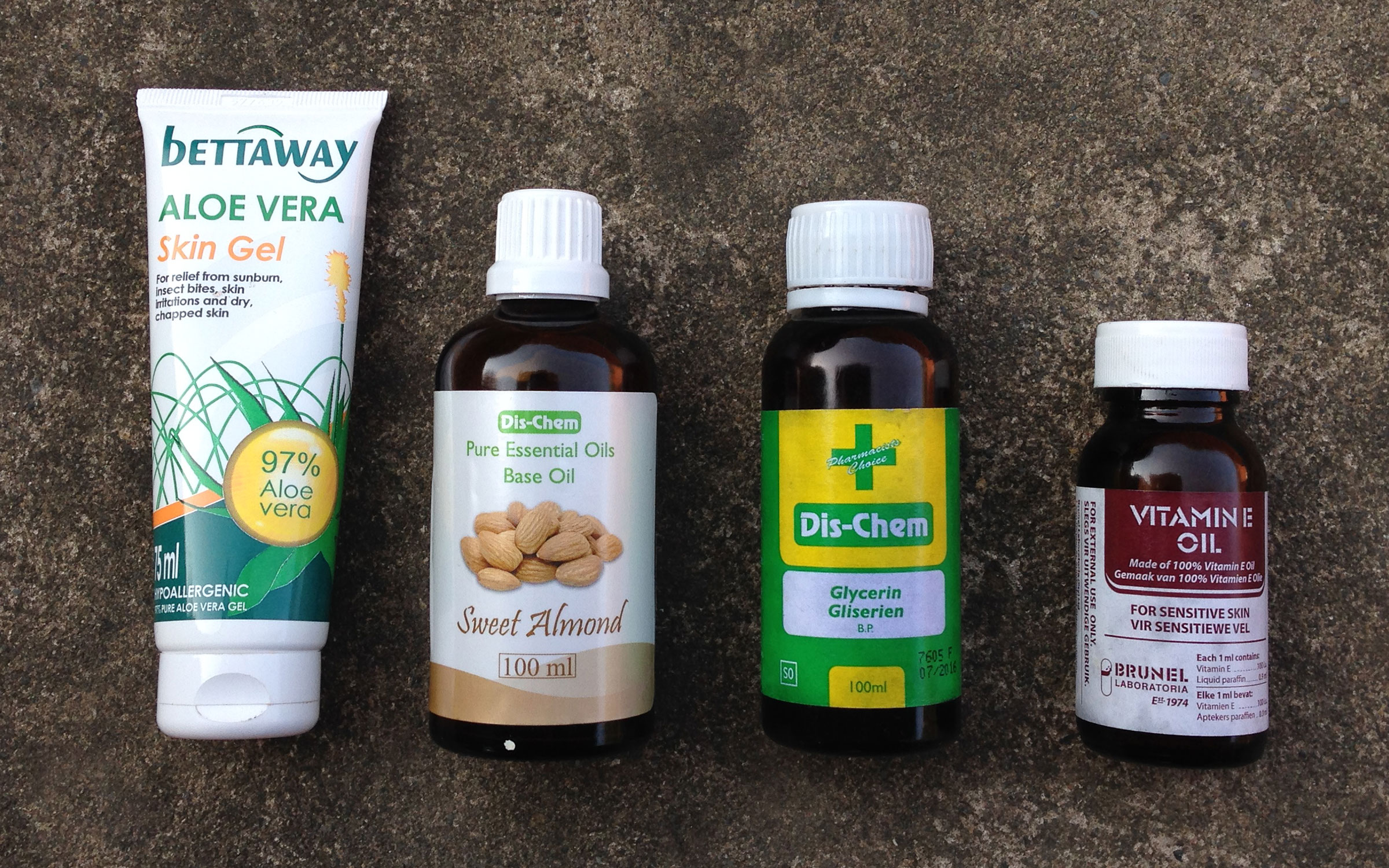 INGREDIENT BENEFITS
I managed to find sweet almond oil, vitamin E, glycerine and aloe vera gel all at Dischem. Plus Dischem sells essential oils too. Not sure where to find other ingredients? My shopping guide may help you. If you are pregnant or new to using essential oils, please read how to use them safely.
Which natural remedies keep your hands soft? Please share in the comments below.