Jump to recipe
Attempting to thicken my homemade liquid soap, I ended up with shaving cream instead. I call it a "Fortunate Flop". Many other DIY shaving cream recipes involve mixing oils/ butters with a bit of soap. Having tried that approach, I was always left with a greasy razor and an oil-ring around my bathtub. It just didn't work for me. This recipe, on the other hand, contains no oily residues, yet it is a moisturising and super foamy shaving cream that is unlike any DIY recipe you'll find online.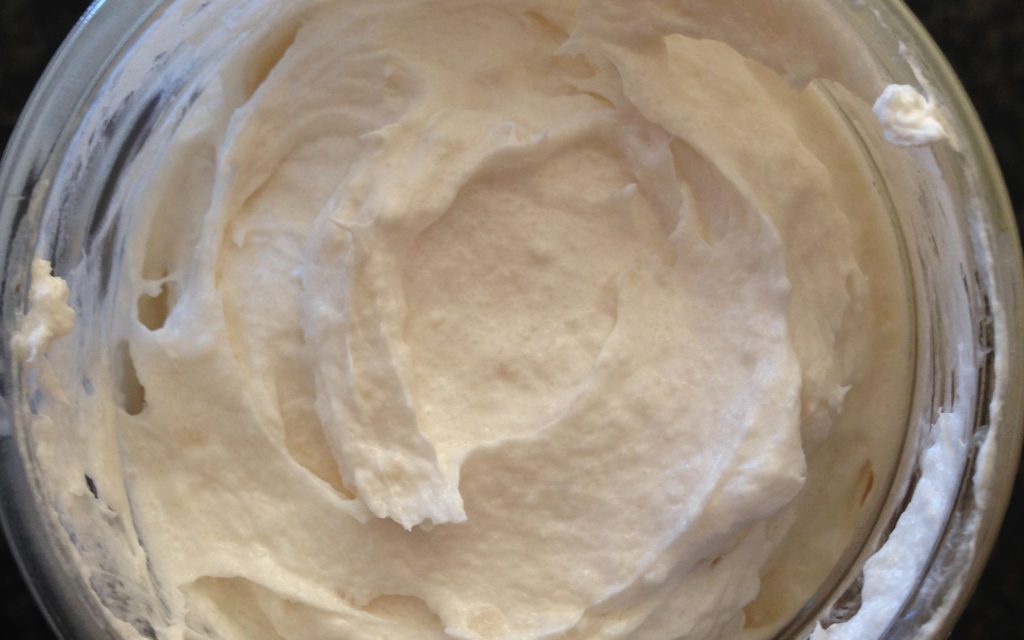 Foaming Shaving Cream

A natural shaving cream recipe with a foamy lather, which also gently moisturises and soothes razor burn.

Instructions
Makes about 300ml.
In a pot, heat liquid soap on the stove on medium heat until it gets hot (to a low boil/simmer). Don't let it get to a rapid boil. Lower heat or remove from heat if it gets too hot. You just want to maintain a simmer throughout the recipe.
Dissolve salt in the boiled distilled water.
Add salt solution to the hot soap and whisk gently with a fork/whisk for 5 minutes. The mixture will get bubbly.
In a separate bowl, combine the glycerine and xanthan gum together to form a paste.
Add the paste to the soap mixture and stir until well incorporated.
Whisk with a fork for a further 5-10 minutes. The mixture will get thicker and even more bubbly.
Remove from heat and allow to cool to room temperature. Whisk occasionally during the cool down phase.
Stir in the lavender essential oil when the mixture has cooled.
Allow it to set overnight. You will see final texture in +/- 12 hours.
Pour the mixture into your desired container (sterilised preferably).
Use within 6 months. Store away from direct sunlight and try to avoid getting water inside the product to extend its shelf life (i.e. don't dip your dirty or wet hands into the product, use a spoon or store in a pump bottle).
Recipe variations
Liquid soap made from coconut oil: You can use any natural liquid soap. Just don't expect it to lather up as well. Remember, you can make it yourself too – here's my recipe. If you'd prefer to buy a liquid soap for DIY, then here are my top 3 recommendations:
The Bear Necessities fragrance-free liquid soap: This is undoubtedly the best liquid soap on the natural market. It is the most effective, it has the best lather, and it is one of the most affordable too. This is by far my first recommendation if you are looking for a liquid soap to use for all your DIY recipes. It will also be the best product to use for this specific recipe.
Dr Bronner's Liquid Soap: This soap contains many different oils and additives, and has received many positive reviews online. However, it is expensive, since it has been imported from the USA. It also doesn't lather as well as The Bear Necessities liquid soap, but this would be my second choice.
Pure Simple Fragrance-free Liquid Soap: This is an olive oil based soap (castile), which means it does not lather very well, so it won't foam up a lot (if at all). But it will still work in this recipe.
Essential oils: You can use any essential oil in this recipe. Other good alternatives include chamomile, sandalwood, geranium, tea tree and frankincense.
COST & SHELF LIFE
Cost Price: R38.47 per 300ml.
Lasted me about: 3 months using once per week. I needed about one teaspoon for both underarms, and about a tablespoon for each full leg. So I was using about 2.5 tablespoons per week.
Estimated shelf life: 6 months if you store away from direct sunlight and moisture. This applies if you use my homemade liquid soap recipe. I cannot speak for other liquid soaps.
*Costs accurate at the time of writing, and based on the best retail prices I've found.
CHALLENGE
To truly make this recipe from scratch, you will need to make liquid soap from scratch first, which is a much longer process than when you already have natural liquid soap on hand.
This recipe may separate into layers in hot climates. To fix, simply shake or stir.
CHERRY ON TOP
No oily residue, yet moisturising and gentle on skin.
Great lather that is incredibly foamy.
The lavender soothes razor burn, cuts and prevents rashes and breakouts on skin.
If you use homemade liquid soap (like I have), you bring the cost of this recipe way down, and it will be significantly cheaper than buying natural (and even some unnatural) shaving creams.
INGREDIENTS
Important note: If you are new to using essential oils, please read more about how to use essential oils safely here. Need help finding these, or other ingredients? My shopping guide may help you.
RECOMMENDED RETAIL OPTIONS
If you don't want to make it yourself, then these are some natural shaving cream products which you can buy. They are, however, more pricey than making it yourself:
Best reviews & Certified Organic:
Pure Beginnings Shave Crème ingredients: Glycerin, aqua (water), sorbitol, decyl glucoside, lauryl glucoside, sesamum indicum (sesame) seed oil, aloe barbadensis (aloe vera) leaf extract, xanthan gum, simmondsia chinensis (jojoba) seed oil, hydrolyzed wheat protein, inulin, guar hydroxypropyltrimonium chloride, allantoin, citrullus lanatus (kalahari melon) seed oil, mentha piperita (peppermint) oil, menthol, citric acid, rosmarinus officinalis (rosemary) leaf oil*, benzyl alcohol, dehydroacetic acid, tocopherol, gaultheria procumbens (wintergreen) leaf oil, eucalyptus globulus leaf oil, linalool, limonene.
Simplest natural ingredients:
Earthsap tea tree shaving cream ingredients: Water, cetyl alcohol, stearic acid, glycerine, tea tree oil, mint oil, lemon oil, lavender oil.
Do you think that this is an effective shaving cream? If you've tried it, please share your feedback in the comments below.