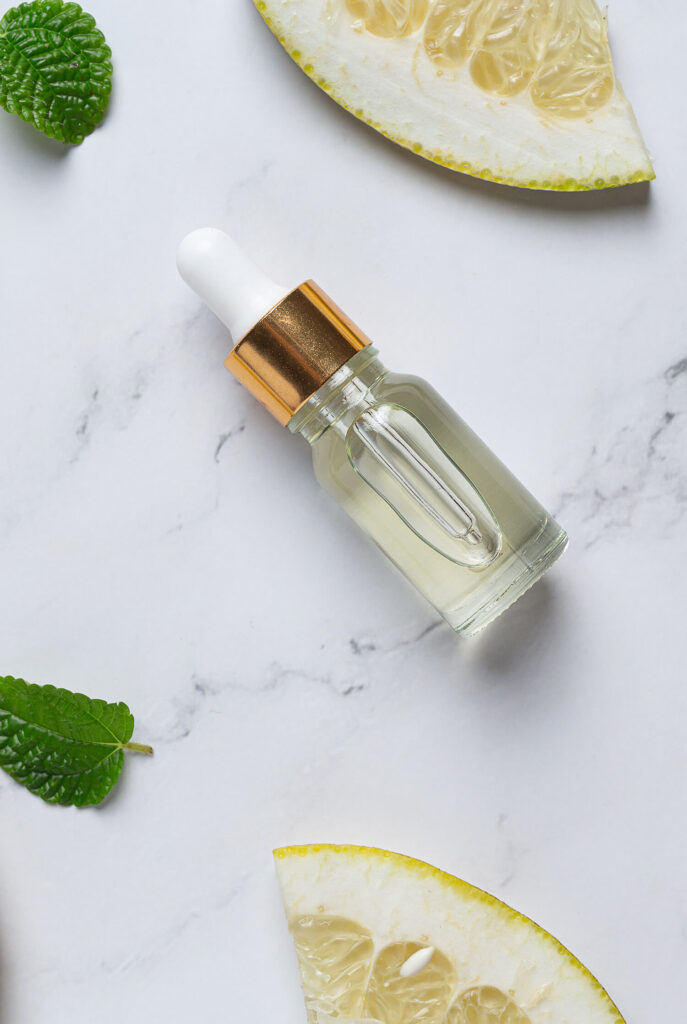 Hydrating Hyaluronic Serum

A light-weight serum that delivers water-based active ingredients for conditioned skin.

Instructions
Makes 100g.

Phase A:

Combine the hydrosol, d-panthenol and wheat protein. Stir until the (very) thick d-panthenol gel is dissolved.

Phase B:

In a separate bowl, combine the glycerine with your broad-spectrum preservative (1g Geogard Ultra powder).

Combine Phase A & B:

Stir this glycerine mixture into the rose water phase. It may take a little while for Geogard Ultra powder to dissolve completely. Cover & let stand until the preservative is dissolved.

Phase C:

Once the preservative is dissolved, add the hyaluronic acid powder and stir gently. Leave your spoon in the bowl to avoid removing hyaluronic acid from the bowl.
Allow the hyaluronic acid to dissolve by covering your bowl of serum (with spoon inside) with foil / cling wrap and allow to stand overnight.

The next day:

Your serum should be completely transparent and slightly thicker, and the hyaluronic acid powder should be completely dissolved. Stir well to ensure that everything is evenly distributed.

Test the pH

of your serum and, if necessary, correct to between pH 5 and 5.5. Do this step when everything is dissolved. Due to my chosen preservative, my serum was too acidic testing at pH 3. To correct, I added ~2 drops of a 25% NaOH solution.
Transfer into a sterilised bottle. Store away from direct sunlight and use within 3 months.
Notes
Preservatives:
You may use any water-soluble broad spectrum preservative, but bear in mind that each preservative has different applications and usage rates. So make sure to read the manufacturer's directions and adjust the recipe accordingly. The preservative is necessary, since there is water in this recipe. Water invites bacteria. Without the preservative this product will have a shelf life of one day, even if it's kept in the refrigerator. Without a preservative; dangerous bacteria, fungus, mould and yeast will start to grow.
pH Testing:
Correcting the pH is necessary in order to make sure that the preservative is effective, and that the product matches the pH of human skin. You can test with pH strips or a digital pH meter.
If you use a different preservative, you will likely get a different pH. If you test the pH and it is too high, then add a few drops of a 25% citric acid solution to correct it downwards.
If you are concerned about using sodium hydroxide to correct the pH upwards, you can use a 50% sodium bicarbonate solution instead. I don't know how much you'll need. Mix in a few drops at a time, retest and repeat until you get between pH 5 and pH 5.5.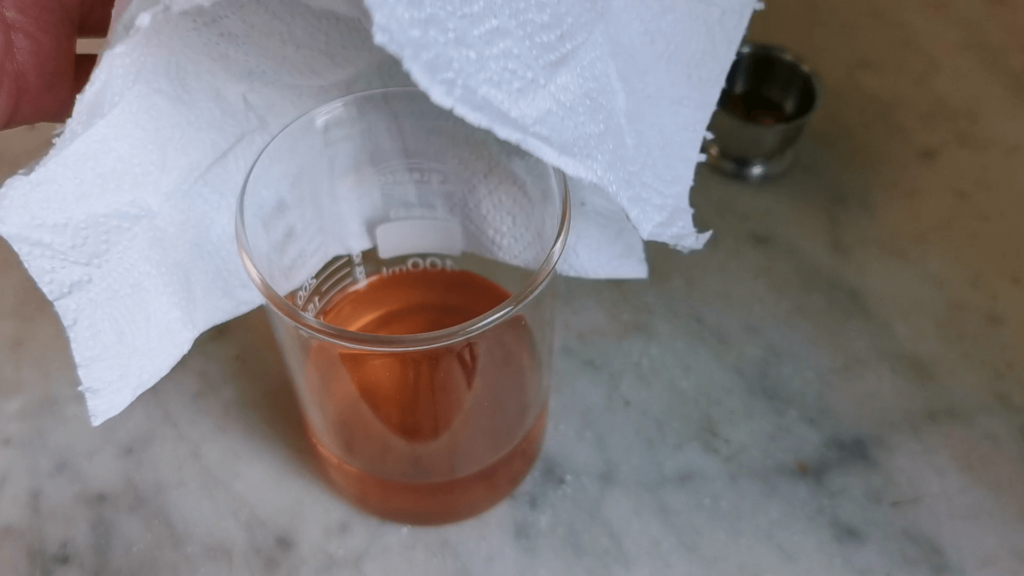 Substitutions
Rose Hydrosol
You can substitute the rose hydrosol for any hydrosol, rose water, or plain distilled / deionised water.
I chose rose hydrosol for its skincare properties and subtle fragrance. If you'd prefer a more masculine scent, then frankincense hydrosol makes a great substitute while delivering similar skincare benefits for dry skin.
The difference between rose hydrosol and rose water is that the hydrosol is the distilled by-product of manufacturing rose essential oil. Whereas, rose water is made by dispersing rose extract, fragrance or essential oils into distilled water. The best rose waters use rose essential oil. Avoid those that use synthetic rose fragrance, parfum or alcohol.
Vegetable Glycerine
If you're not vegan, you can use ordinary glycerine that is commonly found in most pharmacies.
I always substitute the plain vegetable glycerine with a hydroglycerin extract (also known as a glycerite). Here, I used a blueberry glycerite for added antioxidants. If you're a seasoned formulator, glycerites are a great way to add beneficial plant extracts without essential oils. Read more about how to make glycerites here. If you're still a newbie, stick to plain glycerine – it's far simpler.
If you find the product too sticky for your skin, you can reduce the amount of glycerine to suit your preferences, and then increase the water so that the recipe still balances to 100g. I don't recommend increasing the glycerine content, because the product will become too sticky.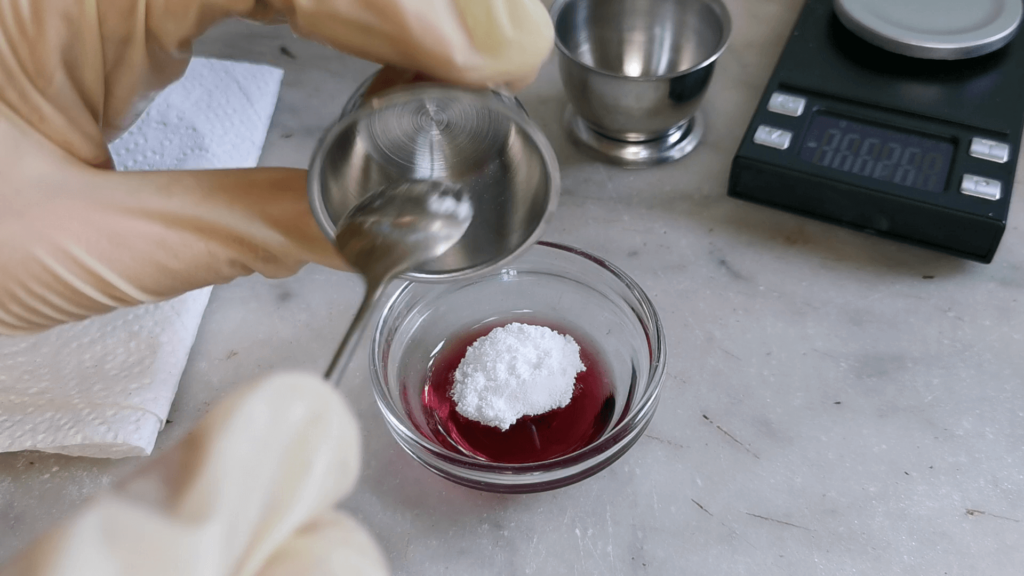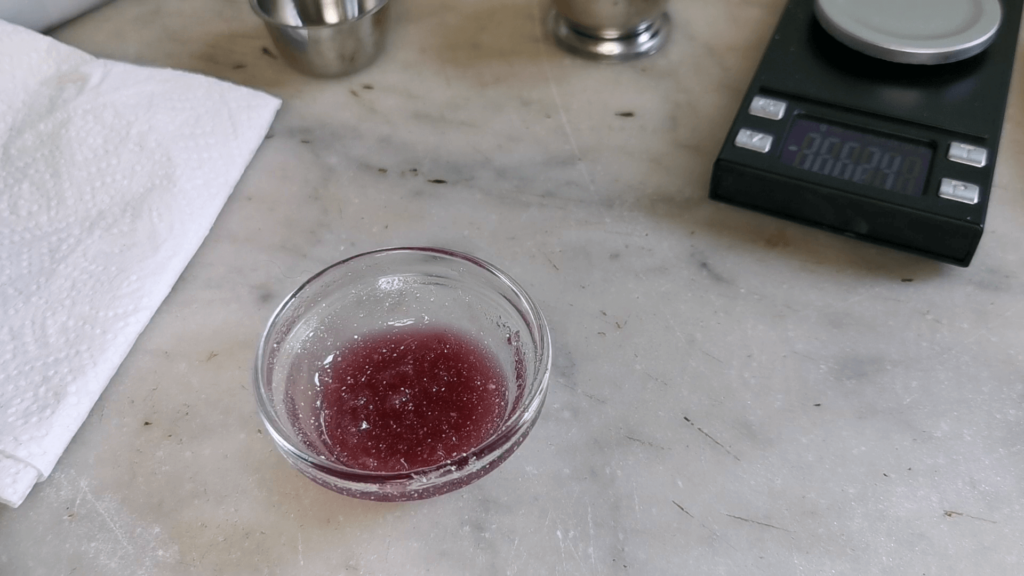 Active Ingredients
You can substitute the hydrolysed wheat protein with another hydrolysed protein like rice, oat, hemp or keratin protein.
You can use another weight of hyaluronic acid instead of high-molecular weight (HMW), but the product won't thicken.
You may exclude any of the active ingredients (d-panthenol, hyaluronic acid, hydrolysed wheat protein), but bear in mind that you'll have a completely different product.
If you exclude anything, then you must increase the quantity of water accordingly so that it always balances to 100g total.
Geogard Ultra Preservative
You cannot exclude the preservative, but you can replace it. You may use a different water-soluble preservative, but remember to adjust the quantity and method to match your preservative's requirements (including the pH). Check the manufacturer's instructions to determine how you need to change my recipe.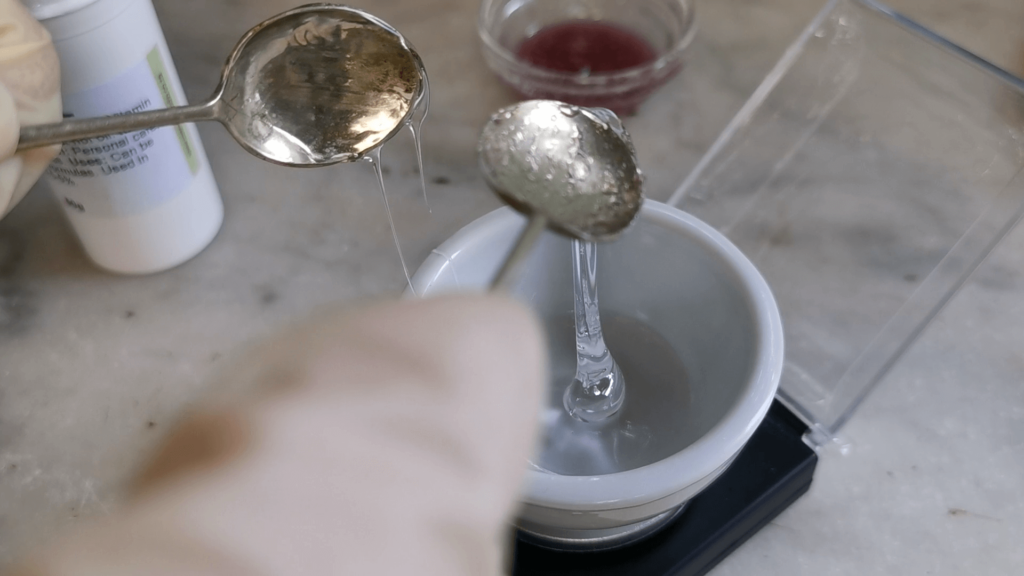 Cost & Shelf Life
Cost price:
R132 per 100g serum recipe.
However, serums are usually sold in smaller batches of 10ml or 30ml. To illustrate the price difference, this recipe works out to R13.20 per 10ml, which is light-years away from R179 per 10ml when you buy the closest retail equivalent.
The recipe can be made even cheaper by using a good rose water instead of a hydrosol.
This is based on the retail prices of ingredients at the time of writing in 2023.

Lasted me about: 2 months using every morning and night on my face, neck and décolletage.
Shelf life: 3 months if stored away from direct sunlight, and made with sterilised equipment & packaging.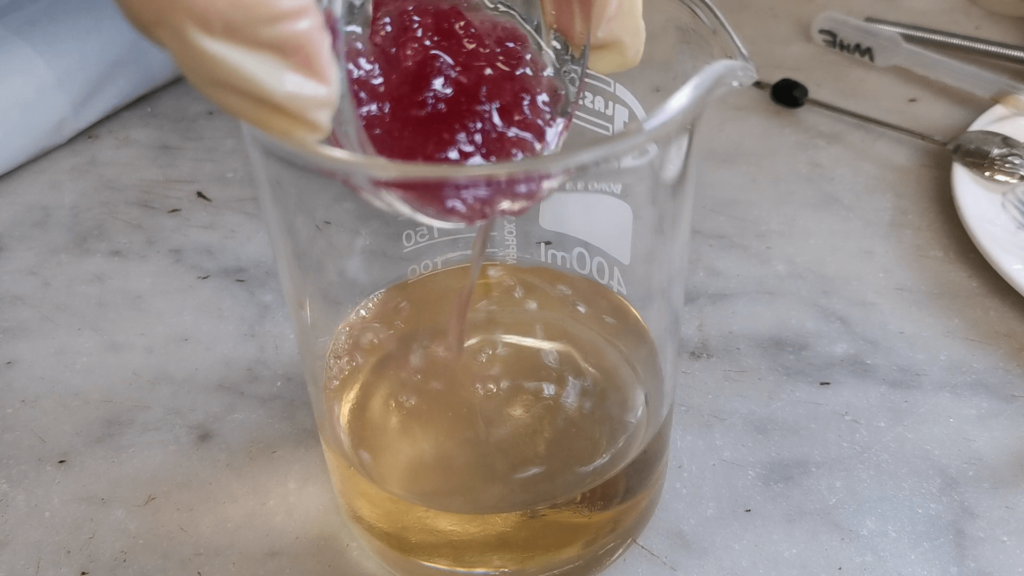 Challenge
Glycerine stickiness: Depending on your skin type, the product may feel too sticky for you. It is perfect for my dehydrated skin. You may have to reduce the glycerine content to suit your own preferences.
Suppliers: Depending on where you're from, it may be more challenging to find the active ingredients in small batch sizes.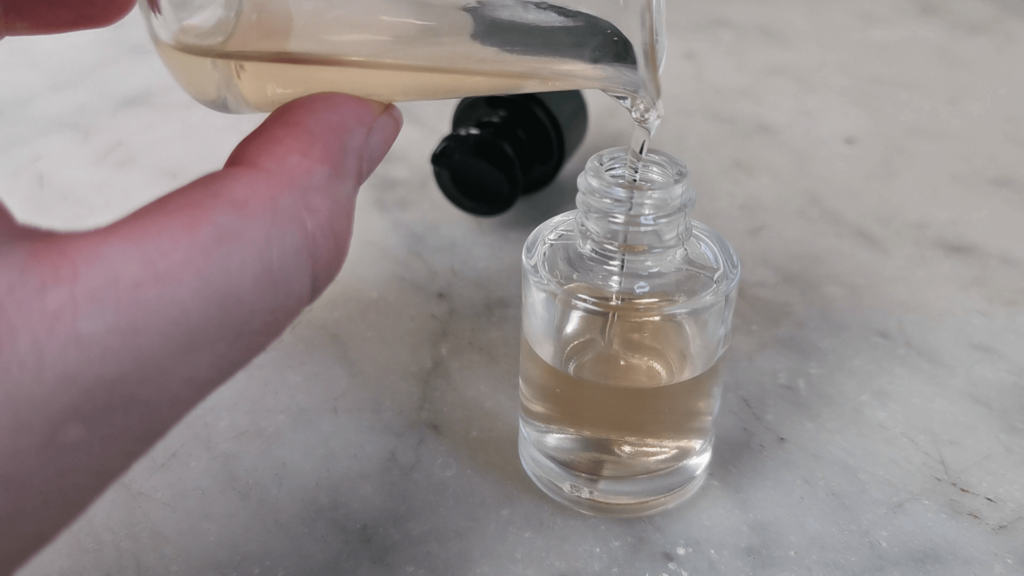 Cherry on Top
Light, non-greasy and fast absorbing.
Can be layered with other skincare products (after toner, and before moisturiser).
Significantly cheaper than buying a serum with the same active ingredients.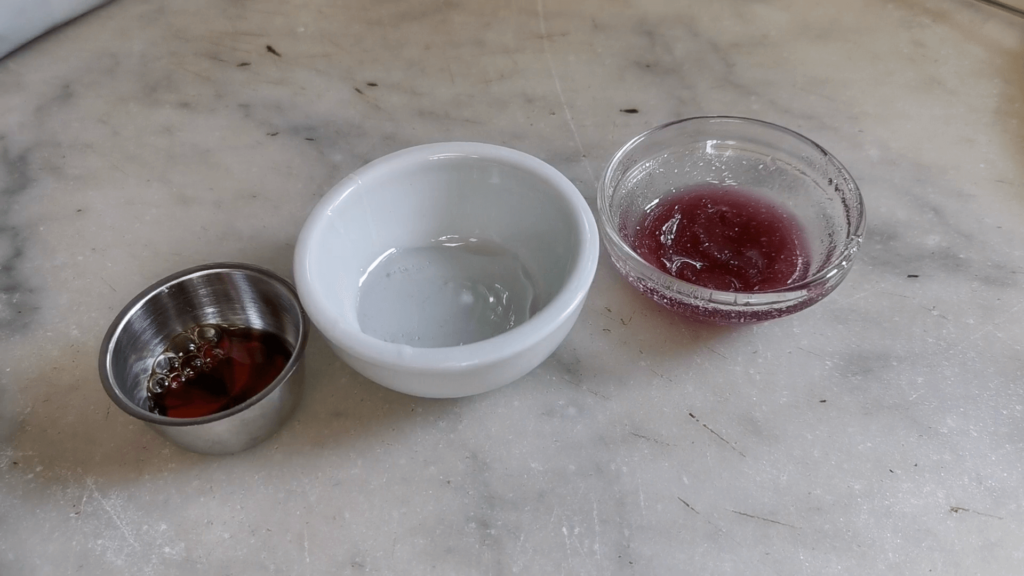 Ingredient Information
Recommended Retail Option
If you don't want to make it yourself, then you can consider buying Eleven2 Hyaluronic Acid Serum. Based on the ingredient list alone, this is the closest natural product to my recipe (in South Africa). It contains rose hydrosol, glycerine, hyaluronic acid, d-panthenol and the same preservative. The product reviews are positive.
Did you follow this recipe exactly, or did you make some substitutions? Let me know in the comments below.