Who doesn't want to bath in milk? Vegans perhaps. Well, this is a plant-based recipe. So now that everyone can submerge themselves in a latte, I'd better clarify that this is not the kind of milk you should add to your morning cup of coffee. It's called a bath milk, because it resembles the colour and texture of milk. Although some people actually add cow's milk to their bath-time ritual, this recipe uses plant-based ingredients to provide more benefits and a better spa experience. Epsom salts and sea salt will ease your muscles, detoxify your skin and help you sleep, while the olive oil and vegetable glycerine soften and moisturise your skin.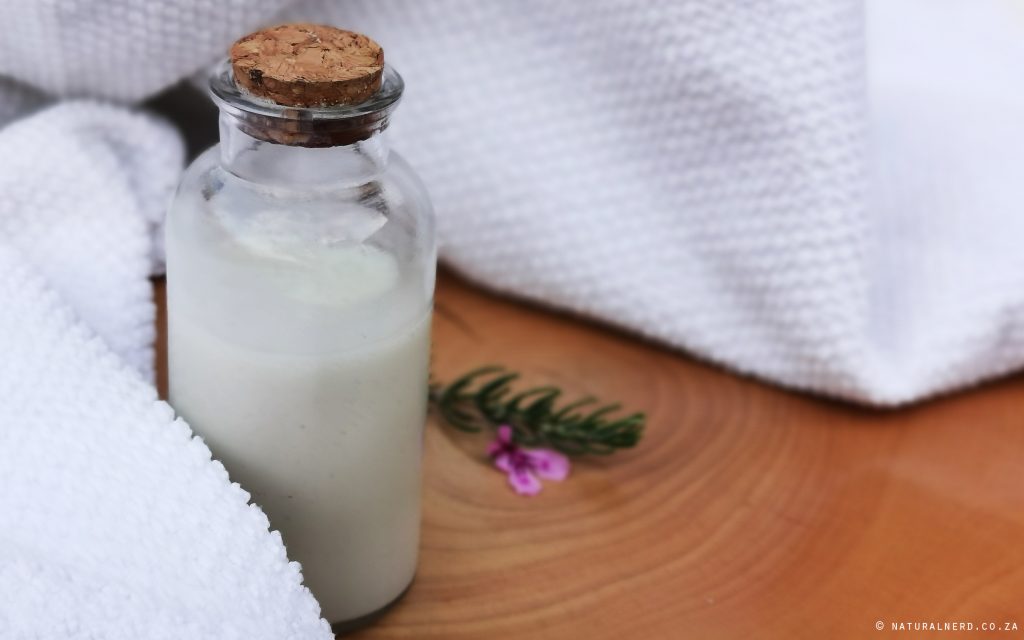 Liquid Bath Milk

Vegan-friendly bath milk recipe that will condition your skin. Makes a great gift too.

Ingredients
Water Phase:
Oil Phase:
Cool Down Phase:
Equipment & Tools:
Instructions
Makes 200g bath milk. This recipe must be followed in weight (grams).
Place olive oil and Eco E-wax into one pot.
Place distilled water, glycerine, salt and epsom salt in one pot together into a separate pot. So you should have one pot with oil, and one pot with water phase ingredients.
Start to heat the contents of both pots at exactly the same time, on the lowest heat setting.
Stir the water phase thoroughly to dissolve the salt and epsom salts as best you can.
Do not allow the ingredients in either pot to boil. The contents should get hot, but not boiling hot. The ideal temperature is ~70'C. If you can't get both pots to the same temperature, rather have the water phase hotter.
Once the water pot approaches boiling point and you see the first air bubbles, remove from heat, and then combine the contents of both pots by adding the oil phase to the water phase.
Whisk manually for 2 minutes, or blend for 30 seconds, until you see that the oil has combined with the water and the mixture is evenly white and creamy. This is your bath milk.
Set aside to cool down to room temperature. Do not cover with a lid.
Once the bath milk has cooled down completely, add the Geogard 221 preservative. Mix this in very well so that it is evenly distributed.
Then add your essential oils and mix thoroughly.
Test the pH, and if the pH is above 6, add a few drops of citric acid solution to bring it down until it is at least pH6. In order for the preservative (Geogard) to be effective, the pH must be between pH3-6.
Using a funnel, transfer your bath milk into a sterilised container, and store away from direct sunlight. Use within 3 months.
Notes
How to use Geogard Ultra in this recipe : If you don't have Geogard 221, and you want to use Geogard Ultra then dissolve the Geogard Ultra powder into part of the distilled water (about 10g), and set aside. Add that solution in step 10 during cool down phase. I recommend dissolving Geogard Ultra in hot distilled water – it's quicker. Example: If you are dissolving Geogard Ultra in 10g water, then you will only be using 87g water in the water phase (i.e. 97 minus 10).

Recipe variations
Oil substitutes:
You may substitute the olive oil with any other oil that is liquid at room temperature. Avoid using solid oils like coconut oil, shea butter and avocado butter, because they may form solid white clumps of oil in the bath.
Adding essential oils:
You may add up to 5ml of essential oils to this milk bath, or you may exclude essential oils for a fragrance-free bath milk.
Changing quantities:
If you want to make a bigger batch, you may multiply the quantities. For example, multiply all ingredients by 5 to make one kilogram of bath milk. The same instructions apply.
COST & SHELF LIFE
Cost Price: R11.64 per 200g (in 2019, based on the best retail prices I've found. Price excludes essential oils).
Lasted me about: 2 baths using half a bottle (100g) each time. You can add more or less to your bath.
Estimated shelf life: 3 months if you include the preservative, and store away from direct sunlight. Without the preservative, this bath milk only has a shelf life of 1 week when stored in the refrigerator. Please note that adding ingredients like vitamin E oil and anti-bacterial essential oils will not effectively preserve your product.
CHALLENGE
The 3 month shelf life may not be what you are used to. That's why I recommend making a small 200g batch, which is enough for 2 baths. I think it's realistic to expect that you'll take at least 2 baths in 3 months? If not, consider halving the recipe for 100g (1 bath).
CHERRY ON TOP
This recipe is vegan.
The Epsom salts in this recipe will ease sore muscles and help you sleep.
The sea salt in this recipe will detoxify your skin and boost your skin's health.
Good idea for a gift.
INGREDIENTS
Need help finding these, or other ingredients? My shopping guide may help you.
What do you think of this bath milk recipe? If you've tried it, please share your feedback in the comments below.