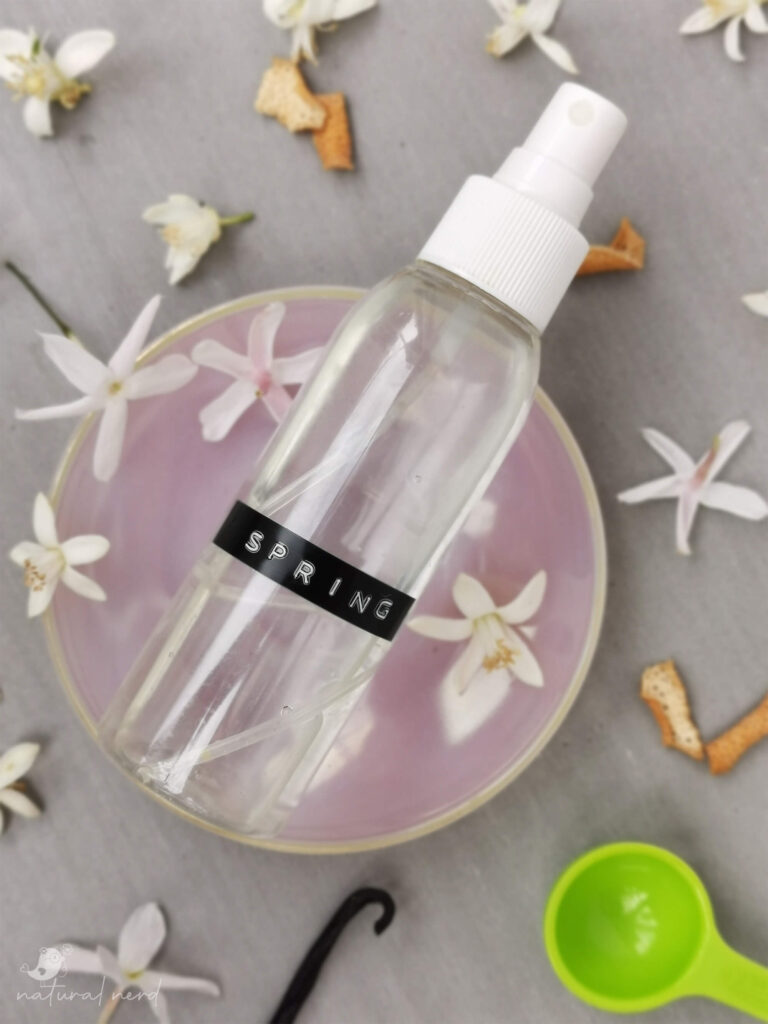 Stop and smell the roses, or your orange tree. Seriously, go and harvest the blooming blossoms in your garden to make this fragrant body mist. Capture the scent of spring, and continue to enjoy your handmade 'spring-in-a-bottle' after the season has passed (without essential oils). This recipe serves as both a subtle body spray and a hydrating toner.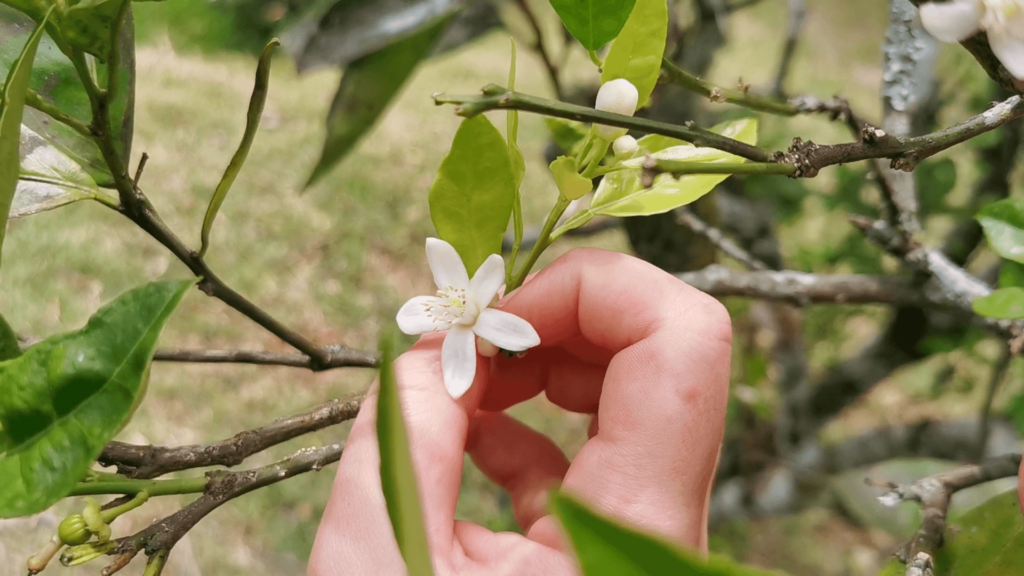 Have you ever sniffed your orange tree? Everyone wants homegrown oranges, but the flowers are often overlooked. The delicate Neroli fragrance of an orange blossom is truly unique – a harmony of floral and citrus notes. On a similar note, our jasmine bush permeates its perfume throughout our property in the first weeks of spring. Hence, my garden provides the blossoms for this body mist (their skincare properties are just a bonus), however, you can use any (safe) flowers for this recipe.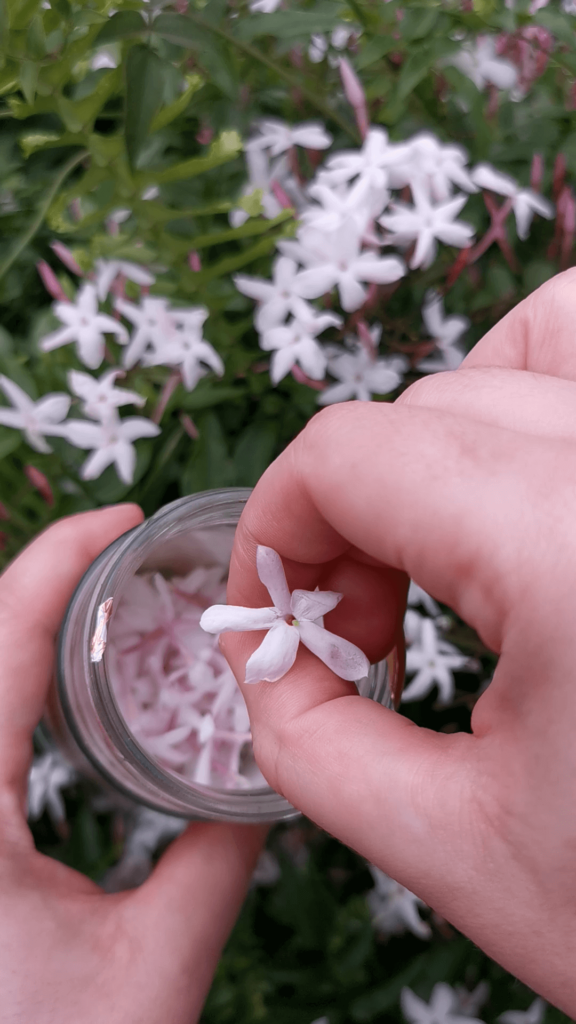 Spring Bloom Body Mist

A fragrant body mist made with homemade floral extracts that will also hydrate your skin.

Ingredients
For The Body Mist:
For The Jasmine Glycerite:
For The Orange Blossom Glycerite:
Instructions
Makes 100g.

Make both flower glycerites:

About 1 week before you make the body mist, you will first need to make your flower extracts. Using sterilised equipment, make each extract by pouring the vegetable glycerine over the flowers in sterilised jars. Close the jars with sterilised lids, and let it infuse for 5-7 days away from direct sunlight. If using fresh flowers, rinse them first and let air dry.
After 5-7 days, strain the extracts through coffee filter paper or a fine cheese cloth into sterilised containers for permanent storage up to 3 months in the refrigerator.

Make the body mist:

Measure out 5g of the jasmine extract and 5g of the orange blossom extract for your body mist.
Combine the two glycerine extracts and vanilla extract (if using).

Preserve:

Add your broad spectrum preservative (1g Geogard Ultra) to the glycerine blend. Stir well.
Stir in the hydrosol until the glycerine paste is thoroughly distributed.
It may take a little while for Geogard Ultra powder to completely dissolve. Cover and let it sit until completely dissolved before pH testing.

Test the pH

of your spray and if necessary correct to between pH 5 and 5.5. Due to my chosen preservative, my spray was too acidic testing at pH 3.4. To correct, I added ~10 drops of a 25% NaOH solution.
Transfer into a sterilised bottle. Store away from direct sunlight and use within 3 months.

To Use:

Spray onto your skin before getting dressed, or while in your swimming costume to cool-off & hydrate.
Notes
Please confirm that your jasmine variety is safe. There are varieties of jasmine that are toxic to humans. If you are unsure, rather just use store-bought jasmine that is sold as a herbal tea.

Preservatives:
You may use any water-soluble broad spectrum preservative, but bear in mind that each preservative has different applications and usage rates. So make sure to read the manufacturer's directions and adjust the recipe accordingly.
The preservative is necessary, since there is water in this recipe. Water invites bacteria. Without the preservative this product will have a shelf life of one day, even if it's kept in the refrigerator. Without a preservative; dangerous bacteria, fungus, mould and yeast will start to grow.
pH Testing
Correcting the pH is necessary in order to make sure that the preservative is effective, and that the product matches the pH of human skin. You can test with pH strips or a digital pH meter.
If you use a different preservative, you will likely get a different pH. If you test the pH and it is too high, then add a few drops of a 25% citric acid solution to correct it downwards.
If you are concerned about using sodium hydroxide to correct the pH upwards, you can use a 50% sodium bicarbonate solution instead. I don't know how much you'll need. Mix in a few drops at a time, retest and repeat until you get between pH 5 and pH 5.5.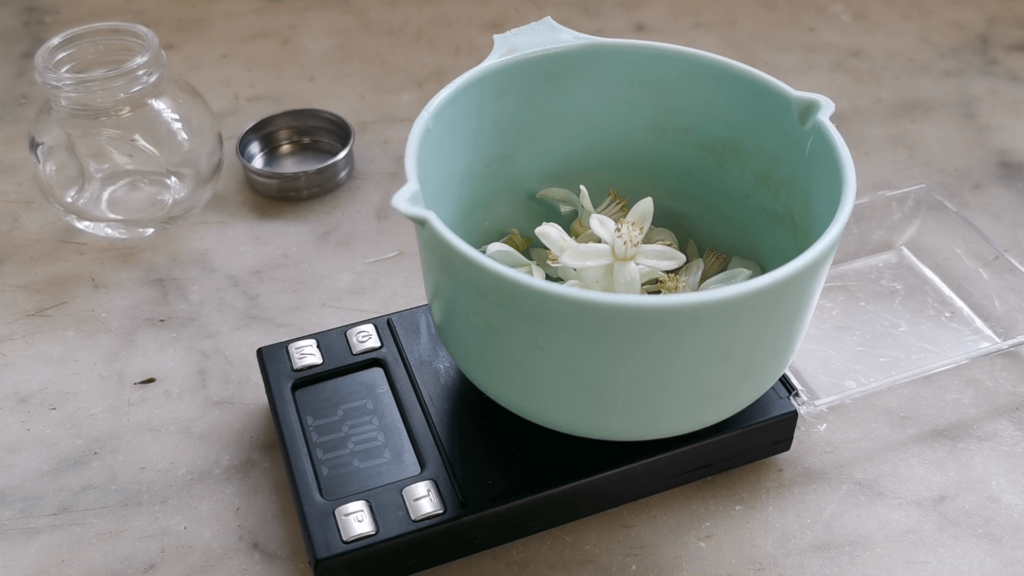 Substitutions
The foundation of this recipe combines glycerine and distilled water. You can be creative and develop your own body mist by combining any version these. You can substitute the geranium hydrosol for any hydrosol, or even plain distilled water. You can substitute the jasmine and orange blossom glycerites for any glycerite, or even plain glycerine. You can't use tap water, because it will compromise your preservative's efficacy from the start. Obviously, your body mist will have a completely different fragrance to this recipe.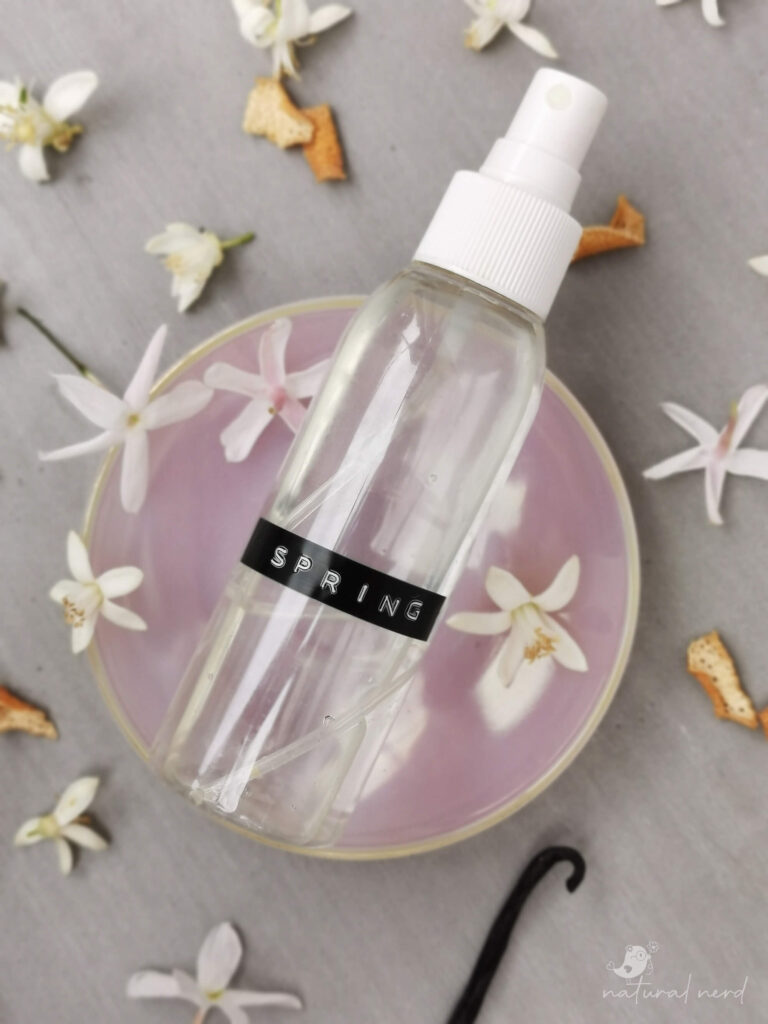 NB: Only Use Safe Flowers!
Don't just harvest anything from your garden, because it smells good! Please make sure that the flowers you use are safe for humans. Your skin absorbs toxins into your blood stream. There are flowers that are common in many gardens and nurseries that are poisonous to humans. For example, all parts of the Oleander plant are toxic to humans. Yet, Oleander is a common sight in gardens and you will often see it decorating the roadsides in South Africa, because it's a pretty plant that animals won't eat. Only use what you know you can eat! And just because you can eat the root, leaves or stem of a plant doesn't mean that it's flowers are safe. For example, Rhuburb stalks are safe to eat, but it's leaves can kill you! There are also varieties of jasmine that are poisonous, like yellow jasmine (gelsemium sempervirens). Please do your research, or use store-bought blossoms that are sold as herbal teas.
You can reduce the amount of glycerine to suit your preferences, and then increase the hydrosol so that the recipe still balances to 100g. I don't recommend increasing the glycerine content, because your skin will likely feel sticky.
Just remember to preserve your product with any water-soluble, broad-spectrum preservative, and pH correct to match the preservative's requirements (and your skin's pH). That is non-negotiable, unless you will be using the entire product on the same day.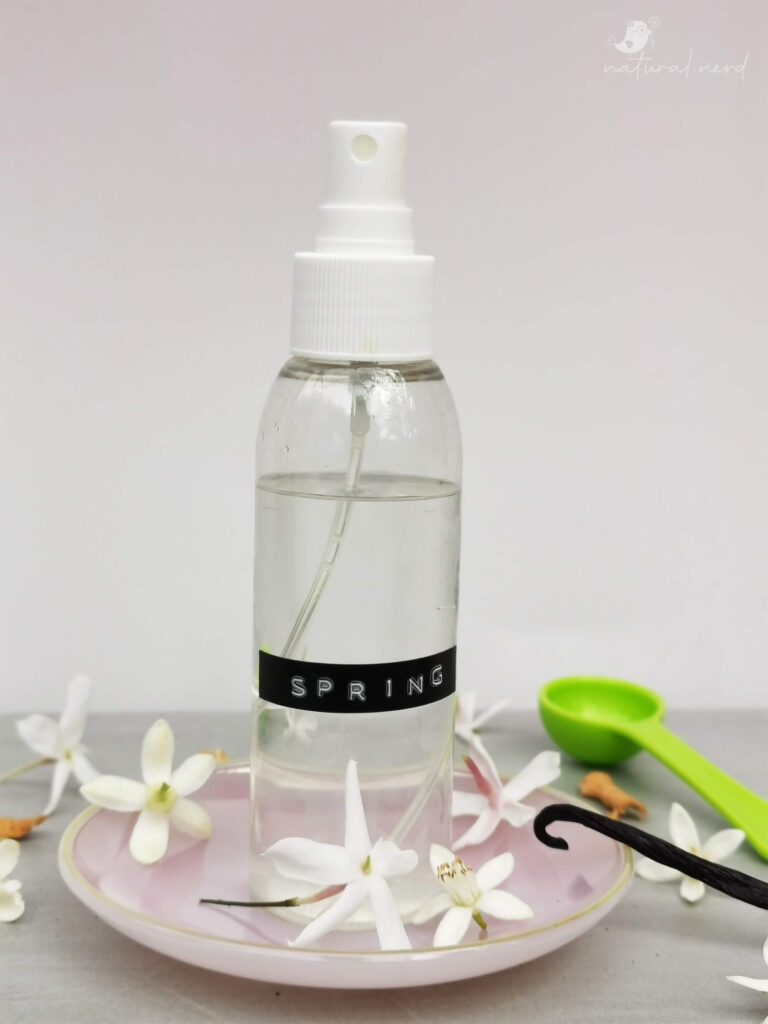 Cost & Shelf Life
Cost price: R56 per 100g recipe if you use jasmine and orange blossoms from your garden, or about R61 per 100g if you buy the dried flowers. This is based on the average retail prices of ingredients at the time of writing in 2022.
Lasted me about: 1 month using every morning before getting dressed.
Shelf life: 3 months if stored away from direct sunlight, and made with sterilised equipment & packaging.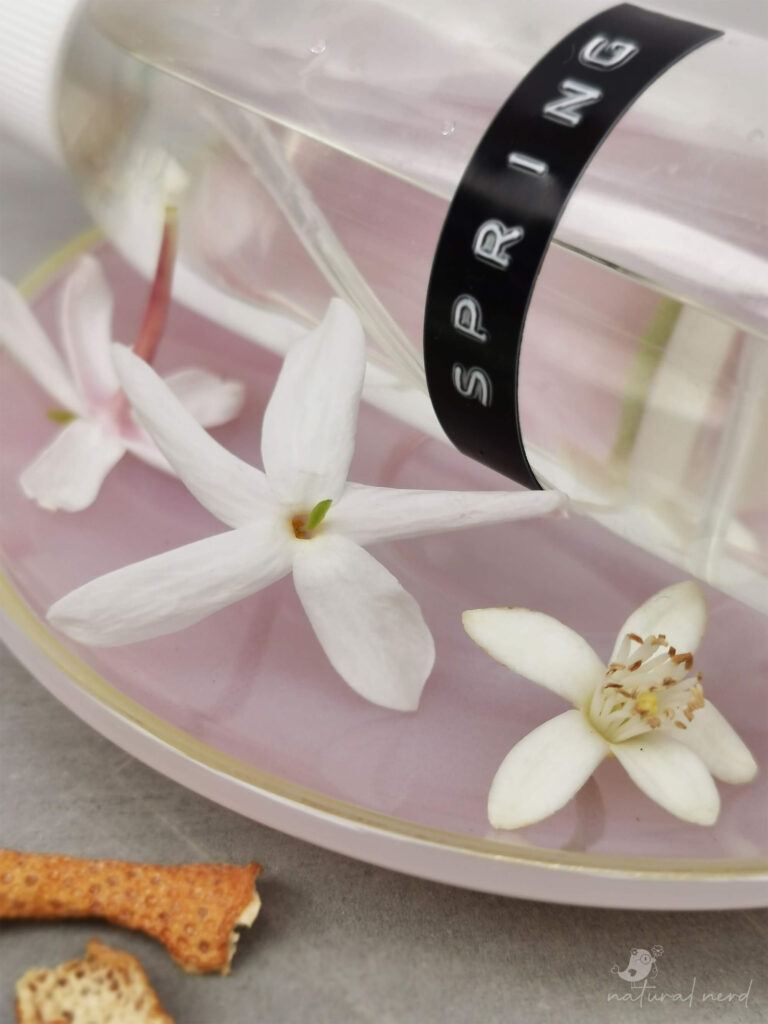 Challenge
Time to make extracts: This recipe requires you to make the extracts first, instead of just mixing ready-made ingredients. The extracts require 5-7 days plus extra patience while straining it through filter paper.
You may not like jasmine. Apparently it's a fragrance that people either love or hate.
Cherry on Top
Plant-based & vegan recipe.
Hydrating.
Happy Days: There is evidence to suggest that the aroma of each flower used in this recipe can improve your mood (jasmine, geranium and orange blossom).
Spritz & cool-off on a hot summer day.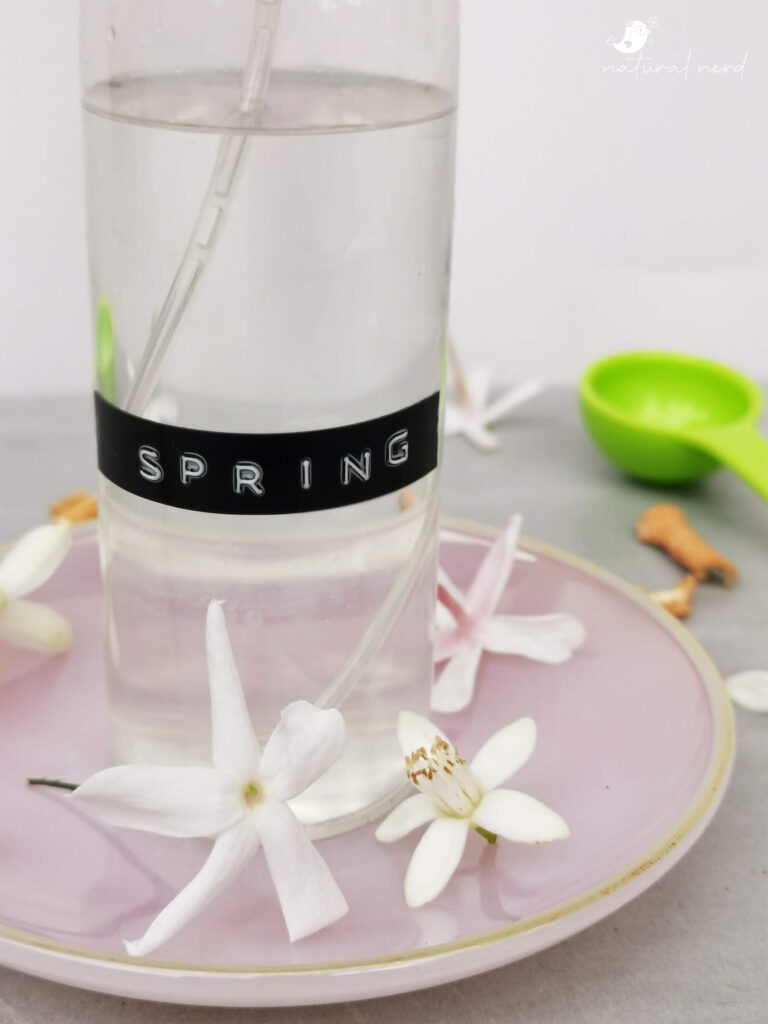 Ingredient Information
Recommended Retail Option
If you don't want to make it yourself, then you can consider buying Naturals Beauty Essential Collection Face Mist. This product is well reviewed, and contains a blend of botanical distillates: orange blossom water, rose geranium hydrosol and witch hazel. Without a humectant like glycerine, this product won't be as hydrating as my recipe – which perhaps is what you're looking for if you have oily skin.
Which floral extracts have you used for this recipe, and did you harvest or buy the flowers? Let me know in the comments below.