Ever eaten six carrots a day for two weeks? I did. I was told it would clear my bad skin, but all it did was leave me with a cringe at the sight of the crunchy, orange vegetable.
Like many, I had tried and was willing to try everything – expensive skin care products, vitamin A, Roaccutane and yes, even the carrot thing. But nothing. And just before I was about to reluctantly go on a second trial of Roaccutane, I decided to at least try one more suggestion that was cheaper, and that had no horrible side effects.
…Honey.
See, I told you this was simple.
I washed my face with raw honey every morning and used it as a mask each evening, and after two weeks my skin had radically cleared and had already appeared more smooth and vibrant. Long term, the honey has helped lighten my scars and has kept breakouts away indefinitely. I don't even have to wear foundation to cover up any more! Now that I've tackled my problem skin, I use my anti-aging face wash (I will share this recipe soon!).
You can just use raw honey alone, or you can give your wash an even bigger kick by adding a few, easy to find optional ingredients in the recipe below.
Cost & Shelf life
Lasted me about: 3 months (using every day)
Estimated shelf life: 6 months
Remember: Most of these ingredients have a long shelf life and are common in natural recipes, so you will be left with ingredients to make more recipes, and won't have to buy everything all over again.
*Costs accurate at time of writing this blog post. Costs based on the best available prices I've personally found.
Challenge
It's sticky, but at least honey dissolves very easily with water.
Cherry on top
Most times, I don't feel like I need to moisturise afterwards.
INGREDIENT BENEFITS
Raw honey: Antiseptic, antibacterial, soothing, healing, reduces scars, moisturises, anti-inflammatory. (buy here)
Lemon juice: Diminishes scars, heals acne, gentle exfoliant, tones skin.
Vitamin E oil: Diminishes scars, promotes intense healing of damaged tissue, moisturises.
Cinnamon: Helps dry out oily skin.
Tea tree EO: Reduces sebum production and fights off the acne causing bacteria (buy here).
Lavender EO: Inhibits bacteria, regulates over secretion of sebum, reduces inflammation and reduces the signs of scarring (buy here).
Not sure which brand to buy, and where to buy it? My shopping guide may help you.
Recipe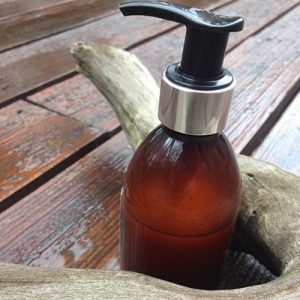 Honey face wash for acne
2015-04-24 20:15:30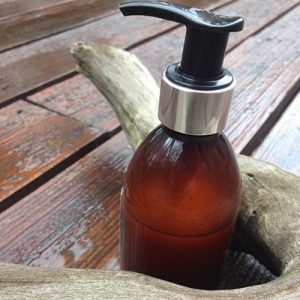 Ingredients
300g Raw untreated honey
5 tablespoons Fresh lemon juice
1 teaspoon Vitamin E oil
5 drops Tea tree essential oil
5 drops Lavender EO
2 drops Cinnamon EO (or 1 teaspoon ground cinnamon)
Instructions
Makes 250ml.
Like many of my recipes, just mix it all up, and put into a pretty container. It's that simple folks!
Pour into a container of your choice. Glass is always best, but recycling an old container is a good idea too.
For best results
1) Use raw, untreated and unheated honey - not the processed stuff that's everywhere. Raw honey that's straight out of the beehive is thick, like a spread and it is not clear. Also, be careful, I once bought a bunch of raw honey online and it was clear and thin like syrup, and I eventually found out that it's because it was heat treated.
2) The face wash will separate into layers, as with most of my natural recipes. Just shake well before using.
3) If you add cinnamon, keep the face wash away from your eyes as cinnamon can be irritating/ burning if it gets into your eyes. Avoid using every day if the cinnamon irritates your skin – try only using once a week. Alternatively you could do what I do, and add the cinnamon to a bit of the face wash mixture in your hand, and use as a mask once a week.
4) Try keep it on for a minimum of 2 minutes before washing off, but the longer you leave it on, the better. I leave mine on for almost an hour every other night.
5) This face wash doesn't wash off make-up very well, it's more of a skin treatment that works like a mask. You'll have to use my natural make-up remover/ toner for that, which is just as easy to make.
Natural Nerd https://naturalnerd.co.za/
How has honey worked for your skin? I'd love to know, please share in the comments below.
Are you new to essential oils? Please read how to use them safely.