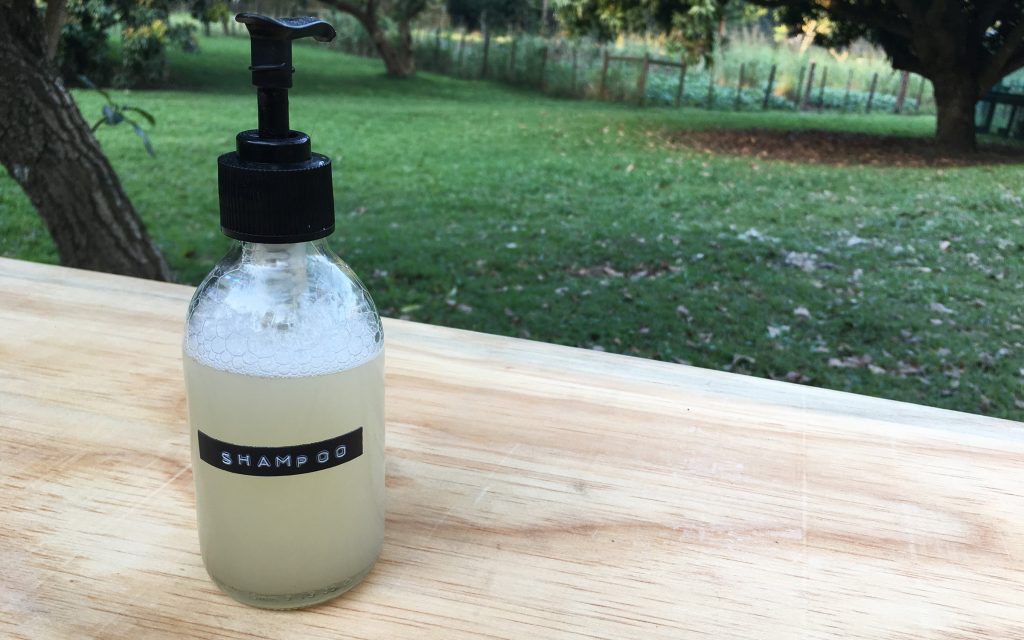 Soap isn't an ideal shampoo. Yet, it does work for some people – particularly those with short, boy-cut hair. The appeal of a soap-based shampoo is that it's incredibly easy to make, and it contains purely natural ingredients that most people understand. Hence, many newbie DIYers start here, and so did I. This is a recipe that I started with back in 2015. It no longer serves me now that I understand natural surfactants, but perhaps it will work for you.
Soap-based Natural Shampoo

A beginner-friendly natural shampoo recipe which uses liquid soap as a base.

Instructions
Makes 100g.
First combine the fractionated coconut oil and essential oils together.
Then combine the glycerine and the liquid soap together.
Gently combine everything together without stirring too vigorously. Slowly pour the liquid soap mixture over the oils while stirring.
Pour into a sterilised container of your choice.
Notes
The shampoo will separate into layers. Just gently tip the bottle over so that everything combines. Don't shake vigorously.
If you have naturally greasy hair, excluding the oil may be a good idea.
Human hair has a pH of about 4.5, which is acidic. However, you cannot naturally lower the pH of soap to be acidic. It will cease to be soap. For pH balanced shampoo, please refer to my recipes which use natural surfactants instead.
Recipe Variations and Substitutions
Liquid soap:
The best natural soap to buy or make is a liquid soap made from coconut oil. It is the best cleanser, and has the best lather. Here is my recipe for a coconut oil liquid soap. Alternatively, you can use any natural liquid soap like Dr. Bronner's castile liquid soap which is made from a mixture of oils, or pure castile soap which is made from olive oil, but it doesn't lather as well.
Vegetable Glycerine:
Non-vegans can substitute the vegetable glycerine for standard glycerine or raw honey. However, if you use raw honey, the shelf life will be shortened to about 2-4 weeks when the honey starts to ferment.
Fractionated Coconut (MCT) oil:
You can use any liquid carrier oil. I have also used jojoba oil successfully. I prefer MCT oil, because it is a light, dry oil which won't cause your hair to feel oily. You cannot use normal coconut oil which is solid at room temperature. It will solidify in your shampoo. Rather substitute with any other oil that is liquid at room temperature.
Essential oils:
I've included three essential oils in this recipe, all of which are beneficial for the hair and scalp. However, if your budget limits the number of essential oils you can afford, then I recommend the best oil to buy for this purpose would be Rosemary. Just increase the quantity to 35 drops if this is the only essential oil you will be using.
Cost & Shelf Life
Cost price: R25 for 100g. (Costs accurate at time of writing)
Lasted me about: 1 month (using once a week)
Estimated shelf life: 3 months
Challenge
Soap cannot be pH balanced for the hair/scalp. Try my pH balanced shampoo recipe instead.
Experimental – soap shampoos do not suit every hair type. You've just got to give it a try to see for yourself.
It's a thin liquid, and not a thick gel. So apply it directly to your scalp to avoid waste.
Cherry on Top
It uses purely natural, everyday ingredients that are easy to find.
This product doubles up as a body wash.
Ingredient Benefits
Not sure where to find these, or other ingredients? My shopping guide may help you. Are you new to essential oils? Please read how to use them safely.
Recommended Retail Option
If DIY isn't your thing, then here's my personal recommendation that I have tried and approved. It is also a soap-based shampoo. If you're looking for pH-balanced natural shampoos then rather refer to my recommendations for those instead.
Hemporium's Hemp Shampoo is the best soap-based option that I've tried. This product also has decent reviews from people with different hair types. Their shampoo base uses a liquid soap made from coconut oil, and to that they've added a bunch of nourishing plant oils and herbal extracts. However, it is watery, so it's best to pour it straight onto your scalp and not into your hand first – you'll just waste. This shampoo doesn't lather as well as traditional shampoo, but the product is working, and using about 5-8 "pumps" for my long hair does the trick even if I don't feel the bubbly action. The downside to this product is that it seems to finish quicker than other shampoos. (Buy Here)
Does this natural soap-based shampoo work for your hair type? Please share in the comments section below.