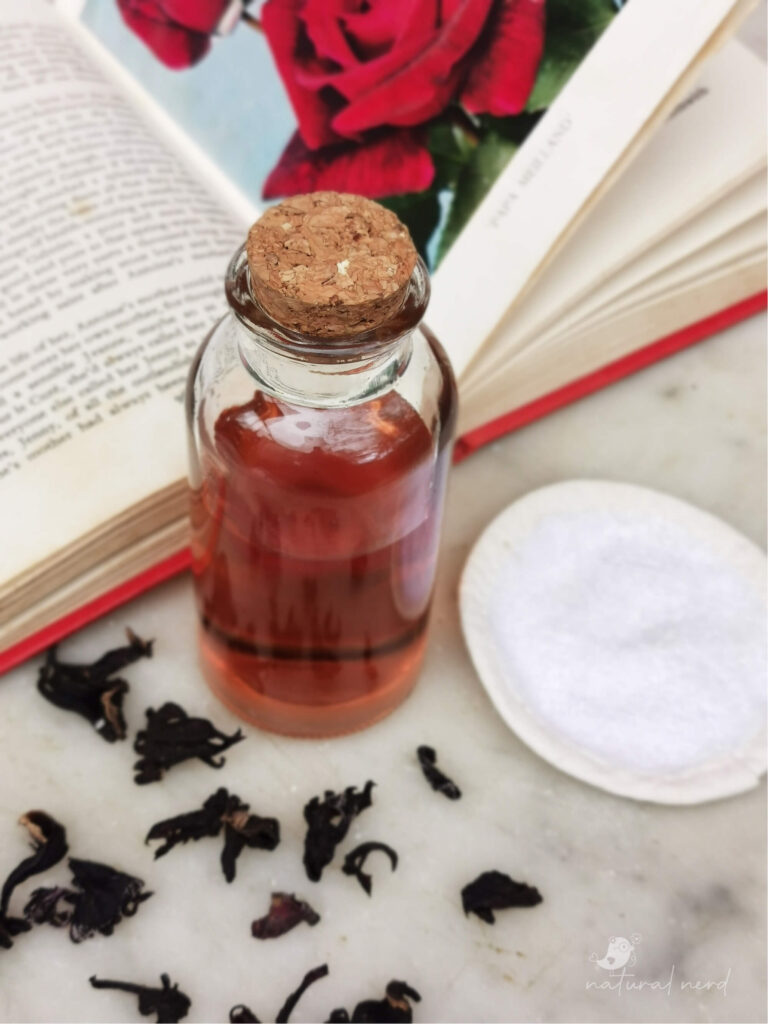 Rose, strawberry and hibiscus extracts are the star ingredients of this pretty pink toner – proof that you can create a lovely botanical product without essential oils. This toner is best suited for dry and/or mature skin. The glycerine content makes this toner very hydrating, which is perfect for my severely dry skin. The colour also hints to the powerful plant properties infused within.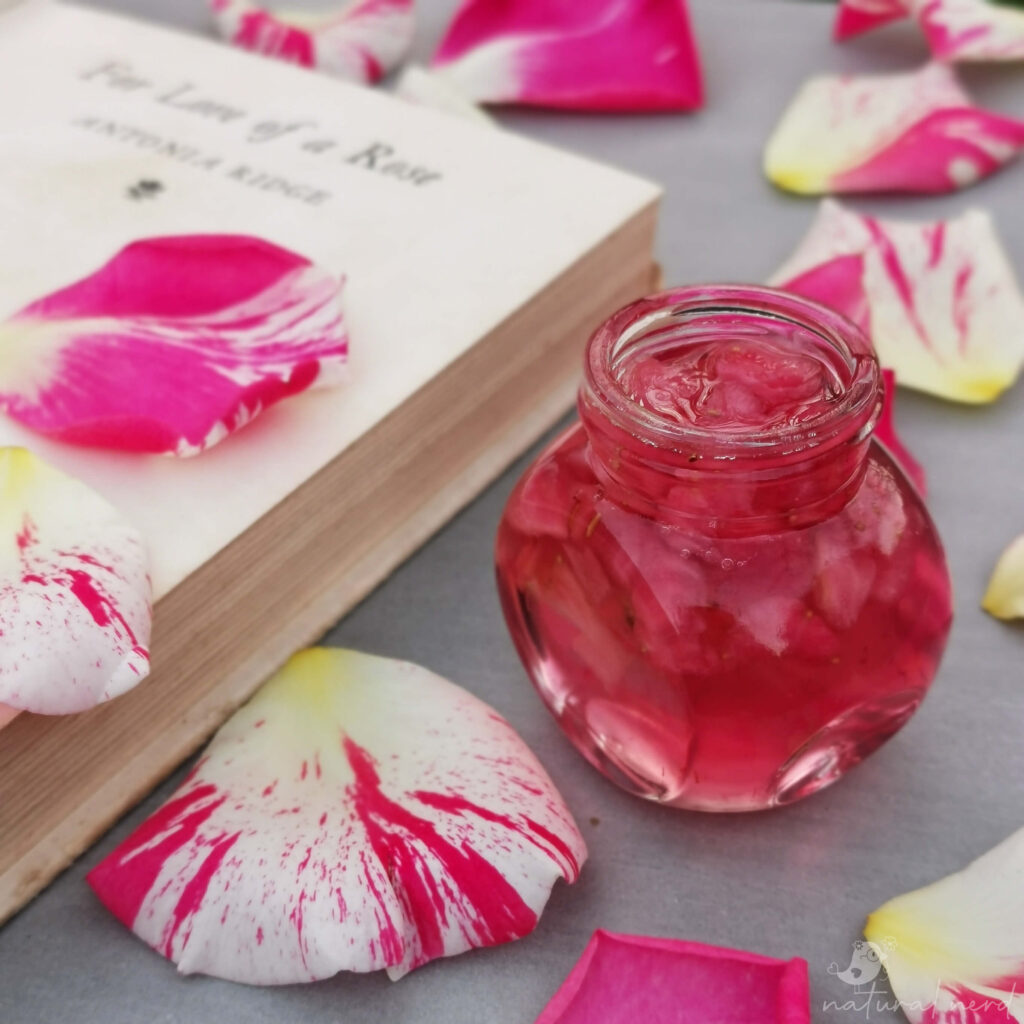 Anthocyanins are active plant compounds which give hibiscus, strawberry and rose petals (among other plants) their red/purple pigment, and they are considered to have significant antioxidant and anti-inflammatory properties – even when applied topically [1]. However, they don't tolerate heat well, so we're going to make this pretty pink toner using a cold process method.
Botanical Strawberry & Rose Toner

A hydrating toner made with botanical extracts that are rich in antioxidants for radiant skin.

Ingredients
For The Toner:
For The Hibiscus Infusion:
For The Strawberry Extract:
Instructions
Makes 100g.

Make the strawberry extract:

About 1 week before you make the toner, you will first need to make your strawberry extract. Using sterilised equipment, make the strawberry extract by pouring the vegetable glycerine over the fresh strawberries in a sterilised jar. Close the jar with a sterilised lid, and let it infuse for 5-7 days away from direct sunlight.
After 5-7 days, strain the strawberry extract through coffee filter paper or a fine cheese cloth into a sterilised container for permanent storage up to 3 months in the refrigerator.
Measure out 15g of the strawberry glycerite for your toner.

Make the hibiscus infusion:

Pour 30g of warm (not hot) rose hydrosol over the dried hibiscus petals and allow to steep for at least 15 minutes until cool. Just like making loose leaf tea. Strain the infusion through filter paper or a cheese cloth.
Measure out 15g of the cooled hibiscus infusion for your toner.
Combine the strawberry glycerite with your broad-spectrum preservative (1g Geogard Ultra powder).
Add the hibiscus infusion to the strawberry glycerite mixture.
Stir in 69g rose hydrosol to the hibiscus-strawberry mixture. It may take a little while for Geogard Ultra powder to dissolve completely. Cover & let stand until the preservative is dissolved.

Test the pH

of your toner and if necessary correct to between pH 5 and 5.5. Do this step when the preservative is dissolved. Due to my chosen preservative, my toner was too acidic testing at pH 3.4. To correct, I added ~10 drops of a 25% NaOH solution.
Transfer into a sterilised bottle. Store away from direct sunlight and use within 3 months.
Notes
Preservatives:
You may use any water-soluble broad spectrum preservative, but bear in mind that each preservative has different applications and usage rates. So make sure to read the manufacturer's directions and adjust the recipe accordingly.
The preservative is necessary, since there is water in this recipe. Water invites bacteria. Without the preservative this product will have a shelf life of one day, even if it's kept in the refrigerator. Without a preservative; dangerous bacteria, fungus, mould and yeast will start to grow.
pH Testing
Correcting the pH is necessary in order to make sure that the preservative is effective, and that the product matches the pH of human skin. You can test with pH strips or a digital pH meter.
If you use a different preservative, you will likely get a different pH. If you test the pH and it is too high, then add a few drops of a 25% citric acid solution to correct it downwards.
If you are concerned about using sodium hydroxide to correct the pH upwards, you can use a 50% sodium bicarbonate solution instead. I don't know how much you'll need. Mix in a few drops at a time, retest and repeat until you get between pH 5 and pH 5.5.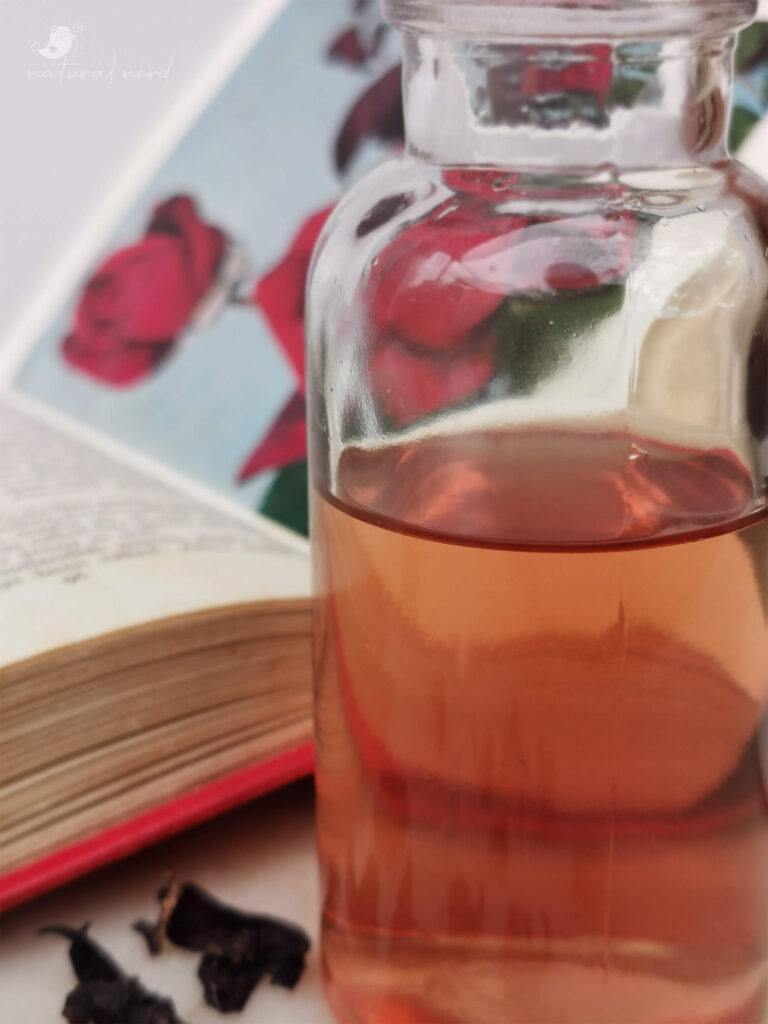 Substitutions
The foundation of this recipe simply combines three types of extracts – a water distillate, glycerite and infusion. So you can be creative and develop your own botanical toner by combining any of these three types of extracts. You can substitute the rose hydrosol for any hydrosol or even plain distilled water. You can substitute the strawberry glycerite for any glycerite, or even plain glycerine. You can substitute the hibiscus infusion for any botanical infusion, or leave it out completely and simply replace with more rose water. Obviously, if you substitute you will have a completely different product to this recipe, which may not be pink or rich in anthocyanins.
Just remember to preserve your product with any water-soluble, broad-spectrum preservative, and pH correct to match the preservative's requirements (and your skin's pH). That is non-negotiable, unless you will be using the entire product on the same day for a full-body spa treatment.
You can reduce the amount of glycerine to suit your preferences, and then increase the rose water so that the recipe still balances to 100g. I don't recommend increasing the glycerine content, because your skin will likely feel sticky.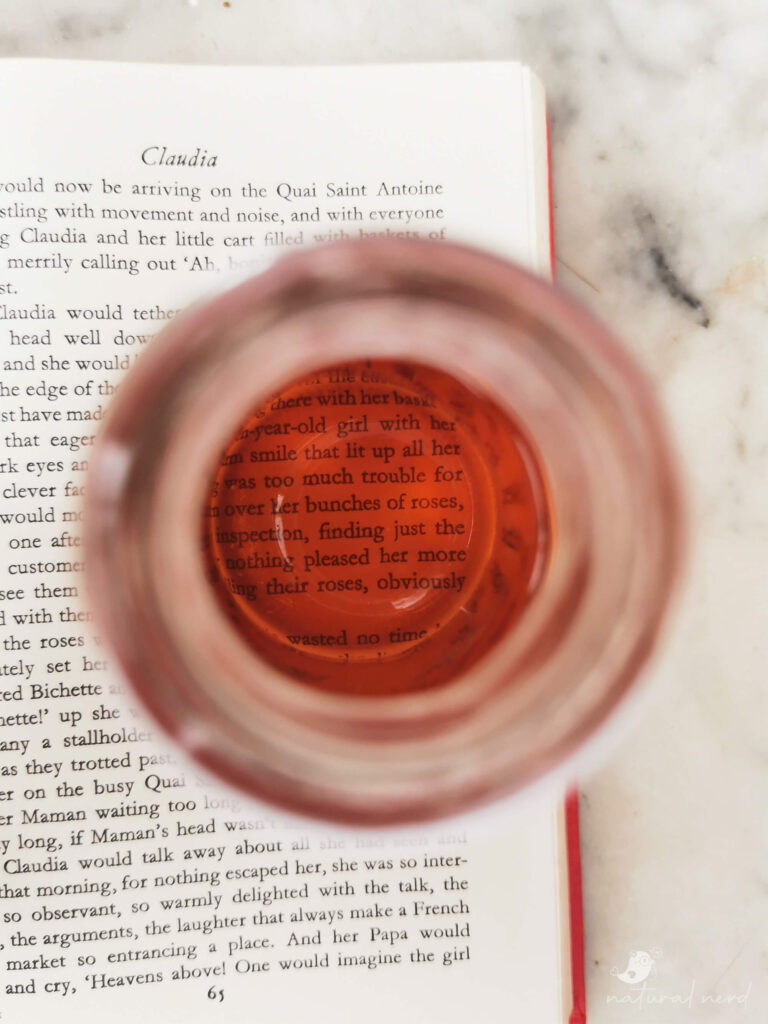 Cost & Shelf Life
Cost price: R86.63 per 100g toner, based on the retail prices of ingredients at the time of writing in 2022. This is cheaper than the average price of buying natural/ organic equivalents.
Lasted me about: 2 weeks using every morning and night on my face, neck and décolletage.
Shelf life: 3 months if stored away from direct sunlight, and made with sterilised equipment & packaging.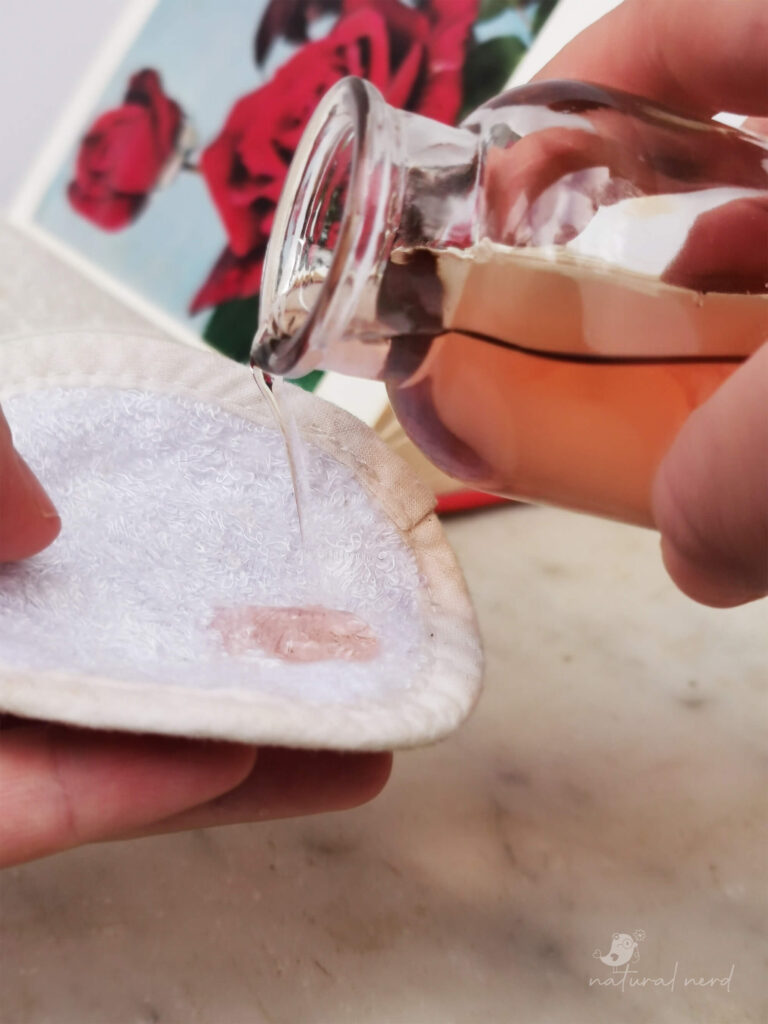 Challenge
Time to make extracts: This recipe requires you to make the extracts first, instead of just mixing ready-made ingredients. You have to make the strawberry extract first, which requires 5-7 days plus extra patience while straining it through filter paper. You'll need another 15 minutes for the hibiscus infusion too. It's worth it, I promise.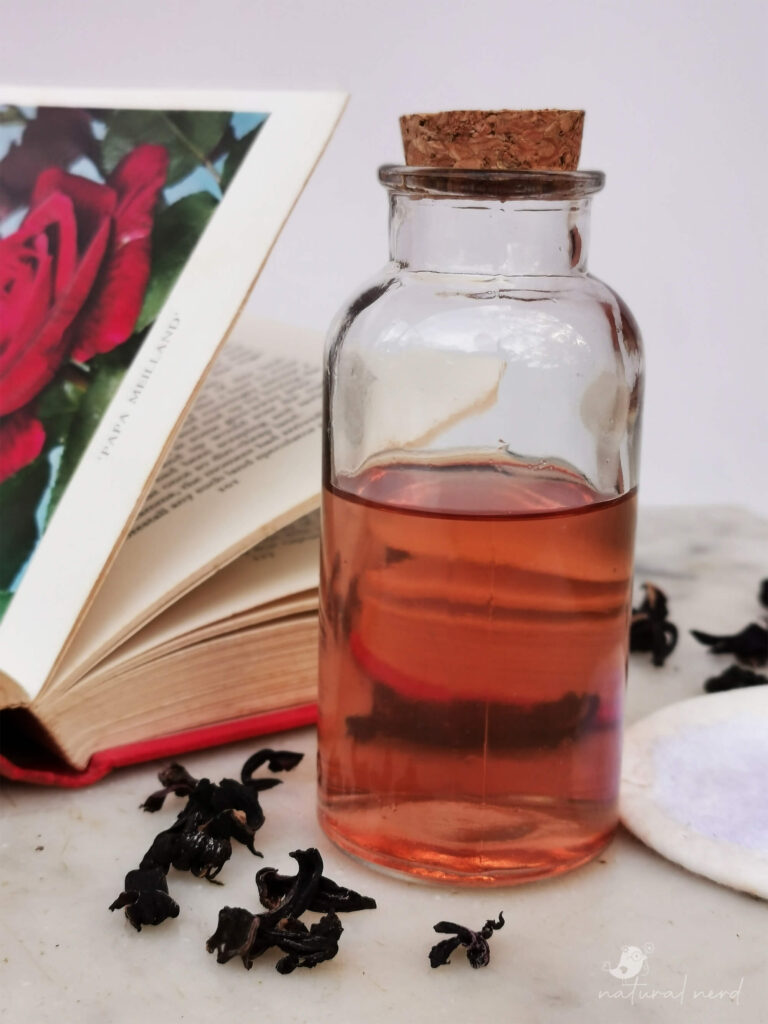 Cherry on Top
Strawberry glycerite smells phenomenal! It will make your day.
Plant-based & vegan recipe.
Hydrating relief for dry skin that you can feel immediately.
Makeup application is so much smoother after using this toner first.
Boost your skin's health and radiance with active anthocyanins.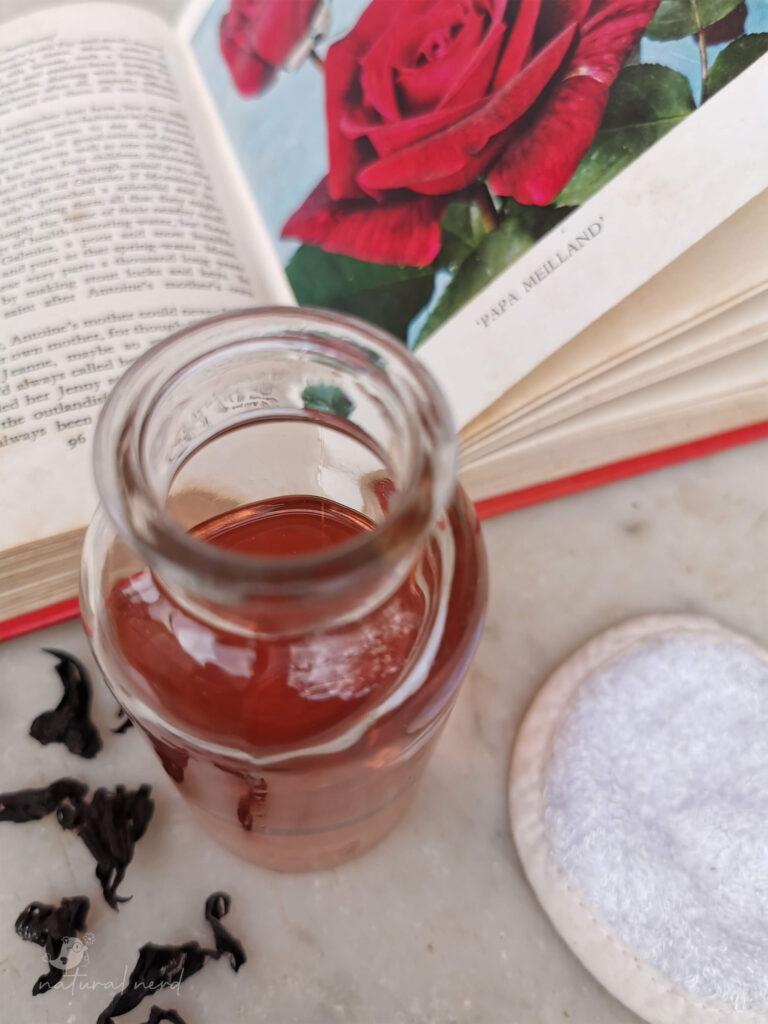 Ingredient Information
Rose hydrosol: is rich in antioxidants, and has anti-inflammatory properties that can reduce skin redness, irritation and puffiness. Read the ingredients to make sure that it's natural though, because many "rose waters" are just water mixed with synthetic rose fragrance among other things. Look for distilled rose water (which is a true hydrosol), or at least water that is mixed with

real

rose essential oil. (buy here)
Hibiscus: has been nicknamed "nature's botox" because it contains natural alpha hydroxy acids (AHA), vitamin C and antioxidants. Hibiscus helps to maintain our skin's elastin, supports collagen production and protects against free radicals. (buy here)
Geogard Ultra: is a synthetic preservative composed of gluconolactone and sodium benzoate in powder form. It is ECOCERT, NATRUE and SOIL association approved for use in natural and organic products. (buy here)
Glycerine: moisturises the skin and retains moisture in the skin by acting as a protective barrier that locks in moisture. In this recipe, it is also used as the solvent to make a type of botanical extract called a glycerite. (buy here)
Strawberries: are rich in antioxidants (including anthocyanins), as well as Vitamin C which is known to brighten skin and reduce inflammation.
Sodium hydroxide: is a strong alkaline that is commonly used in soap-making. It is also known as lye, caustic soda or NaOH. A tiny amount of diluted NaOH (25%) is commonly used to correct the pH of cosmetics upwards when it tests too low for human skin (buy here). Read more about it on Faithful to Nature's Ingredient Library.
Recommended Retail Option
If you don't want to make it yourself, then you can consider buying Suki Suki Rose Hydrating Facial Mist . Based on the ingredient list alone, this is the closest natural product to my recipe in South Africa. It contains rose hydrosol, glycerine and hibiscus. Instead of strawberry extract, this product uses papaya extract. The reviews are positive.
Did you follow this recipe exactly, or did you make some creative substitutions? Let me know in the comments below.