With a blend of locally-grown avocados and olives, garnished with a dash of basil and a squeeze of lemon – you may think I'm describing a salad. Alas, these complementary ingredients make a light lotion bar that won't melt below 38°C (100°F).
You have to consider your climate when making a lotion bar. If you follow a Canadian recipe, and you're from the plains of Africa, you'll probably have a problem with your solid lotion bar behaving more like a body oil. This lotion bar recipe is proudly South African – both in its local ingredients and its compatibility with the African sun.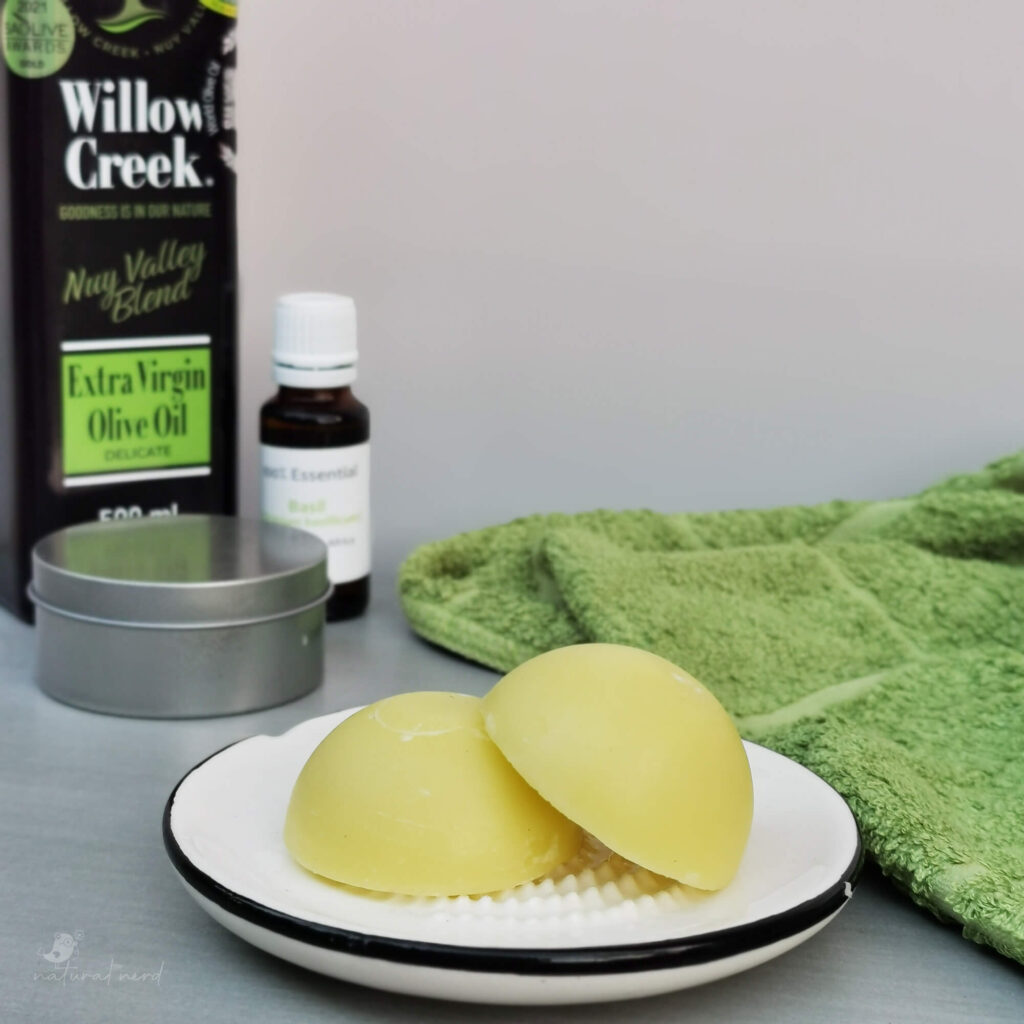 South African Lotion Bar

This solid lotion bar recipe is suitable for hot climates due to its high melting point. It is made with natural & locally-sourced ingredients from South Africa.

Ingredients
Heated Oil Phase:
Cool Down Phase:
Instructions
Makes 100g bar.
In a beaker or pot, first melt the ceto stearyl alcohol and bees wax over a low heat. This can be done either over a double boiler, or the lowest setting on the stove.
Once melted, add the avocado butter and melt.
Once the avocado butter is melted, add the olive oil.
Stir just until there are no solid oils remaining & then remove from the heat as soon as everything is molten. (When you add the olive oil, which is cooler, some of the waxes may re-solidify. Allow these to dissolve again, and remove from the heat immediately).
Once off the heat, stir in the vitamin E and essential oils.
Pour into your sterilised mould and allow to cool.
Store in a sterilised jar or tin, and keep away from moisture and direct sunlight to prolong its shelf life.
Notes
You can substitute the essential oils for your own 0.5g blend (approx. ~10 drops). I just wanted to use locally-sourced essential oils from South Africa.
It is important to work at the lowest possible temperature to protect the beneficial compounds in the oils. You just need to melt the ingredients, not boil them.
Your oil blend should be ideally around 40°C (or cooler) when you add the cool down ingredients. Otherwise, you may destroy the vitamin E and essential oils, which are heat sensitive. If your blend is too hot, keep stirring until it cools down to at least 40°C (104°F) before adding the cool down phase ingredients.
If this product will be stored in a steamy bathroom, or come into contact with moisture of any kind (i.e. wet hands or skin), then you will need to add a broad spectrum preservative to prevent microbial growth.
Silicone moulds are best. I used my aluminium bath bomb mould, because I liked the spherical shape. If you want to do the same, then lightly pre-grease the mould with some olive oil. Also, don't allow it to cool completely before you unmould. I just waited 5-min until it was solid enough to hold its shape and slide out. The harder it gets, the more difficult it will be to get out!
Recipe variations
To substitute successfully, you have to adhere to the ratios in this recipe in order to achieve a similar melting point. These ratios are as follows:
56% Liquid oils
33% Cetearyl Alcohol (melting point ~50°C / 122°F)
7.5% Butters (melting point ~40°C / 104°F)
1.5% Waxes (melting point ~62°C / 144°F)
You cannot substitute the Cetearyl Alcohol, unless you can make your own cetyl alcohol and stearyl alcohol blend. This is a key ingredient. You can use any liquid oil as a substitute for the olive oil. Instead of avocado butter, you can use most soft butters like shea butter and mango butter. Vegan substitutes for bees wax include soy wax or candelila wax. When considering substitutions, try to match the melting points of the ingredients as closely as possible to my original recipe. As always: when you substitute, you re-formulate. There are no guarantees of success.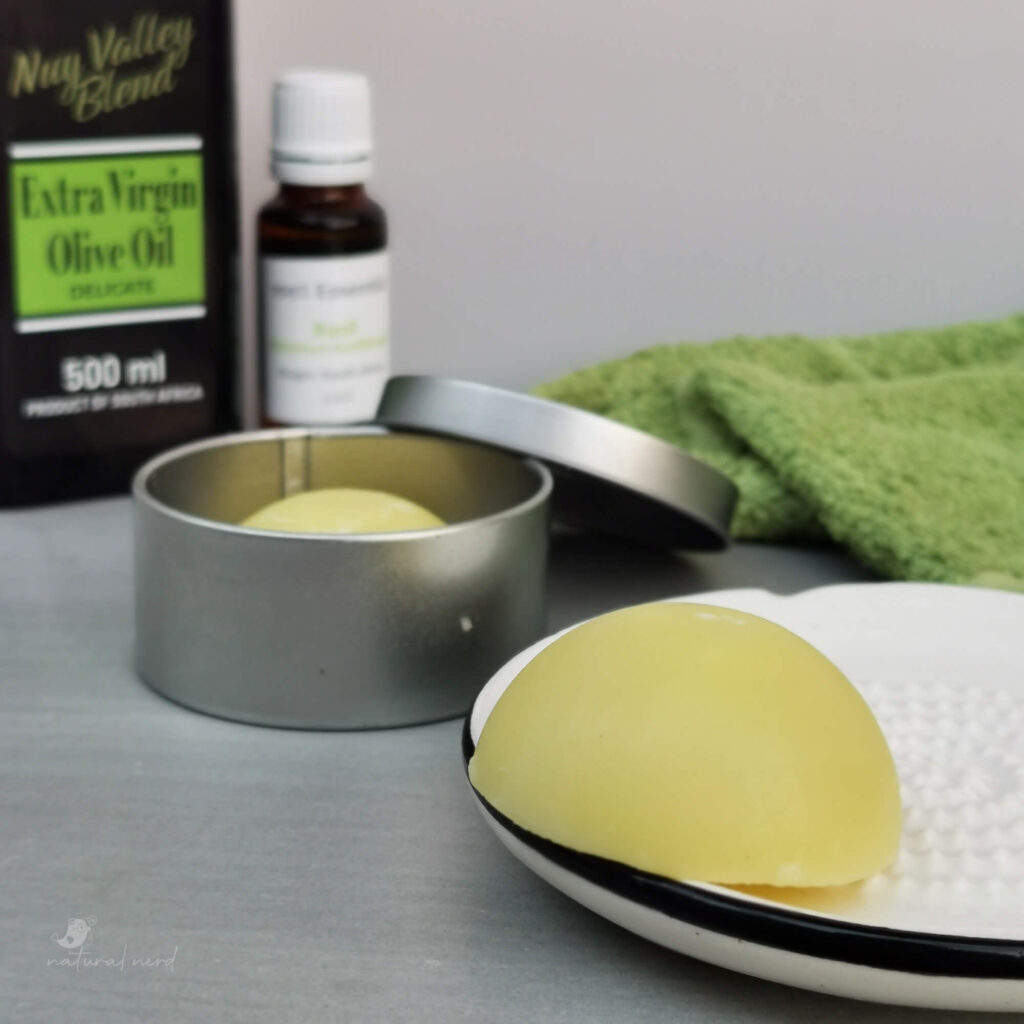 Cost & Shelf Life
Cost Price: R 36.33 per 100g (in 2022, based on the retail price of products linked).
Lasted me about: 8 months using on my face, neck and hands at night. I was able to make 4 x 25g spherical bars (as pictured). One 25g bar lasted 2 months.
Estimated shelf life: 1 year if you use vitamin E oil, and store in a sterilised container that is kept away from direct sunlight and moisture.
Challenge
You have to keep it dry. The solution? Include an oil-soluble, broad-spectrum preservative.
Cherry on top
It's a Zero-waste winner. No packaging is necessary (as long as you keep it dry).
Supporting local is always better.
Non-greasy. The significant amount of cetearyl alcohol keeps this oil-based product light and silky.
It lasts forever. Ha! Okay, that might be an exaggeration, but one bar goes far.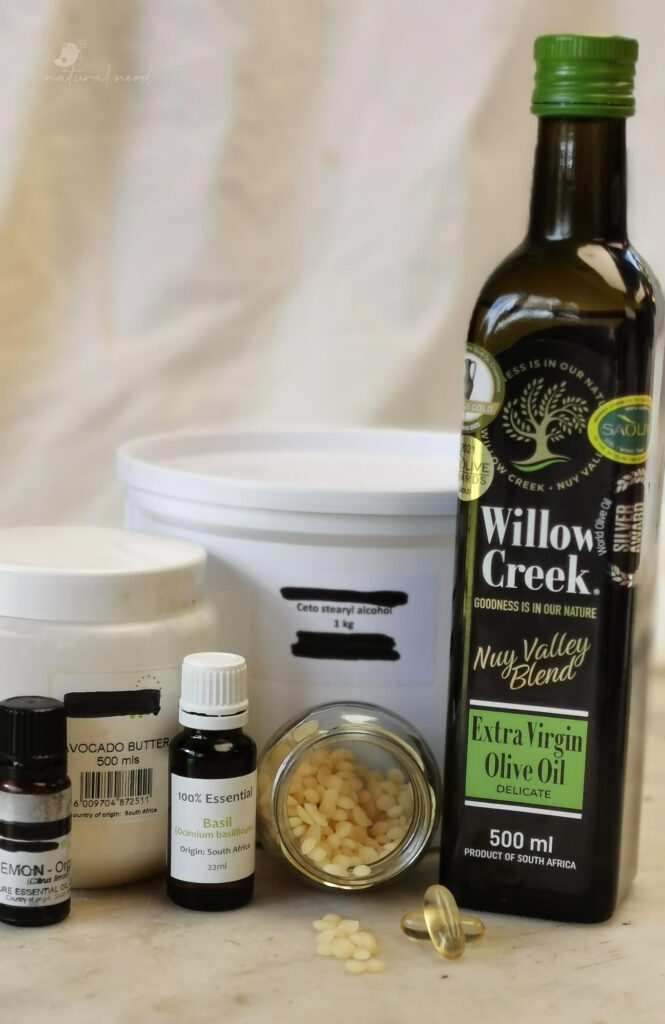 Ingredients
Need help finding these, or other ingredients? My shopping guide may help you.
Recommended retail option
If you don't want to make it yourself, then I recommend buying Chezou Body Butter Bar. This product includes avocado butter, olive oil and bees wax (like my recipe), as well as a selection of other oils and butters. The brand is also proudly South African – so you get to support local too.
What do you think of this local lotion bar recipe? If you've tried it, please share your feedback in the comments below.