The secret to a great face oil is to use high-quality carrier oils that suit your skin type. I chose the carrier oils in my recipe simply because they are the best dry oils that I already own. You can follow suit with your own blend. I prefer to use dry oils on my face (i.e. those that absorb well & quickly), and since I have eczema, I usually have oils that are also suitable for sensitive skin. This is one of my easiest & quickest recipes and provides concentrated nutrients for soft and hydrated skin. My winter essential.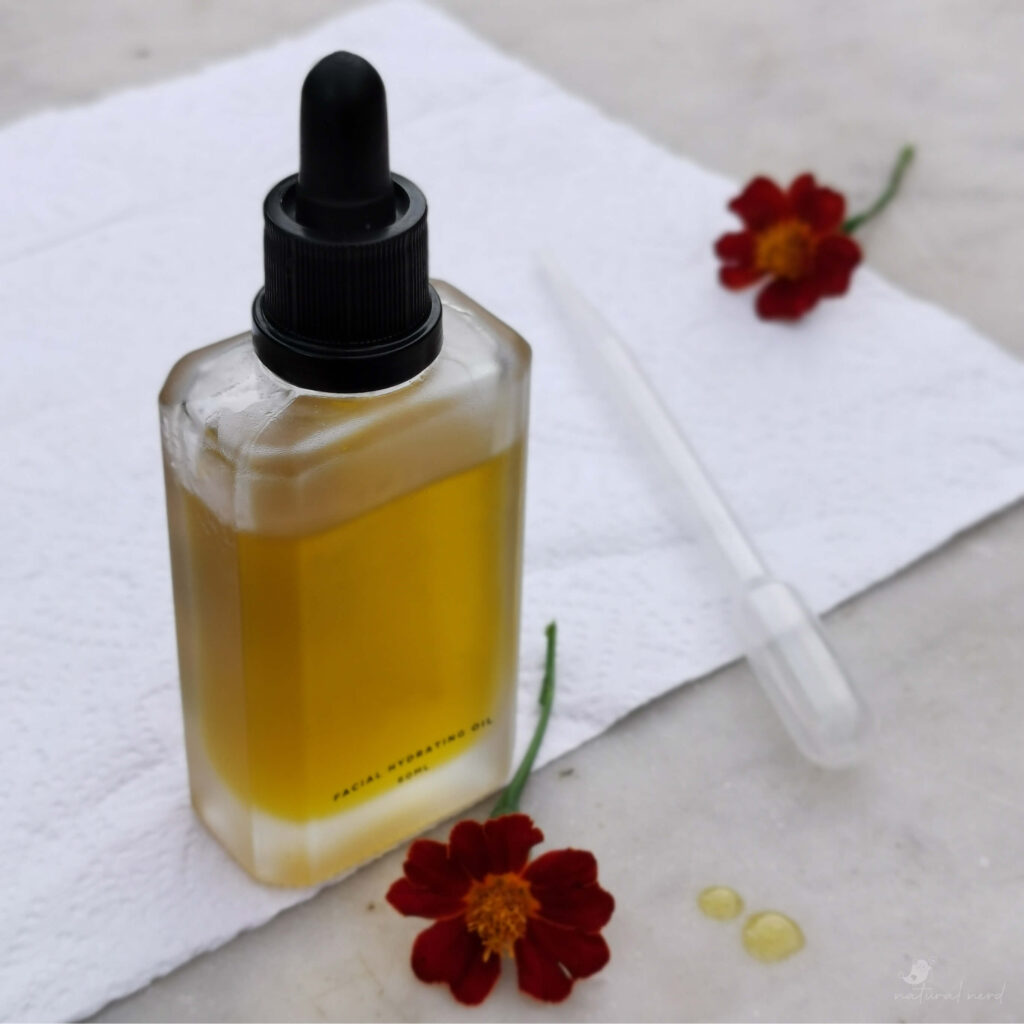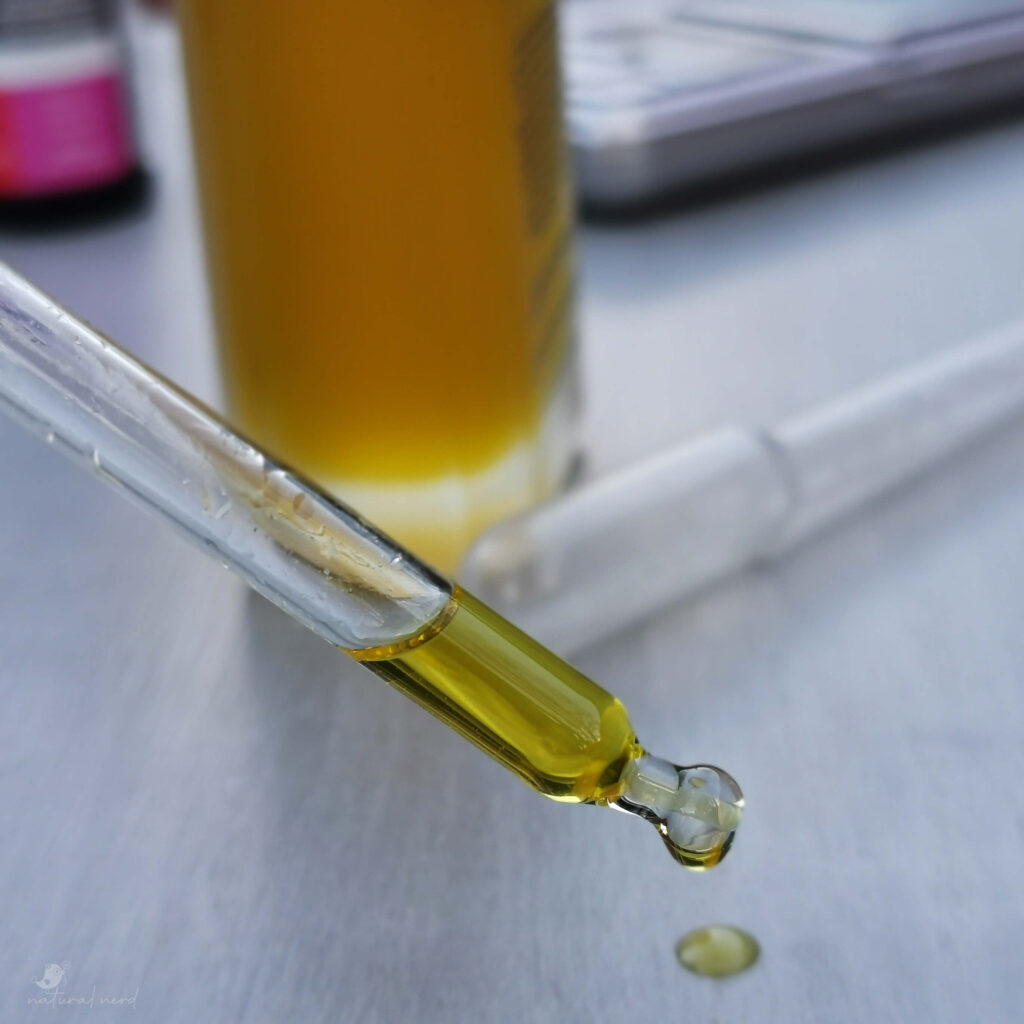 Luxury Face Oil

A blend of high-quality, dry carrier oils to be used on the face and hands for concentrated nourishment and hydration.

Instructions
Makes 50g.
At room temperature, combine all ingredients thoroughly.
Transfer the oil blend into a sterilised bottle using a funnel or pipette.
Store away from direct sunlight and moisture for the best shelf life. Storing in a pipette/ dropper bottle is recommended.
For best results, apply a few drops to damp skin or to skin that has already been moisturised with lotion.
Notes
Do not apply this as part of your daytime routine, or whenever you'll be exposed to sunlight. This product is an oil blend and oil + sun = sunburn.
My personal essential oil blend: 3 drops carrot seed, 2 drops blue chamomile (german), 2 drops neroli, 1 drop sandalwood essential oil, 2 drops rosemary (as an antioxidant).
Recipe variations
You may substitute the carrier oils in this recipe for any other liquid carrier oils. This facial oil is just a blend of luxury carrier oils after all. My only recommendation is that you use the best carrier oils that you have access to (or that you can afford) in order to reap the benefits. Cold-pressed and unrefined oils are best. Some other great carrier oil options include olive, argan, avocado, moringa and carrot oil. If you have oily skin and/or are prone to breakouts, then make sure to use dry oils. You can exclude the essential oils as well, especially if you have sensitive skin. Although you can technically skip the Vitamin E oil, it is recommended in order to prolong the shelf life of these precious oils. Plus, vitamin E will make a huge difference to your skin.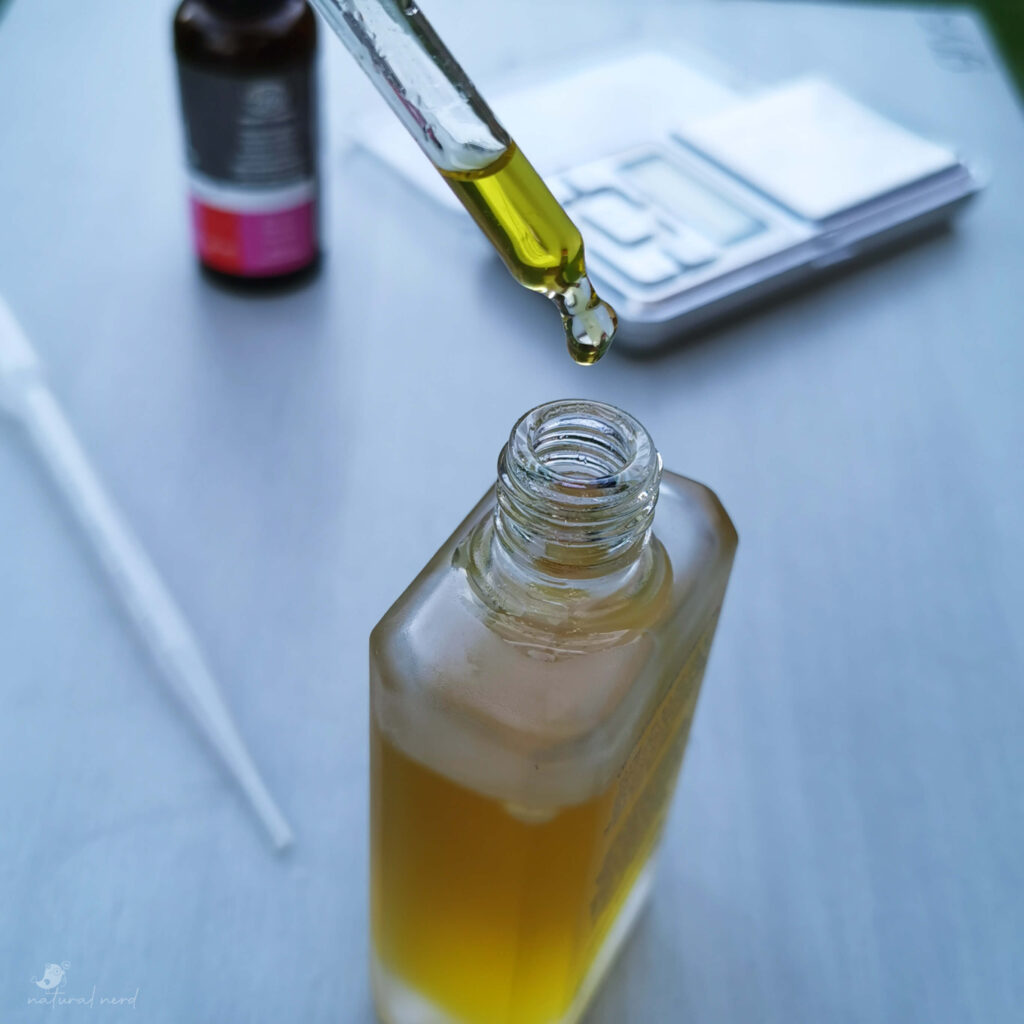 COST & SHELF LIFE
Cost Price: R 130.51 per 50g excluding essential oils (in 2022, based on the best retail prices I've found).
Lasted me about: 2 months using a few drops at night on my face, neck and hands.
Estimated shelf life: 6 months if you use vitamin E oil, and store in a sterilised container that is kept away from direct sunlight and moisture.
CHALLENGE
Leaves an oily residue that can transfer to your hair (especially long hair, like mine) – so you may notice that you need to wash your hair more regularly.
An expensive upfront cost to buy luxury carrier oils if you don't already have them, as I do.
CHERRY ON TOP
Easy peasy lemon squeezy.
Can double-up as a hair oil treatment.
Making this product is significantly cheaper than buying face oil / serum.
You can customise the blend with carrier oils that suit your skin's needs.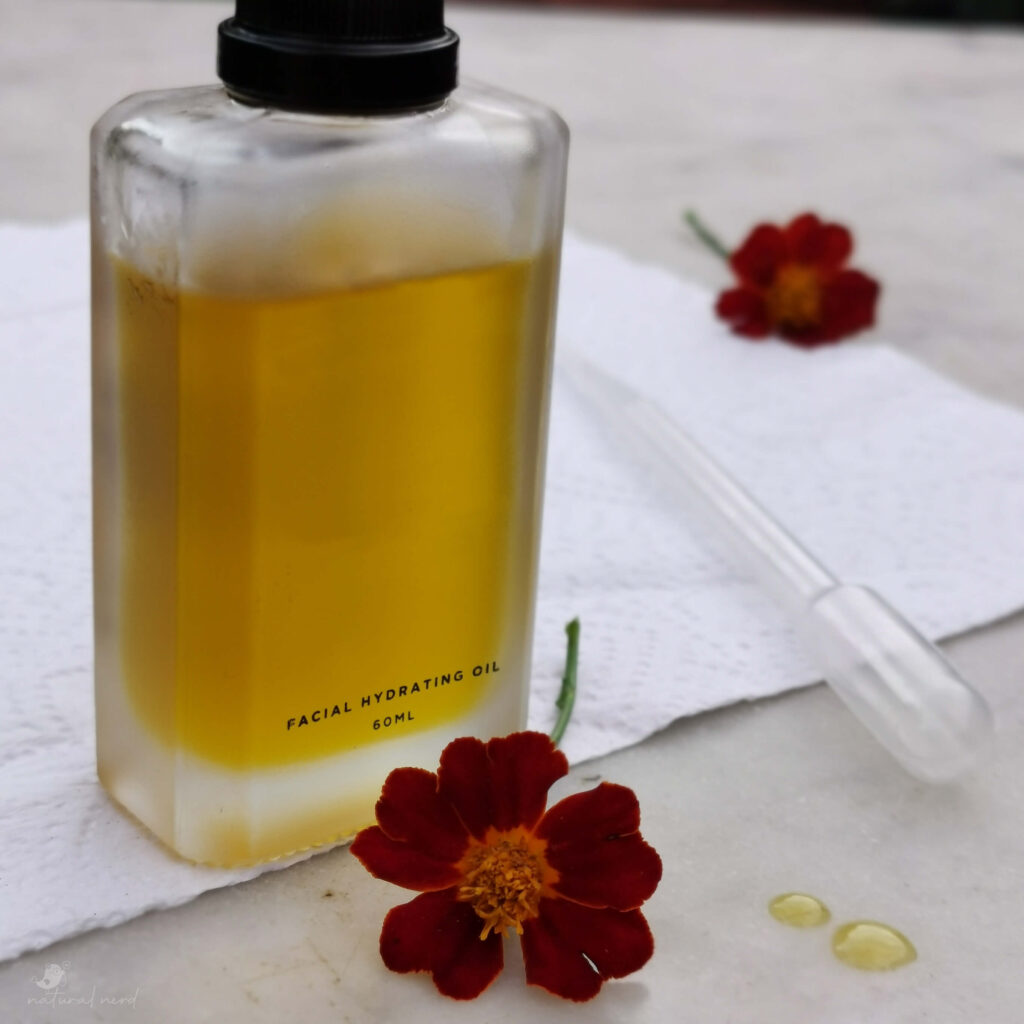 INGREDIENTS
Need help finding these, or other ingredients? My shopping guide may help you.
RECOMMENDED RETAIL OPTION

If you don't want to make it yourself, then I recommend buying Skin Creamery Facial Hydrating Oil. This product uses the following blend of carrier oils: baobab, kalahari melon seed, jojoba, sweet almond and sunflower oil. Their essential oil blend contains rose geranium, pelargonium, patchouli, ylang ylang and pettigrain essential oils. Every Skin Creamery product that I've used is superb, and this facial oil is no exception. Pure luxury – in a gorgeous bottle.
Which is your favourite blend of carrier oils to use for a luxury facial oil? If you've tried it, please share your feedback in the comments below.