Rose & Vanilla is my latest obsession. This recipe is an inevitable consequence of that obsession. But the title says "Macadamia" not "Vanilla"? Yes, well the cream contains mostly rose water and macadamia oil, but I've used rose and vanilla as the essential oil blend. Having just discovered a local macadamia farm that sells affordable cold-pressed oil – I'll be going nuts with macadamia for a bit. Especially since learning that macadamia oil is the secret to smooth, silky skin. This hand cream is best for dry winter hands. It's thick and super hydrating. If you've never made a cream emulsion before, please refer to my basic lotion recipe for step-by-step photos.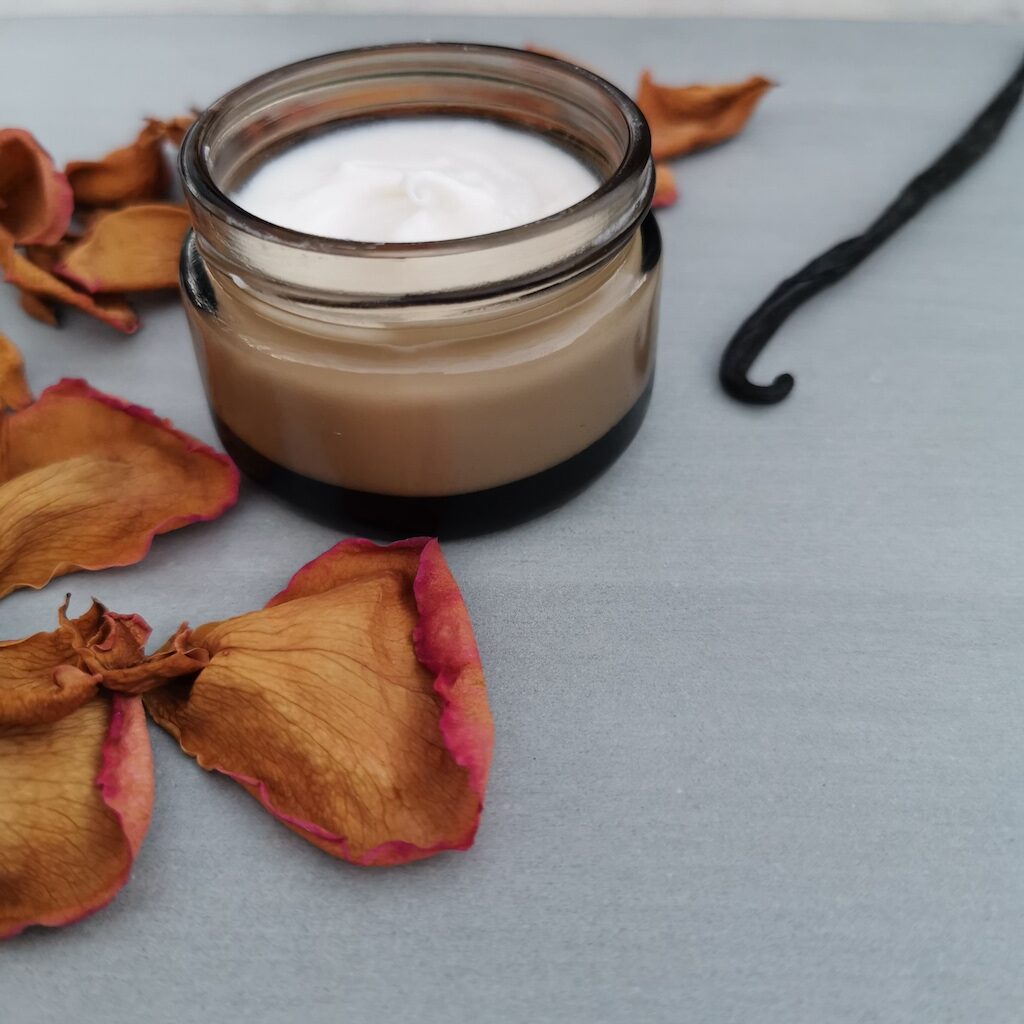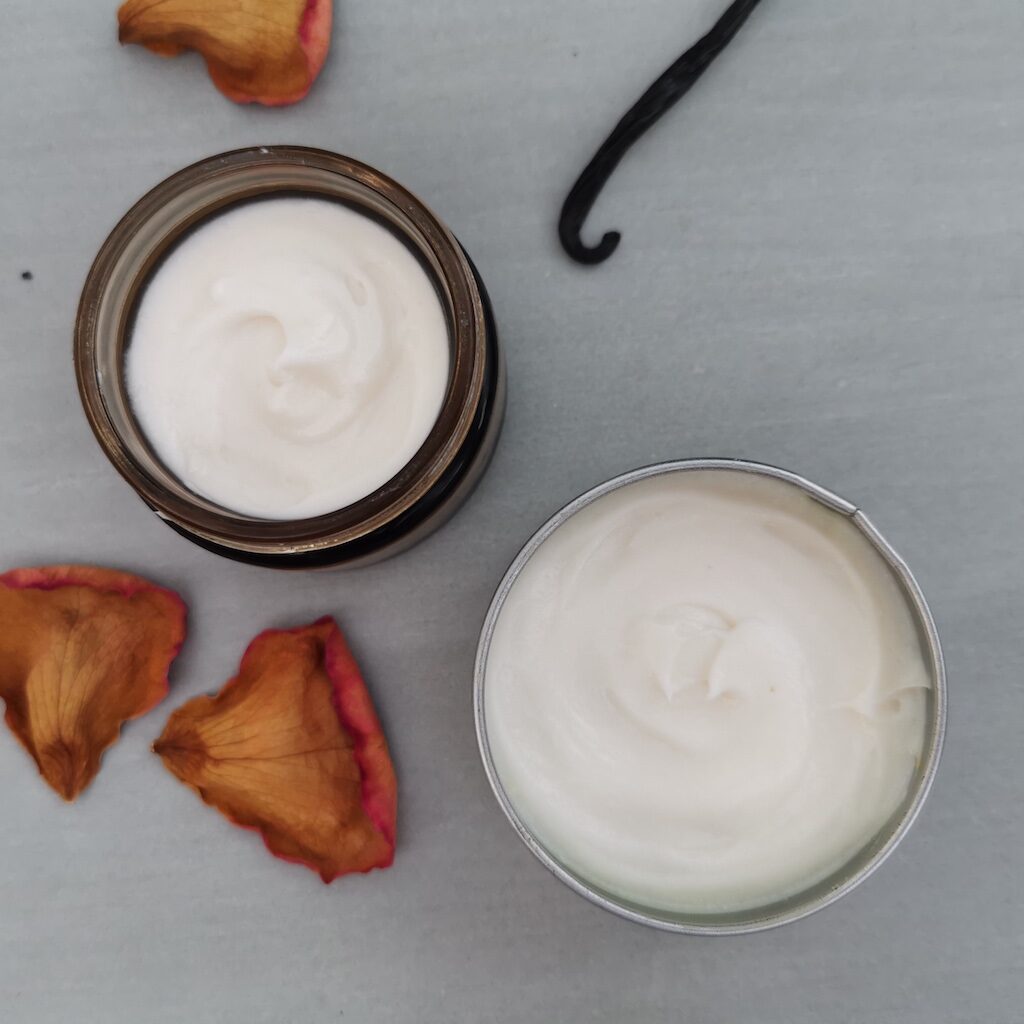 Rose & Macadamia Hand Cream

A luxury hand cream with a thick & rich texture which has been formulated to soften dry skin during winter.

Ingredients
Water Phase:
Oil Phase:
Cool Down Phase:
Equipment & Tools:
Instructions
Makes 200g. This recipe must be followed in weight (grams).
Thoroughly combine vegetable glycerine with xanthan gum in a pot/beaker.
Add the remaining water phase ingredients (i.e. rose water & wheat protein) into the same pot as the glycerine-gum mixture.
Place all the oil phase ingredients into a separate pot/beaker.
Tare your scale and measure the weight of the water phase beaker with its contents. Write this down.
Start to heat the contents of both pots at exactly the same time, on the lowest heat setting. You can do this in a water bath, or over low direct heat. Do not allow the ingredients in either pot to boil or get above 70'C. The hard waxes in the oil phase should just melt. If you can't get both pots to the same temperature, rather have the water phase hotter.
Measure the hot water phase beaker again, and replenish the lost weight (that evaporated) with warm distilled water or rose water. (I lost about 7g to evaporation).
Once everything in the oil phase is melted, combine both by adding the water phase to the oil phase.
Whisk manually or blend until you see that the oil has combined with the water and the mixture is uniformly creamy like cake batter (similar to soap "trace"). This is your cream.
Once your cream is a stable emulsion (i.e. at trace) but is still warm, thoroughly stir in the Geogard Ultra powder. Ensure that you mix the preservative in very well, so that it is evenly distributed.
Set your cream aside to cool down to room temperature (± 40'C or lower). Stir occasionally until cool. Do not cover with a lid.
Once cool, stir in the Vitamin E oil and essential oils.
Test the pH of the final product once cooled and, if necessary, correct it to be between pH 5 – 5.5. When I make this cream it tests to pH4 after adding Geogard Ultra (which lowers pH). I add 0.6g of a sodium hydroxide 25% solution to bring it up to pH5.6. See notes for more information.
Transfer your lotion into a sterilised container, and store away from direct sunlight. Use within 3 months.
Notes
My personal essential oil blend for this cream: 3 drops Rose, 10 drops Rose Geranium, 1 drop German Chamomile, 10 drops Vanilla Speculous fragrance.
If you use a different preservative, you will likely get a different pH. If you test the pH and it is too high, then add a few drops of a 25% citric acid solution.
If you are concerned about using sodium hydroxide to correct the pH, you can use a 50% sodium bicarbonate solution instead. I don't know how much you'll need. Mix in a few drops at a time, retest and repeat until you get between pH 5 and 5.5.
The preservative is necessary, since there is water in this recipe. Water invites bacteria. Without the preservative, this lotion will have a maximum shelf life of one day, even if it's kept in the refrigerator. Without a preservative; bacteria, fungus, mould and yeast will start to grow.
You may use any preservative, but bear in mind that each preservative has different applications and usage rates. So make sure to read the manufacturer's directions and adjust the recipe accordingly.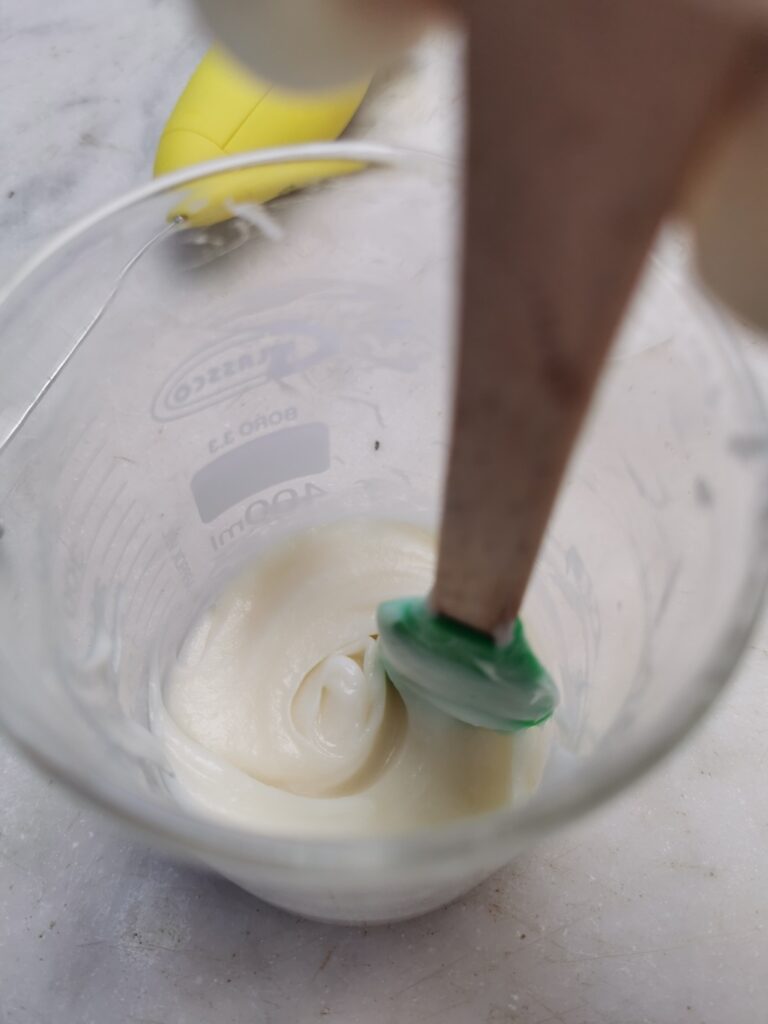 Recipe variations
Substitutes:
If you do substitute, I cannot guarantee that your version will have the same texture, colour or scent as my recipe, since each ingredient brings different properties to creams. You will have an entirely different product. You may substitute the macadamia oil in this recipe with another lightweight oil, as long as you use the exact same weight. The best substitute would be another nut (i.e. sweet almond oil), otherwise grapeseed oil or sunflower oil. You can also use guar gum instead of xanthan gum. You can use distilled water instead of the rose water. You can use another hydrolysed protein like rice or silk protein. I don't recommend substituting the cetostearyl alcohol – you could technically use more beewax, but the cream will likely be thicker, greasier and it will not glide as smoothly.
Note on preservatives:
When I make this recipe, I use the preservative Geogard Ultra. You may use any cosmetic preservative you wish, but you must adjust the recipe accordingly. Remember that each preservative has its own directions for use, so simply adjust the instructions in this recipe about when to add the preservative, and how much of it to use according to the manufacturer's instructions. Also ensure that your preservative is effective with this product's pH range.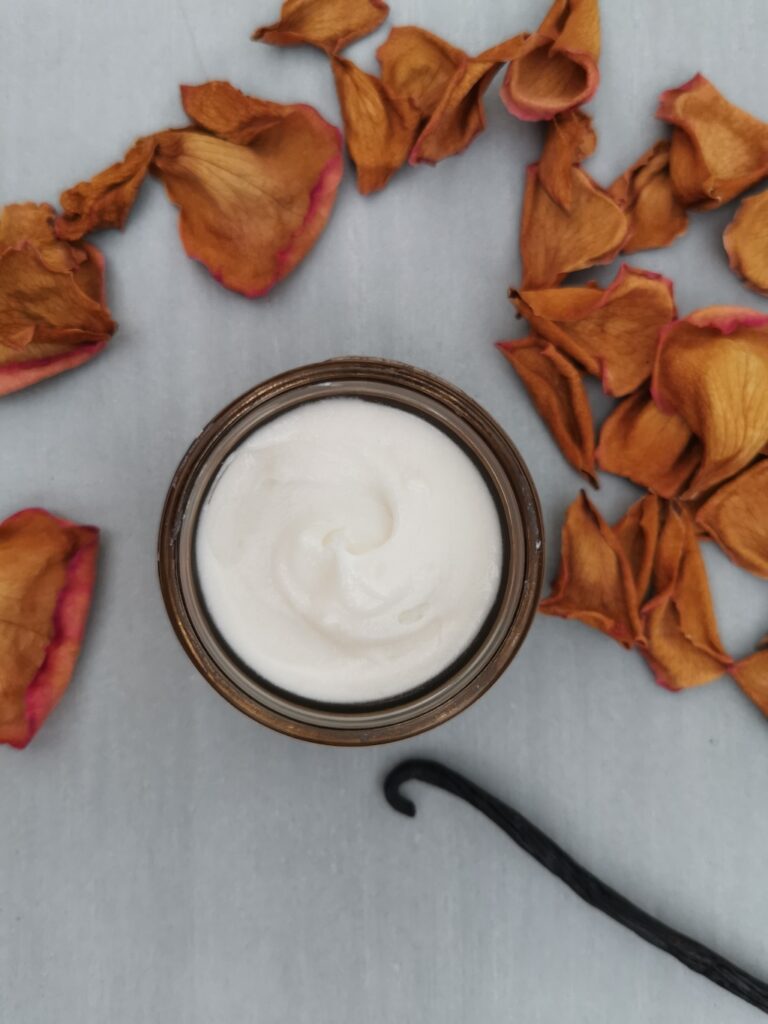 COST & SHELF LIFE
Cost Price: R 113 per 200g excluding essential oils (in 2022, based on the best retail prices I've found).
Lasted me about: 1 month using morning & night on my hands and face.
Estimated shelf life: 3 months if you include the preservative, use sterilised containers, and store away from direct sunlight. Without the preservative, this lotion only has a shelf life of 1 day. Please note that adding ingredients like vitamin E oil and anti-bacterial essential oils will not effectively preserve your product.
CHALLENGE
Contains more luxury ingredients than a basic cream, which means that you have to buy more stuff. However, if you're a regular DIYer, you will be able to use cetearyl alcohol and hydrolysed wheat protein in many other recipes (eg. lotion bars, shampoo, conditioner, whipped butters, scrubs etc.). These ingredients have broad applications and are not specialised to this recipe (or to creams only). Even if you just keep making this recipe, it's worth it.
CHERRY ON TOP
Makes your skin feel silky soft.
Suitable as an all-over body cream in winter.
Smells divine.
Makes a great gift for mom and gran.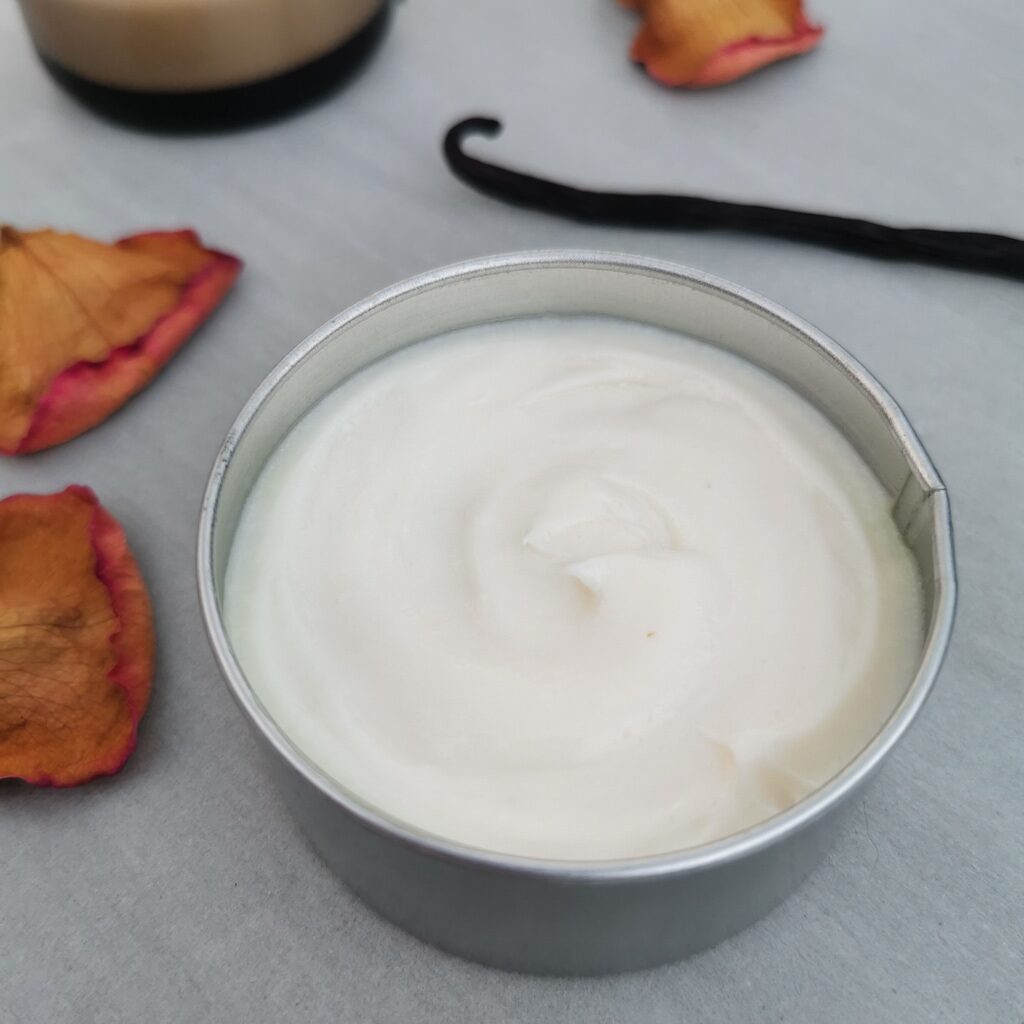 INGREDIENTS
Need help finding these, or other ingredients? My shopping guide may help you.
RECOMMENDED RETAIL OPTION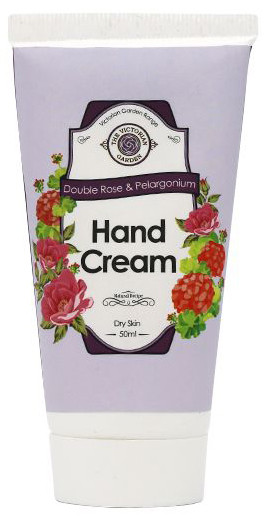 If you don't want to make it yourself, then you can buy The Victorian Garden Double Rose & Pelargonium Hand Cream. I have not used this product myself, but it contains the key ingredients of my recipe (i.e. macadamia oil, rose, cetearyl alcohol, bees wax etc.), and there are a ton of positive customer reviews. One thing I know for sure is that The Victorian Garden always wins with fragrance. The products that I have used always smell divine.
Do you think that this is a luxurious hand cream? If you've tried it, please share your feedback in the comments below.