Jump to recipe
Oil-based balms and butters are great for the skin, but they leave a trace of oil behind everywhere – you will discover oil stains on your pillow, smudges on the lens of your glasses and fingerprint evidence on everything you touch. If you are looking for a natural moisturiser recipe that is light and will absorb perfectly without leaving an oily residue on your skin, then this recipe is for you. The secret to making a lotion that absorbs perfectly is to combine oil with water – so this recipe is an emulsion. It requires a few more ingredients than balms and butters, but the method remains quick and easy. This recipe may also be used as a base which you can customise with your own essential oils.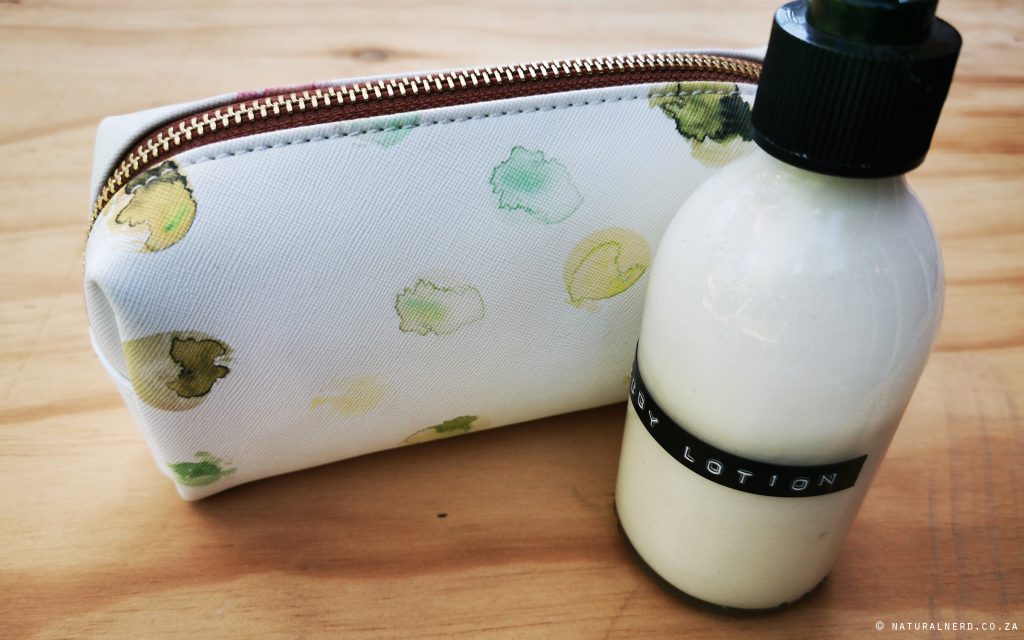 Lotion Emulsion for Beginners

A natural and fragrance-free oil-in-water emulsion recipe for beginners. This lotion is thin, light, easily absorbed and may be stored in a pump bottle. This recipe may be used as a lotion base for beginners.

Ingredients
Water Phase:
Oil Phase:
Cool Down Phase:
Equipment & Tools:
Instructions
Makes 200g lotion. This recipe must be followed in weight (grams).
Combine vegetable glycerine with xanthan gum to make a paste. Set aside.
Place all oil phase ingredients into one pot.
Place the distilled water (and Geogard Ultra, if using) together into another pot.
Start to heat the contents of both pots at exactly the same time, on the lowest heat setting.
When the water becomes warm, add the glycerine-xanthan paste to the distilled water and mix well. The water will become murky and thicker, like a gel.
Do not allow the ingredients in either pot to boil or get above 70'C. The contents should get hot, but not boiling hot. If you can't get both pots to the same temperature, rather have the water phase hotter.
Once the contents of both pots are the same hot temperature (approx. 70'C), combine them by adding the oil phase to the water phase.
Whisk manually for 2 minutes, or blend for 10-20 seconds, until you see that the oil has combined with the water and the mixture is white and creamy. This is your lotion.
Set your lotion aside to cool down to room temperature. Do not cover with a lid.
Once the lotion has cooled down completely, add the citric acid dilution. Mix this in very well so that it is evenly distributed.
Follow this step only if you are using Geogard 221 instead of Geogard Ultra, otherwise ignore completely. Add the Geogard 221 preservative after you have mixed in the citric acid dilution. Ensure that you mix this in very well too, so that it is evenly distributed. If you are using Geogard Ultra, refer to step 4.
Transfer your lotion into a sterilised container using a funnel if necessary, and store away from direct sunlight. Use within 3 months.
Notes
1. The preservative is necessary, since there is water in this recipe. Water invites bacteria. Without the preservative, this lotion will have a maximum shelf life of one week even if it's kept in the refrigerator. Without a preservative; bacteria, fungus, mould and yeast will start to grow. You may use any preservative, but bear in mind that each preservative has different applications and usage rates. So make sure to read the manufacturer's directions and adjust the recipe accordingly.
2. To make a 25% citric acid dilution, dissolve 1 part citric acid in 4 parts distilled water (in weight). In other words, 1 gram citric acid dissolved in 4 grams distilled water. For this recipe, you will use 1 ml of that final dilution. Or you can buy the ready-made solution here.
 .

Recipe variations
Oil substitutes:
You may substitute the oils and butters in this recipe with any other oils and butters as long as you use the exact same weight. However, I cannot guarantee that it will have a texture, colour or scent that you like, since each oil brings different properties to lotions.
Adding essential oils:
You may add up to 5ml of additives to this lotion, for example, essential oils and vitamin E oil – or you may use this recipe as is for a fragrance-free lotion. I usually add about 2ml (~40 drops) of essential oils to my lotion base.
Changing quantities:
If you want to make a bigger batch, you may multiply the quantities. For example, multiply all ingredients by 5 to make one kilogram of lotion. This lotion is thin and light enough to be pumpable. If you would prefer a thicker, cream-like texture, adjust the quantities of these ingredients as follows: 115g distilled water; 16g Olive Oil; 20g Shea Butter; 30g Coconut Oil and 14g Eco E-wax. The same instructions apply. These quantities will result in a cream, rather than a lotion.
Citric acid:
You may choose to exclude the citric acid solution if your cream tests to at least a pH6. However, if it tests to pH8, like mine did, you must lower the pH in order for the preservative to work. Geogard Ultra is only effective within pH 3-6 range. So, at pH8 you will have an unpreserved product. Citric acid is strongly recommended also because it lowers the pH of this lotion from pH8 (neutral) to pH5.5 (slightly acidic), which is the natural pH of our skin. You may also use your own pH strips / meter to measure the pH of your lotion, and add a few drops of citric acid at a time until you reach a pH5.5.
Note on preservatives:
When I make this recipe, I use the preservative Geogard 221. That's why you'll notice my photographs show me adding a liquid preservative at the end (in step 12). You may use any cosmetic preservative you wish, but I recommend Geogard 221 or Geogard Ultra. Remember that each preservative has its own directions for use, so simply adjust the instructions in this post about when to add the preservative and how much of it to use according to the manufacturers instructions. If you use Geogard Ultra, simply add it to the distilled water in step 4. Whereas if you are using Geogard 221, then add it after the final lotion has cooled down in step 12.
COST & SHELF LIFE
Cost Price: R18.70 per 200g (in 2019, based on the best retail prices I've found).
Lasted me about: 1 month using twice a day for my face and hands.
Estimated shelf life: 3 months if you include the preservative, and store away from direct sunlight. Without the preservative, this lotion only has a shelf life of 1 week when stored in the refrigerator. Please note that adding ingredients like vitamin E oil and anti-bacterial essential oils will not effectively preserve your product.
CHALLENGE
If this is your first time making an emulsion, it may seem like you need a lot of ingredients that you've never heard of, especially when compared to making a simple oil-based moisturiser. You may be tempted to stick to the easy, greasy stuff.
Some people may be weary about including a synthetic preservative, like Geogard 221 or Geogard Ultra. However, these preservatives are ECOCERT and SOIL association approved to be used in certified organic products, and has no evidence of being toxic when used as instructed by the manufacturer (Geogard 221 at 0.5 – 1%, and Geogard Ultra at 0.5 – 2% of the total recipe weight).
CHERRY ON TOP
No oily residue. Your skin will be moisturised without you having to look like a glazed donut.
The texture of this emulsion is just like the lotions you buy in-store, except its completely natural. The texture is what you are most accustomed to.
Works out significantly cheaper than any retail lotions and creams. And when you buy each ingredient, you will be able to make kilograms of lotion at a fraction of the cost of buying the same amount (whether natural or not). For example, the preservative Geogard Ultra may cost you R650 to buy once-off, but since you are only using 1 gram at a time, you will be able to make this recipe 250 times over. That's enough for 50 litres of lotion! It's the same for other ingredients too. If you have to buy every ingredient, there will be an expensive once-off cost, but if you work it out you will see that the cost per gram of this recipe is cheap.
INGREDIENTS
Need help finding these, or other ingredients? My shopping guide may help you.
RECOMMENDED RETAIL OPTIONS
If you don't want to make it yourself, then here are some natural lotion emulsion products which you can buy. I have used and approved each one. They are, however, more pricey than making it yourself:
My personal favorite (and it smells amazing!):
Earthsap Milk & Honey Lotion ingredients: Purified water, olive fruit oil, aloe oil, stearic acid (source: palm oil), beeswax, rosemary oil, vitamin E, xanthan gum, jojoba and evening primrose oil.
Best reviews and fragrance-free:
Oh Lief Natural Aqueous Cream ingredients: Water, glycerine, coconut oil, cetyl alcohol, sesame seed oil, olive fruit oil, glyceryl stearate, glyceryl stearate citrate, cetearyl alcohol, bentonite clay, betaine (sugar pulp), glyceryl caprylate, beeswax, xanthan gum, benzyl alcohol, dehydroacetic acid, citric acid, tocopherol (vitamin E).
Do you think that this is an effective lotion which absorbs perfectly? If you've tried it, please share your feedback in the comments below.