Dipping a freshly baked gingerbread man into my morning coffee is the first sign that it's Christmas. My waistline then expands throughout the day with every mouthful of festive food (and, of course, more gingerbread biscuits). If you're also watching your waistline, then let your skin – instead of your tummy – indulge in a gingerbread binge this season. This scrumptious body scrub smells good enough to eat (and you probably could), and it will leave your skin radiating with a festive glow for Christmas Day selfies. Not to mention, this scrub makes a perfect DIY Christmas gift.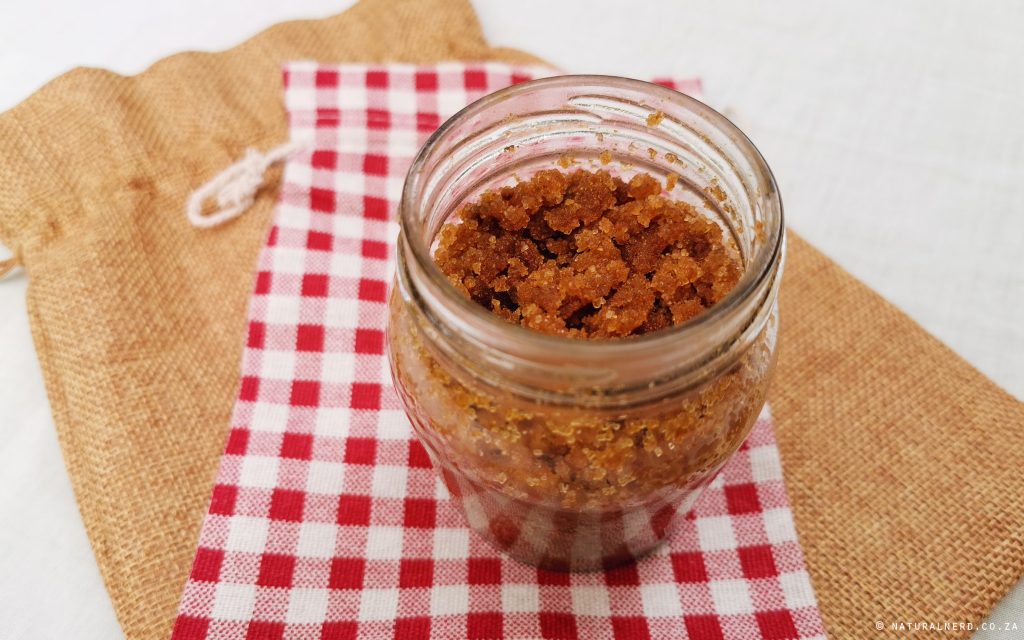 Gingerbread Body Scrub

Body scrub recipe inspired by the ingredients of gingerbread biscuits. Makes a scrumptious DIY Christmas gift.

Instructions
Makes about 450ml (just under 2 cups) of body scrub.
Combine brown sugar, ginger powder and cinnamon together and whisk until the spices are evenly distributed throughout the sugar.
Add sunflower oil to the dry mixture, and mix well until you achieve the texture of damp sand (not slurry mud).
Transfer into sterilised containers and use within 3 months.
Notes
1. Directions for use: Scoop out some of the scrub with a spatula or spoon, and rub over your body for softer, smoother skin. Then rinse it off with warm water.
2. Tip: You may also add a little nutmeg spice, or substitute the cinnamon for nutmeg.
3. Essential oil tips: Stir your essential oil blend into the sunflower oil first, and then add the oil to the dry mixture. You may add a blend of ginger, vanilla and cinnamon essential oil if you want the fragrance to stand out. This recipe has a very mild fragrance without essential oils.  Be careful not to add too much of the other essential oils, since you want ginger to be the dominant fragrance. My suggested blend: 20 drops ginger, 5 drops vanilla, 1 drop cinnamon.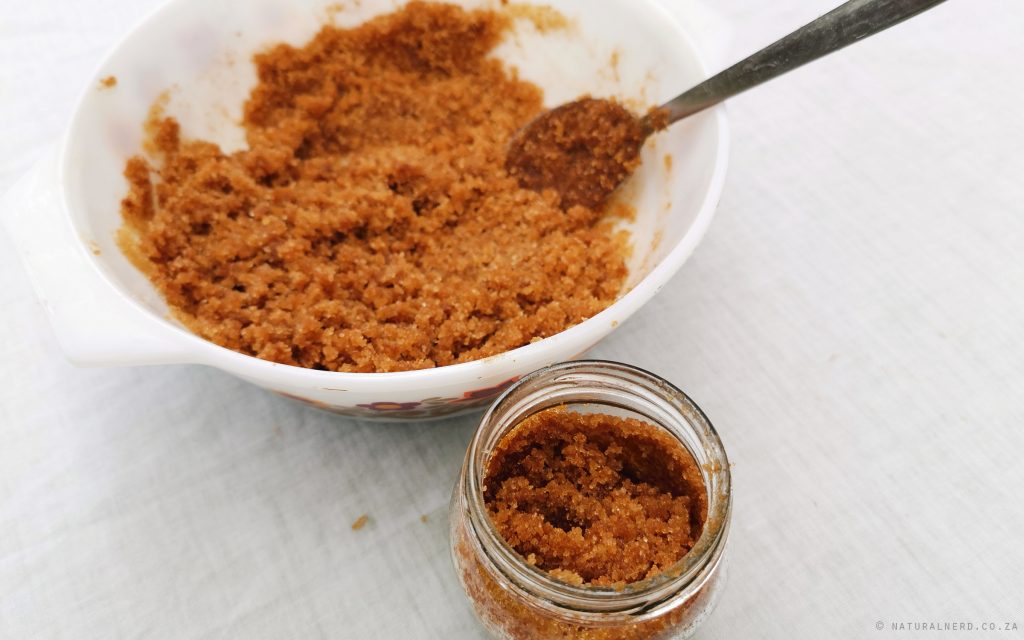 COST & SHELF LIFE
Cost price: R35.62 per 450ml recipe (in 2019, based on the best retail prices I've found).
Lasted me about: 4 weeks (using every week for a full body scrub).
Estimated shelf life: 3 months (stored in an airtight container away from moisture). Use a spoon or spatula to scoop the scrub out being careful not to get any water into your container, as this will shorten its shelf life.
CHALLENGE
Like other scrubs, washing it off is like washing sand off after a long day at the beach. However, the silky soft result is totally worth the extra rub-a-dub-dub.
CHERRY ON TOP
The smell of ginger alleviates nausea – you know, when you've had one too many Christmas cocktails!
Ginger will help prevent signs of ageing, and will keep your skin blemish-free.
Good idea for a Christmas-themed gift.
Super soft and silky skin.
INGREDIENT BENEFITS
Besides being the ingredients in actual baked gingerbread, the ingredients in this body scrub recipe also have the following topical benefits:
Do you have any ideas for DIY Christmas gifts? Please share in the comments below.