Unless you want to play roulette with skin cancer (and nobody does), you should never make your own sunblock. This is the one product that I will always buy, and never DIY. Yes, I know that there are many bloggers sharing their homemade sunscreen recipes – their Pinterest feeds make me cringe. Many even claim to have a specific SPF. They don't know what they are talking about. Other bloggers seem more sensible, because they take the time to mention (after their disclaimers) the risks and limits of homemade sunblocks, yet they still share a recipe? It's irresponsible. This post will explain why I'll never post a homemade sunblock recipe, and why you should always buy your sunblock too.
If you don't read further, at least read my bottom line:
Only trust sunblocks which have been tested in an accredited lab to comply with industry standards, which also provide both UVA and UVB protection.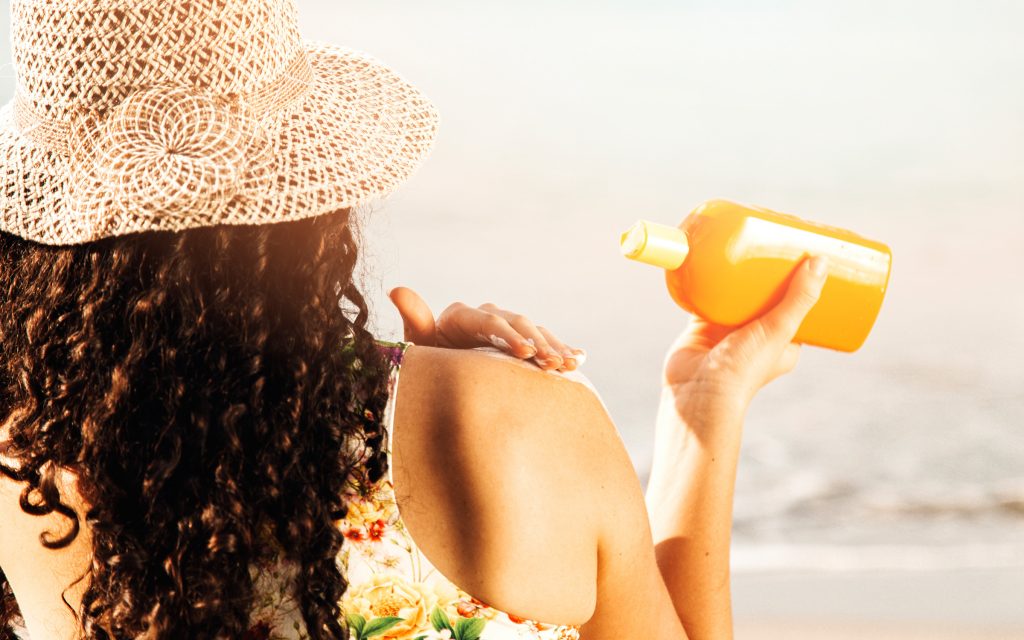 Zinc oxide is not enough. Most recipes I see involve mixing oils with zinc oxide. But, how do you know that your homemade mixture has evenly dispersed zinc oxide? How do you know that your formulation is stable? Do you know what quality of zinc oxide you are using? Is the zinc oxide coated or uncoated? You are most likely making a product with clumps of zinc oxide between gaps of oil. Zinc oxide is a physical filter which sits on the surface of your skin to reflect and scatter damaging rays. This is good. However, when it comes to your health, you need proof that your method and formulation will actually protect your skin.
Sunblock formulations are tested against various industry standards including COLIPA and SANS standards. These include tests for: SPF; water resistance; UVA / UVB balance; photostability; UVAPF; critical wavelength etc.
I understand more than anyone, the hesitance you may feel in buying sunblock when your goal is to 'go natural'. The great news is that there are local brands in South Africa (and abroad) that offer accredited sunblocks AND organic certification. So you can buy an organic sunblock that you can trust. Let's support local on this one.
How to choose a safe sunscreen
Here are some tips for what you should look for when buying a natural sunblock. Look for the following on the label, or contact the manufacturer to find out about the following:
Avoid sunscreens that contain Vitamin A.
Vitamin A is also listed as retinyl palmitate, retinyl acetate, retinyl linoleate and retinol. Studies have suggested that when used in the presence of sunlight, Vitamin A may actually "trigger the development of skin tumors" [2].
Make sure sunscreen offers both UVA and UVB protection.
Some brands will claim "broad spectrum protection", which means they are claiming UVA and UVB protection. However, this marketing term is thrown around willy nilly, rather dishonestly. The only way you can trust that the product does offer adequate UVA protection is if it meets industrial standards and has been certified (as I will explain in the next point).
Confirm that the sunscreen's compliance to industrial standards is certified.
COLIPA is the European regulatory body which governs all cosmetics on the market. Many international sunscreen brands seek to be COLIPA-compliant. In South Africa, all COLIPA-compliant sunscreens will bear the CANSA SunSmart Seal (pictured below). For a list of these products click here.
SANS (South African National Standard) refers to a standard that specifies the performance requirements of a specific product. An accredited certification body like SABS (South African Bureau of Standards) can then test and certify a product according to its SANS standard. Therefore, you may also query whether the sunscreen you want to buy is SANS-compliant and SABS certified.
If you are not in South Africa, find out who the local regulatory body is. In the USA it is the FDA; and in Europe it is the EMA.
The product label itself may not say that it is certified, but you can often visit their website or contact the company to confirm its COLIPA certifications and accreditation, as well as its compliance to local standards. You can even ask for proof of their certification.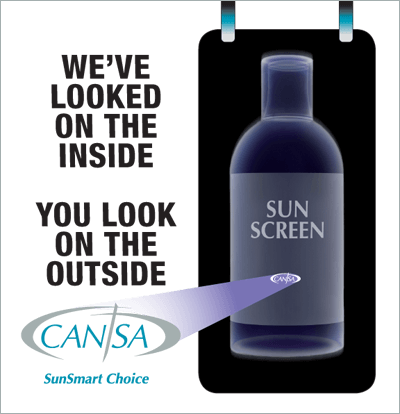 Confirm that it is a mineral sunscreen.
Mineral sunscreens (as opposed to chemical sunscreens) are made with zinc oxide and/ or titanium dioxide. According to the EWG (Environmental Working Group), these are generally recognised as safe and effective for topical use. Some chemical ingredients you may want to avoid include: Oxybenzone, Octinoxate (Octyl methoxycinnamate), Homosalate, PABA, Trolamine salicylate, Octisalate, Avobenzone. For more detailed information about what these ingredients are, and what makes them possibly hazardous, please refer to the EWG's article. Their article includes a table summary of these ingredients. Of particular concern, is oxybenzone, especially for kids.
Non-Nano is preferable.
Non-nano just means that the physical filters like zinc and titanium dioxide are bigger than nanoparticle size.
Sunblock made with nanoparticles are not necessarily dangerous. Studies show that they do not readily absorb into the skin [1], however there is still much research to be done regarding the effects of nanoparticles on our organs if ingested or inhaled (via sunscreen sprays), and its environmental effects.
Non-nano sunscreens also offer much broader sun protection against UVA, UVB and blue light than its nano counterparts.
Cosmetic brands offer nano sunscreens, because they have a more transparent application than non-nano sunblock which tints the skin white. I don't know about you, but I'd rather look chalky white and be protected from the sun. For me, aesthetics are not important when it comes to sunscreen.
Don't be fooled by SPF values over 50.
Products that promise a high SPF value over 50 may be misleading. You think you are getting double the protection with SPF 100, so what do you end up doing? You stay out in the sun longer, and you re-apply sunscreen less often. This is dangerous, because you are misusing the product.
SPF is only an indication of how long you can be in the sun without getting sunburned – only UVB rays cause sunburn. It's not an indication of how well you are being protected from UVA rays, which penetrate deeper into the skin, cause the formation of free radicals and increase the risk of melanoma skin cancers [3].
You need a balance of UVA and UVB protection. You may not get sunburned after an hour with SPF 100, but you still cause serious damage. Sunscreens with SPF 30 provide better balanced protection against both UVA and UVB rays, and because you will re-apply every 30 minutes you will be a lot safer.
Please still read the label to confirm that the product offers protection from both – not all SPF 30 products offer UVA protection!
European standards for UVA protection are higher than USA standards.
In a 2017 study, it was found that only 2 out of 7 U.S. suncreens rated over SPF 50 would pass the European standards for UVA protection [4]. Therefore, you may want to consider buying an accredited sunscreen manufactured and sold in Europe, or one that is COLIPA-compliant.
Check that the sunscreen is COSMOS compliant.
If you want to be certain that the product is natural or organic, find out whether the product complies to the COSMOS standard, or is certified by the SOIL Association to be "certified natural" or "certified organic". COSMOS is an international standard which defines the requirements of natural and organic products.
Lookout for the UVA star rating or pa+ rating.
Not all products have these ratings, but it's good to understand each rating if the information is available.
The PA system is Japanese, and it's a measurement of a product's UVA protection. So just like SPF is an indication of UVB protection, the PA system is an indication of UVA protection.
There are four levels to the PA system. So the best products will be rated PA++++ (extremely high UVA protection), and products with the least UVA protection will just be rated PA+ (some UVA protection). For example, the Badger Sport Sunscreen which I mention below, is rated on the third level of UVA protection with a PA+++ rating (high UVA protection).
Other products use the star rating system, where the highest UVA protection will be rated five stars. For example, the Sunumbra Classic sunscreen which I mention below is rated with 5-star UVA protection.
My personal product recommendation
I prefer to recommend a product which I have actually bought and used myself. In the case of sunblock, I completely trust the Oh-Lief sunscreen range.
Their sunscreens are certified organic, lab-tested and comply with international and local standards. They have also been endorsed by the Cancer Association of South Africa, and their branding bears the CANSA seal. Their formulation offers broad spectrum protection from both UVA and UVB rays. If that's not enough (believe me, there's more), they're also vegan. In a nutshell, they tick all the right boxes. It's expensive to get all these certifications and accreditation. So when a natural brand makes the effort to do things the right way, it's worth supporting them.
Before you ask…No, I have not been paid to write this post. After shunning homemade sunscreen, I thought I'd better help you find a safe, natural sunblock. I did all the research, so you don't have to. I have also been using Oh-Lief sunscreen since 2015.
How does Oh-lief meet these criteria?
Oh-Lief Sunscreen meets all the above criteria, and wins some other brownie points too:
COLIPA compliant (International – European)
SANS compliant (local)
Offers UVA and UVB protection
The ingredient list confirms that it is a mineral formulation (using zinc oxide).
Does not contain any of the avoidable chemicals listed above.
Label confirms "non-nano" formulation
Certified Organic (by SOIL Association under COSMOS standard)
Endorsed by CANSA and bears its seal of approval
Vegan
Endorsed by Beauty Without Cruelty
Proudly South African (made in Cape Town)
Does not provide UVA rating information.
Other retail options (which i have not used)
Below are some other natural and organic sunscreen brands available for purchase both in South Africa and abroad. However, I have not tried these particular brands myself:
Badger Sport Sunscreen SPF 40 is an international brand that is available to buy in South Africa, and internationally on sites like Amazon. This sunscreen has organic certification, and a PA+++ rating. This brand also ticks all the right boxes, and is actually one of the Environmental Working Group's (EWG) top rated products. You can buy this product from Faithful to Nature (South Africa) or Amazon (international).
Sunumbra Classic Sunscreen SPF 30: and three of their other sunscreen products are also listed as one of the EWG's top rated sunscreens. It is a South African brand, but their products are also available internationally here. Their online store claims to ship to any country worldwide, and they offer free shipping in the USA on orders over $100 (at the time of writing). You can buy this product from Faithful to Nature (South Africa) or from their online store (international).
Have you made your own sunscreen before, and has this article changed your mind about homemade sunscreen? Do you know of any other natural, and compliant sunscreen brands – local or international? Please share your feedback in the comments below.