Quitting these 11 plastic items will make a significant difference whether you are trying to achieve a zero-waste lifestyle, or to simply reduce the waste you send to the landfill. The key is to avoid single-use plastic items altogether. You will be surprised at how much of your waste is reduced if you can manage to avoid these eleven plastic products. After all, every little bit helps.
1.) Plastic Toothbrushes
Replace with: A bamboo toothbrush.
Everything about this product is biodegradable – the handle, bristles and packaging! It works just like any other toothbrush and lasts just as long. The Environmental Toothbrush is available in adult and child sizes, as well as a bulk pack.
Cost: R45 for a single toothbrush (Buy here).
2.) Plastic Produce Bags
Replace with: Fabric Fresh Bags
You can now finally replace those thin plastic bags you use to weigh your fresh produce at the grocery store. Fresh bags are made of light-weight nylon mesh and are sealed by pulling the coloured ribbon (kinda like a drawstring bag). Yes, it means that you need to remember to take these into the store with you, but you could always leave them in the car so you don't forget them at home. You can also avoid using these plastic bags by asking the store clerk to weigh the item and just slap a sticker directly onto it. I do this with single items like garlic, ginger etc.
Cost: R70 for two standard size Fresh Bags (Buy here), and R85 for two large size Fresh Bags. You can also find other material bread bags, dry food bags and cotton bags here.
3.) Cling wrap
Replace with: Beeswax Wraps (I use Buzzy Wraps), or Spaza Dish Covers.
Buzzy Wraps are made out of beeswax, tree resin and jojoba oil infused into hemp and organic cotton cloth. It is fully compostable and can be used to create a relatively airtight seal on food items. It is used in much the same way as cling wrap. They are also available in a variety pack with different sized wraps.
Spaza Dish Covers on the other hand are fabric covers for bowls, so that you don't have to protect your handmade dish with cling wrap when it's time for that bring-and-braai.
Cost: 6 Degrees East offer the cheapest beeswax wraps I have found at a cost of R129 for a set of 3. (Buy here). Buzzy Wraps cost R219 for a pack of 3 (Buy here). There are many options available in South Africa – browse other brands here. Spaza Dish Covers cost about R370 for a set of 4 (Buy here).
4.) Ziploc bags
Replace with: Good for the Ground Compostable Film Bags.
It looks like plastic, feels like plastic and works like plastic, but it's not plastic! This packaging is completely compostable and biodegradable. These film bags are made from a starch derivative of corn, sugar cane, straw, wood or other annually renewable resources and will break down in 45 days. Although these bags don't seal like Ziploc bags, I find that using a peg to close them works perfectly too.
Cost: R22 for 10 small bags (200x100mm); R36 for 10 large bags (300x130mm); and R120 for 100 small bags (Buy here).
5.) Plastic Straws
Replace with: Glass, bamboo or stainless steel straws (Find here).
Make the effort to rather carry one reusable glass, or stainless steel straw around with you in your handbag or car. You can also buy a straw cleaner which makes it easy to really scrub inside the straw. Stainless steel straws are the most practical option to carry around, and bamboo straws are generally the most affordable, whereas glass straws make a beautiful alternative when hosting parties at home etc.
Straws may seem like a small and insignificant piece of plastic, but when you consider that Americans alone use over 500 millions straws every day; then it becomes an obvious plastic item to avoid. It's these small pieces of plastic that end up in the stomach's of our precious wildlife and kills them.
Cost: R40 for a stainless steel straw and R20 for a straw cleaner (buy these here). R25 for a bamboo straw (buy here). About R250 for a set of two glass Stream Straws. They are available in a variety of styles. (buy here).
6.) Disposable Plastic Cutlery
Replace with: Wooden cutlery or compostable cutlery.
Both individuals and businesses can replace their disposable cutlery with affordable and biodegradable alternatives. Green Home is a local business that sells both wooden and compostable cutlery in bulk. Their wooden cutlery is made from FSC certified sustainable plantations, and their compostable 'plastic-like' cutlery is actually made from renewable plant based raw materials like corn starch. (View their cutlery range here). Prices range from R16 – R30 for their packs of 10.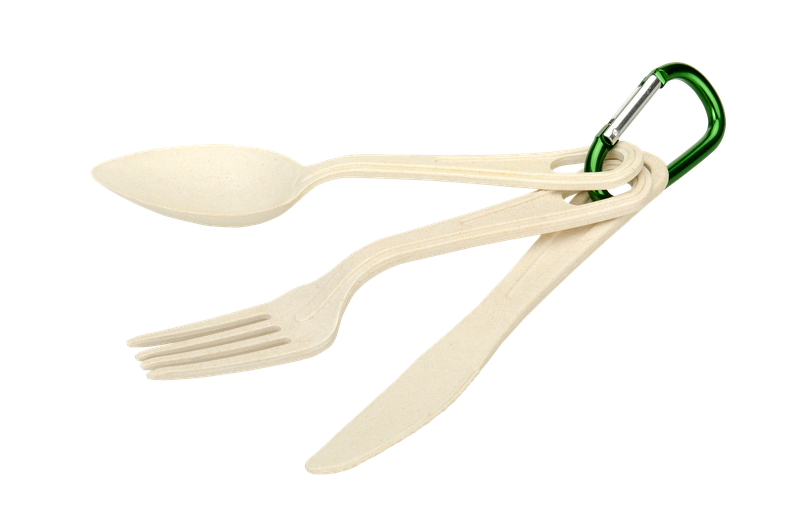 You can also find a 3-piece bamboo cutlery set here on Takealot, which includes a bamboo spoon, fork and knife held together by an easy keeper clip so that you can attach it to your keys or handbag. This 3-piece set costs about R40.
7.) Plastic Bottled Water
Replace with: A reusable glass or stainless steel bottle. (Find here)
Start carrying your own re-usable bottle around, instead of buying bottled water. It's cheaper and eco-friendly. Glass or stainless steel bottles are best. If you buy bottled water because you cannot drink your tap water, you should consider investing in a good water purifier or filter. Remember to look for BPA-free bottles to ensure that no harmful chemicals will leak into your water.
Cost: R55 for a 500ml glass Consol Grip & Go water bottle (buy here). R270 for a 500ml stainless steel water bottle (buy here).
8.) Disposable Coffee Cups
Replace with: Reusable coffee cups (Browse the different types here); or Green Home's compostable takeaway cups (for businesses).
100 billion paper cups are thrown away (not recycled) every year, and 20 million trees are cut down in the process of manufacturing paper cups. The amount of water used in the process is approximately 12 billion gallons.
You can make a difference to this horrifying statistic by choosing to use a reusable coffee cup. If you often buy coffee on-the-go, then take your reusable cup with you into the café and ask the waitron to fill that up instead. There are various options of reusable cups to choose from – ceramic, stainless steel and plastic. Ecoffee Cups, on the other hand, are reusable mugs that are made out of organic bamboo fibre and non-GMO corn starch. They are also BPA free. These cups are available in a variety of stylish and fun designs. Alternatively, if you never remember to bring your reusable cup when you need it, you should rather buy a collapsible coffee cup which you can store permanently in your handbag.
Cost: R200 for 250ml, or R250 for 400ml Ecoffee Cup (buy here). About R200 for a Stojo collapsible coffee cup (buy here).
You can also recommend a biodegradable packaging option to your local café. Businesses should consider replacing their takeaway packaging with Green Home's eco-friendlier packaging options. Their cups are completely compostable and they also offer other products like coffee cup holders made from recycled paper and wooden stirrers made from certified sustainable plantations. Their products are available in packs of 50, cartons of 500 and 1000. (View their product range here)
9.) Foods Packaged in Plastic
Replace with: Foods packaged in plant cellulose (bio-plastic), or recycled cardboard like those in the Goodness Me range; or Faithful to Nature's plastic-free food range.
Foods like popcorn, lentils and beans that are typically packaged in plastic are now avoidable since brands like Goodness Me have introduced their recyclable and affordable alternatives. Goodness Me offer a small selection of very affordable, non-GMO foods that are also packaged with the environment in mind. The inner packet is made from GMO-free annually renewable plant cellulose, which is compostable and fully biodegradable. The outer box is made from a minimum of 70% recycled plant fibre, which is renewable and recyclable. Their product range includes: Popcorn, lentils (red and brown), chickpeas, haricots, black-eyed beans, polenta and split peas.
Faithful to Nature have also introduced some foods that are not packaged in plastic, these include brown rice, dried mango, raisins, chickpeas, sunflower seeds, lentils, black beans and buckwheat.
Cost: From R25 – R50 for a 500g box in the Goodness Me range. (buy here). From R45 – R100 for a 400g box in Faithful to Nature's range (buy here).
Another grocery shopping tip that will reduce your plastic waste is to take containers with you to the butcher and ask them to put your meat in there instead. This way, you will avoid the nasty Styrofoam trays and cling wrap that meat is typically packaged in.
10.) Single-use Menstrual Pads & Tampons
Replace with: Reusable menstrual products like silicone cups, menstrual sponges or reusable menstrual pads. (Browse all options here)
The average woman will typically use 14 000 tampons or pads in her lifetime, each of which takes up to 800 years to break down because of the plastic content in each.
Replacing disposable menstrual products is one of the most significant changes that women can make for the environment. Silicone cups, like the Goddess Cup, are the best long-term option as one cup will typically last up to 5 years. However, they are not biodegradeable. Menstrual cups are also hygienic, comfortable, convenient to carry around and easy to clean.
Reusable menstrual pads like MoonTime's range can also last years if cared for properly, however they are a little more inconvenient to clean and carry around.
Menstrual sponges, on the other hand, only last about 3-6 cycles as a natural alternative to tampons. However, they are completely biodegradable. Unfortunately, they are not as hygenic, convenient to clean and carry around as silicone cups.
Cost: From R255 for a Goddess Menstrual Cup (buy here). From R150 for Moontime's reusable menstrual pad (buy here), and about R90 for a pack of 2 menstrual sponges (buy here). Menstrual cups are by far the most cost-effective option.
11.) Plastic grocery bags
Replace with: Fabric bags or Trolley Bags.
We've all seen material bags for sale at the checkout counters of grocery stores. Some of us have a pile of them that never leave the house or car. Again, the point is to remember to actually take these into the store with us. You can do it! It's just a matter of making a habit of not buying plastic bags.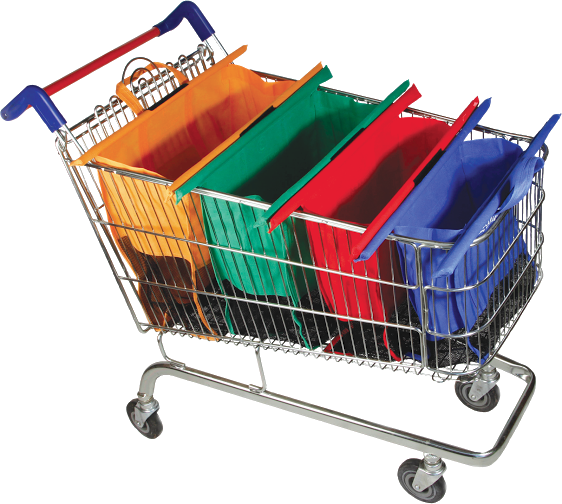 Trolley Bags use a similar concept to fabric bags, except that they spread out to fit perfectly into your trolley, making it more convenient to check-out. Four fabric bags are attached together with Velcro so that you can rack them in your trolley (pictured above). They are also detachable so that you can easily pack your groceries into your car.
Cost: Trolley Bags cost about R350 (for a set of four bags), and are available online here. Standard fabrics bags can be found at most grocery stores for about R25, but you can use any material bag. I personally love the bags made by Ecorific, including these Hemp shopping bags for R60. Whatever you choose, the point is to stop buying single-use plastic bags.
Do you have any helpful tips to reduce plastic waste? Please share your ideas in the comments below.
Photo credit:Gabriel Maglieri via Compfight Creative Commons.