This hair spray is not the kind you use to style your hair, but rather to give your locks a health boost. It's kinda like a "hair vitamin". Even if you have perfectly normal hair, this spray will still protect it from the harsh environmental factors it is exposed to every day.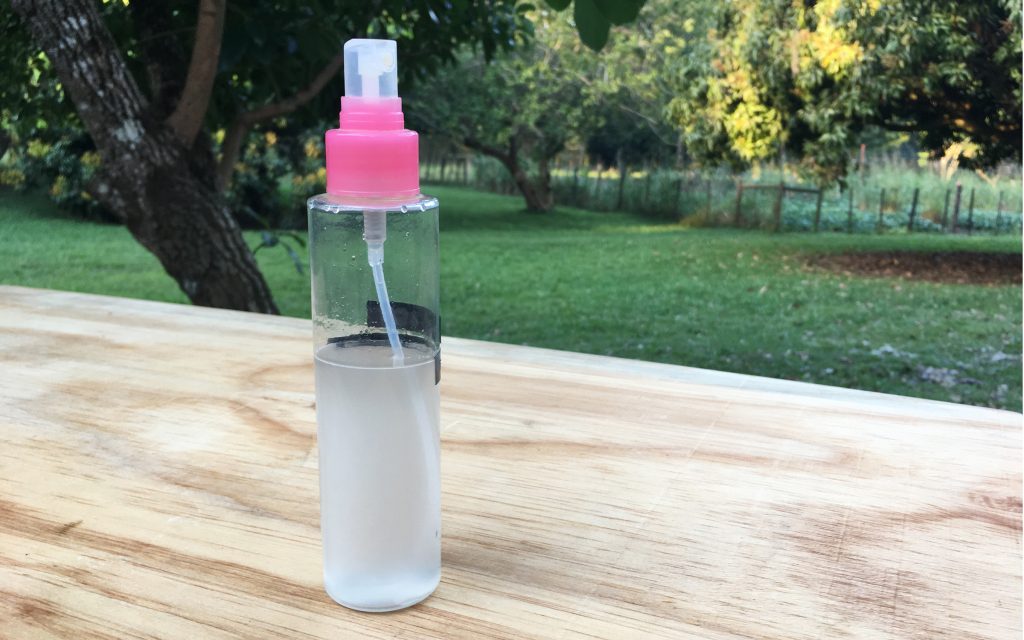 Healthy Hair Spray

A water-based hair spray that will nourish and hydrate your hair and scalp to keep both healthy.

Instructions
Makes 100g.
Combine the vegetable glycerine and Geogard Ultra powder into a paste. Set aside.
Combine the remaining ingredients together and stir until the d-panthenol gel is dissolved. The d-panthenol is thick and sticky (like honey), but it will dissolve eventually with stirring.
Stir in the glycerine-geogard mixture. Cover and allow to stand until the Geogard Ultra powder is fully dissolved.
Once the Geogard Ultra is dissolved, pour everything into a sterilised spray bottle.
Shake well before each use. Use every day for best results. Store away from direct sunlight and use within 3 months.
Notes
You can use any water-soluble, broad-spectrum preservative. Remember to adjust the quantity, method and pH according to the manufacturer's instructions.
If you change this recipe in any way, you will have to test the pH and adjust as necessary. When I make this recipe with Geogard Ultra, the product tests to pH 4 which is suitable for hair and is within the effective range for this preservative.
Recipe Variations & Substitutions
Rosemary Hydrosol
Hydrosols are basically flavoured distilled waters, and are a bi-product of making essential oils. Hence, you can substitute with plain deionised or distilled water for a significantly cheaper product. You can also use any hydrosol for fragrance, but I've chosen Rosemary hydrosol for its benefits for the hair and scalp. If you cannot find rosemary hydrosol, other hydrosols that are good for hair care include: lemongrass and lavender.
You could make a rosemary tea (infusion) with distilled water, but botanicals will affect the shelf life of this product and challenge your preservative. Therefore, you would have to use your hair spray within one month and perhaps even store it in the refrigerator. For a longer shelf life, I recommend using a hydrosol instead, or otherwise you could also solubilize rosemary essential oil into distilled water using decyl glucoside or another solubilizer.
Active Ingredients
You could exclude any of the active ingredients (except the preservative). If you do exclude glycerine, hydrolysed wheat protein or d-panthenol gel, then increase the hydrosol content accordingly so that the recipe balances to 100g total. You can use another hydrolysed protein like keratin, rice, hemp or quinoa protein. You can also use dl-panthenol powder which is easier to work with than the sticky gel form – it dissolves quicker and powder is less messy. However the sticky stuff (d-panthenol) is the natural version.
Cost & Shelf Life
Cost Price: R16 using plain deionised water, or R74 using rosemary hydrosol (per 100g). (Costs accurate at the time of writing).
Lasted me about: 1 month using everyday.
Estimated shelf life: 3 months if using distilled water or a hydrosol, and stored away direct sunlight, and stored in a sterilised bottle.
Challenge
For the most benefit, you will need to buy all the active ingredients.
Cherry on Top
Very quick & simple to make. You're basically just mixing everything together.
You could also use this as a face/body mist. The active ingredients are nourishing for the skin too.
Plant-based recipe.
Ingredient Information
Need help finding these, or other ingredients? My shopping guide may help you. Are you new to essential oils? Please read how to use them safely.
Did you use a different hydrosol or plain distilled water, and how has it worked for you? Please share in the comments below.