Jump to recipe
This hair spray is not the kind you use to style your hair, but rather to give your locks a health boost. It's kinda like a "hair vitamin". The essential oils used in this hair spray have properties which are particularly beneficial for hair; and have been used to treat and prevent various conditions like dandruff, greasy hair, brittle hair, lice and even hair fall just to name a few. Even if you have perfectly normal hair, this spray will still protect it from the harsh environmental factors it is exposed to every day.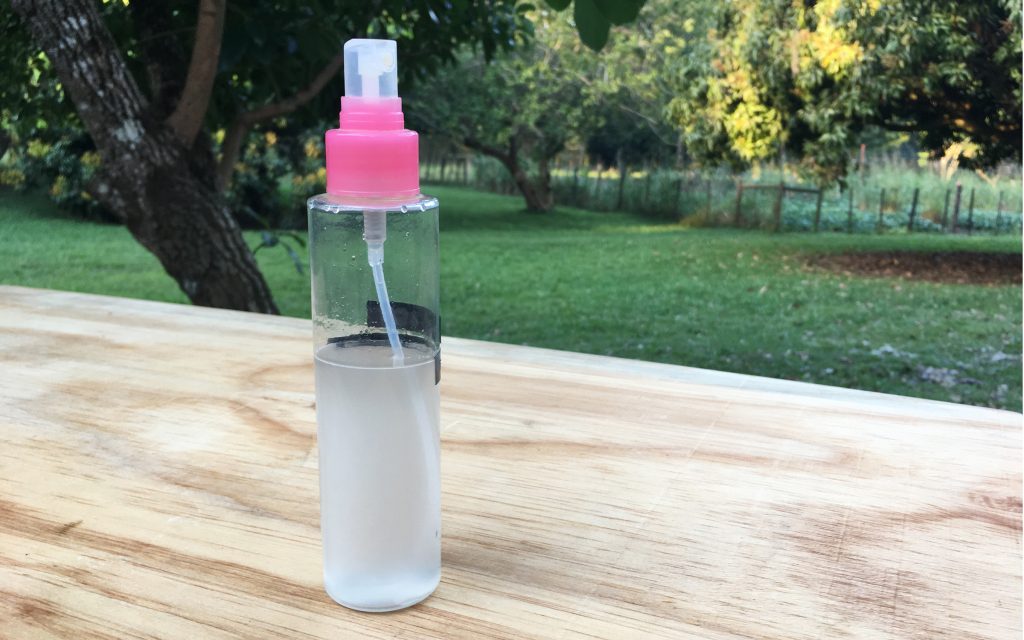 Instructions
Add all ingredients directly into a sterilised spray bottle.
Shake well before each use.
Use every day for best results. Store away from direct sunlight and use within 6 months.
Notes
Tip: Instead of using plain distilled water, make a herbal tea with the distilled water for added benefits. I recommend using green tea, or rosemary tea. Other good herbs to use are lavender, thyme, basil or chamomile. Although a "tea" cannot substitute the concentrated essential oils, it does still provide benefits in diluted form. If you make a tea, the botanicals will affect the shelf life of this product and you must us it within 2 weeks. For a longer shelf life, I recommend using a hydrosol, which is basically a 'flavoured' distilled water.

Recipe Variations & Substitutions
I personally use Rosemary and Carrot Seed essential oils (EO) in my hair spray, but there are other essential oils you could try. I do highly recommend Rosemary and Carrot Seed as they suit all hair types and have the widest application in the number of conditions they treat. Lavender EO is another good all-rounder. I understand that everyone won't be able to afford Carrot Seed oil, so you can leave it out altogether or use another substitute mentioned below. Please note that there is a difference between Carrot and Carrot Seed EO. Carrot Seed is the more expensive one:
Normal hair: Lavender, Eucalyptus (Lemon), Geranium, Carrot, Carrot Seed, Rosemary.
Dry hair: Lavender, Geranium, Sandalwood, Yarrow, Carrot, Carrot Seed, Rosemary.
Greasy hair: Lavender, Eucalyptus (Lemon), Basil, Thyme, Yarrow, Carrot, Carrot Seed, Rosemary.
Fragile hair: Lavender, Chamomile, Thyme, Sandalwood, Carrot, Carrot Seed, Rosemary.
Hair loss: Lavender, Thyme, Sage, Carrot, Carrot Seed, Rosemary.
Dandruff: Lavender, Thyme, Tea Tree, Eucalyptus (Peppermint), Carrot, Carrot Seed, Rosemary.
You can find organic essential oils here.
COST & SHELF LIFE
Cost Price: R3.07 per 100ml.
Lasted me about: 1 month using everyday.
Estimated shelf life: 6 months if using distilled water, and stored away direct sunlight.
*Costs accurate at the time of writing, and based on the best retail prices I've found.
CHALLENGE
Although carrot seed essential oil is an excellent ingredient for hair products, it is expensive.
CHERRY ON TOP
Takes less than a minute to make.
INGREDIENT BENEFITS
Rosemary essential oil (EO):  Stimulates hair follicles, which helps hair grow stronger. Eliminates microbial activity which is often a cause of hair loss. Slows down premature hair loss and graying. Removes dandruff (buy here).

Carrot seed EO: is rich in Carotene, Vitamin-A and E, and has a naturally high sun protection factor (SPF). Therefore, carrot seed repairs and protects hair from the damages done by environmental factors like sunlight, and other free radicals. It also stimulates hair growth, strengthens hair roots and promotes soft and shiny hair. (buy here)
Glycerine: Treats and prevents dry hair and skin. It is an emollient i.e. It will soften and moisturise hair follicles. (buy here or buy vegetable glycerine here)
Need help finding these, or other ingredients? My shopping guide may help you. Are you new to essential oils? Please read how to use them safely.
Which essential oils have you chosen to use for this hair spray, and how has it worked for you? Please share in the comments below.