Name of Product
Love My Hair Herbal Hair Colour (Permanent).
Colours being reviewed
Dark Brown and Wine Red.
Price
R195 per box from Faithful to Nature.
R170 per box from King Online.
My rating
3.5 / 5 stars
Will I buy this again?
Yes, but not the Wine Red colour.
Review Criteria
1.) Cost
A box of Love My Hair herbal dye costs between R170-R195 per box, which is slightly more expensive than chemical hair dyes which average at about R120-R150 per box. It is also cheaper than Herbatint, another competing natural brand of hair dye, which costs about R200-R220 per box. One box is enough to cover medium length hair (that falls between the shoulders and shoulder blades).
Bottom line: This is a fair price for a completely natural product.
2.) Ingredients
This is where the brand outshines its competitors. Eight ingredients in total – all of which are herbs. This truly is 100% herbal hair dye. Many other brands are not entirely free of chemicals, but rather offer a lower-chemical alternative. For example, Herbatint contains no ammonia, resorcinol and parabens, but it still contains a handful of other chemicals including the risky PPD (para-phenylenediamine). Be careful not to confuse this review with the products in the Love My Hair  "Ultra Low Chemical" range. It is only their 100% Herbal range that I am attesting to in this review. To give you an idea, here are the herbal ingredients listed for the dark brown tint: Henna, Indigo, Amla, Bahera, Harad, Bhringraj, Brahmi, Shikakai. That's it!
Bottom line: The best ingredients on the South African market.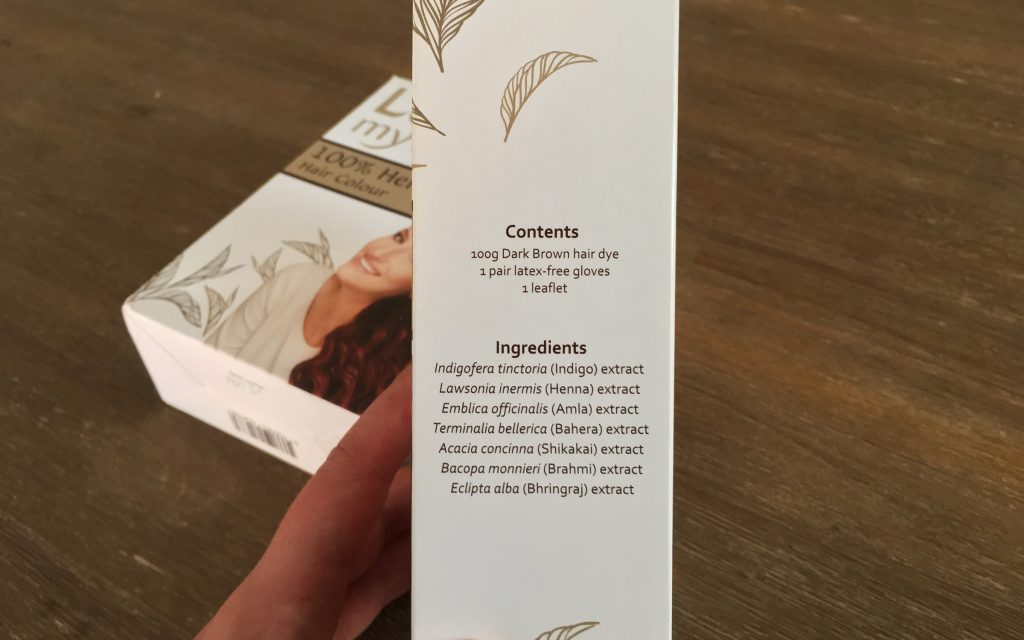 3.) Application
Among the advantages for chemical hair dyes is their quick & easy application. Unfortunately, this is where herbal hair dyes fall terribly short, including Love My Hair. The application involves mixing a packet of powder with warm water, which seriously stinks (to say the least). If you had doubts about its natural contents, then the earthy (and dare I say) compost-like smell will definitely convince you! You then apply this muddy mixture to your hair, seal your head with cling wrap and wait 1-2 hours for the colour to set. Applying the mixture thoroughly can be quite difficult for people with long, thick hair; because it's like trying to apply thick, clay mud on every strand. Things get messy! Depending on the sensitivity of your nose and your patience, you may agree with me that this is a small inconvenience to pay for safe and effective hair dye.
For an effective application, I also recommend using the minimum amount of water as indicated in the instructions. This prevents the dye from being too liquid, and then dripping all over the place while you wait for the colour to set. I also recommend doing a clarifying rinse before application (even if you use natural hair products), as this ensures there will be no product residue that will hinder the effectiveness of your coverage. Dilute vinegar (white or apple cider work well) in water and rinse your hair with this solution. When your hair is completely dry, apply the hair dye.
Bottom line: Applying this dye is not for the faint-hearted. Unfortunately, this is the product's biggest weakness.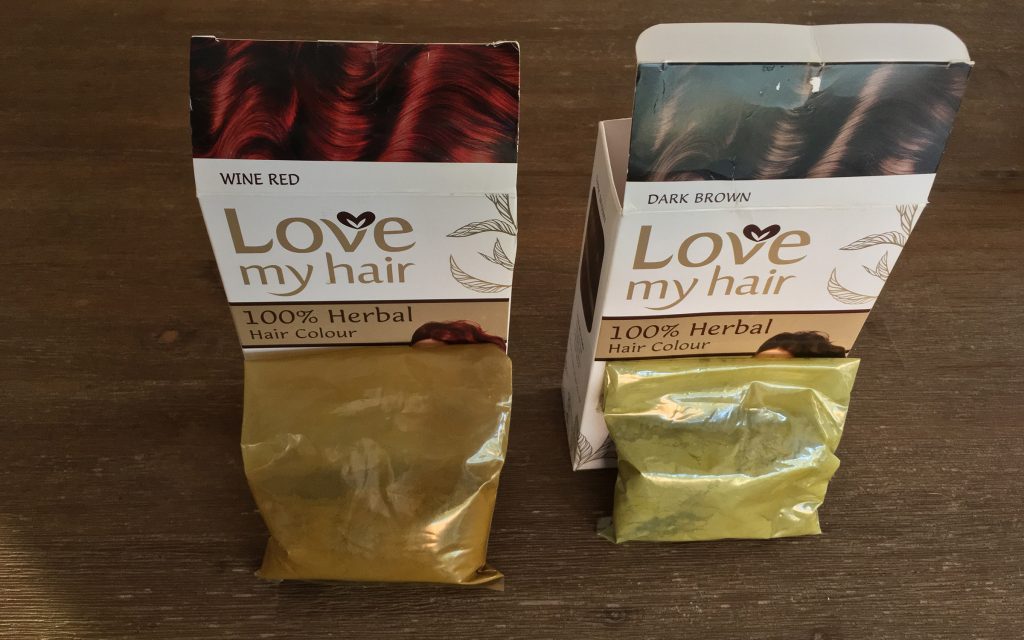 4.) Coverage & Colour
Permanence
The coverage and colour of the Dark Brown dye is great – I have no complaints. It does provide permanent coverage that doesn't wash out. I can't say the same thing for the Wine Red though. After applying the Wine Red on three occasions, it washes out every single time. I gave it the benefit of the doubt the first time around, since it could've been attributed to my own mistake. However, I strictly adhered to all the directions thereafter with the same result. It's weird, the colour seems to last (i.e. It is permanent), but every time I wash my hair I see orange water flowing into the drain, which can only be the dye washing out (weeks after colouring). The worst part about this is that my wet hair can't touch anything besides an old towel, as it stains everything when wet! This is my reason for never buying the Wine Red again – such a pity! It may not happen to you, but whatever the reason, it keeps happening with me.
Colour Result (On dark brown hair)
In keeping with my natural colour, I buy the dark brown dye, and when I feel like some change I buy the Wine Red colour. Since my hair is already dark brown, the Wine Red doesn't come out red, but rather darkens my hair closer to black, and subtly shows a deeper red tint that shows most clearly in the sun. There's more colour depth and dimension with the Wine Red, as opposed to the very flat and monotone result of the Dark Brown.
Grey Coverage
My sole purpose for colouring my hair is to cover the little bits of grey that stand out against my dark brown hair. So in terms of grey coverage, the Wine Red is the best in my opinion. My grey hairs are dyed red, which result in looking like subtle red highlights among my dark hair. Whereas, the dark brown option gives my grey hair a more yellow-orange tone.
Bottom line: Permanent and complete coverage of greys, except the wine red colour may wash out.
5.) Packaging (Eco-Friendliness)
The cardboard box is recyclable, but the foil sachet that contains the dye and the thin plastic gloves are not readily recyclable .
Bottom line: Improvements can be made to make packaging more eco-friendly.
SUMMARY
Cherry on top:
Cost is similar to chemical hair dyes. It is cheaper than other more natural competitors.
Only 8 herbal ingredients. Completely chemical-free.
Effective & permanent coverage (Dark Brown).
Challenge:
The unpleasant natural smell of the dye mixture.
The messy & difficult application of a mud-like mixture (especially long, thick hair). There's no application tube.
Waiting time of 1-2 hours for the colour to set.
The possibility of the Wine Red dye washing out.
If you would like to try this product, you may buy Love My Hair products online from Faithful to Nature or King Online. This is where I have purchased from. You can also support me buy purchasing from these affiliate links within 24 hours of clicking them.
IMPORTANT NOTE: The opinions expressed in this review are my own, and I have NOT been paid to write this post. I have purchased the product myself, and this review shares my individual experience and observations of the product.