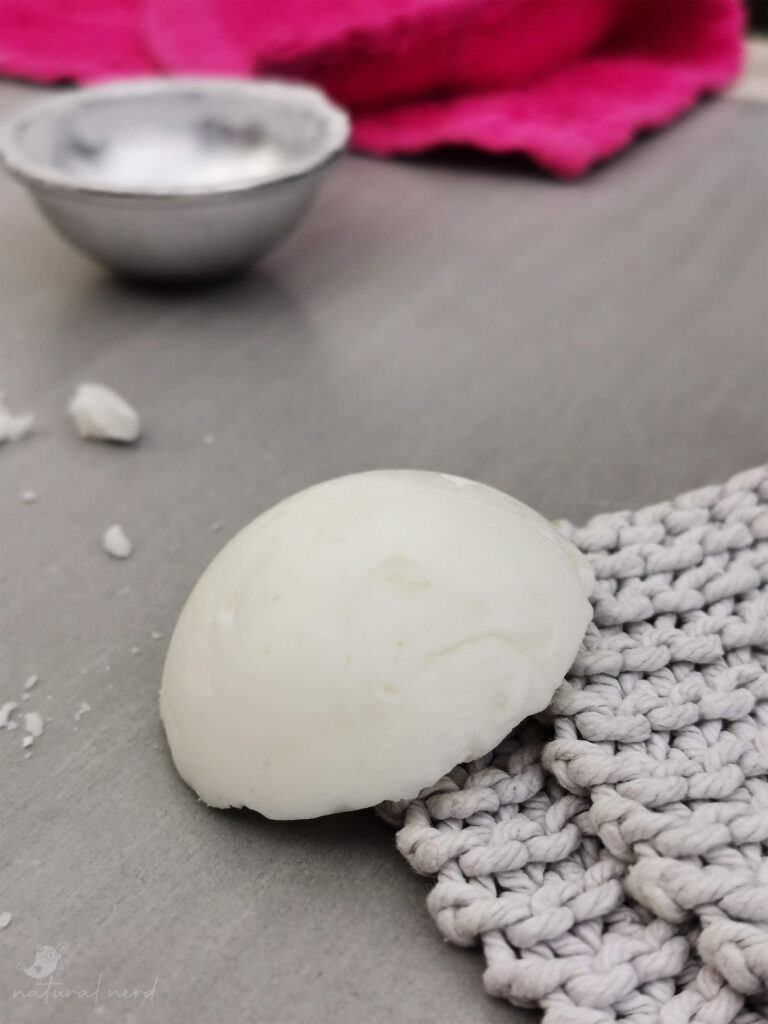 Five ingredients are all you need to make this multipurpose solid cleansing bar, which can replace your shampoo, body, face and hand wash. It's perfect for travel and a plastic-free lifestyle. This recipe is basically the solid version of my minimalist vegan shampoo. Like that recipe, this product is simply a pH-balanced, gentle cleanser that is also suitable for sensitive skin and babies. Plus, if you're nervous about working with lye to make your own soap bars, then here's your solution.
Minimalist Shampoo Bar & Cleanser

A soap-free and pH-balanced solid cleansing bar which is suitable for cleaning both the hair and body.


Instructions
Makes 100g bar.

Prepare Your Pot:

First measure the weight of the stainless steel pot or glass beaker that you will be making the product in. Write down this weight. Also write down what the weight should be once you add the weight of the final product (100g). For example, my pot weighs 202g, and with the final product it should weigh 302g (Calculation: 202g pot + 100g product = 302g).

Prepare Ingredients:

You must work fast with this recipe, so I highly recommend measuring out all of your ingredients beforehand.

Prepare Water:

Bring some distilled water to a boil (about 60g), and then measure out the amount required for this recipe. Keep the remaining extra water on hand for step 8.

Prepare Heated Phase:

In the pot/beaker (from step 2), place the measured hot distilled water, SCI and Geogard Ultra.

Melt SCI:

Slowly start heating this mixture on the lowest heat until the SCI has melted. As it melts, the mixture will look like a uniformly transparent, thick and sticky paste. TIP: It's far easier and quicker when the SCI is ground into smaller pieces or powdered. Be careful not to overheat and burn the paste!

Remove from heat:

As soon at the mixture is uniform and most of the SCI has melted, remove the pot from the heat. Place it on an insulated surface like a cloth or wooden chopping board to retain the heat for the next step.

Add Remaining Ingredients:

Once off the heat, quickly stir in the cocoa butter and corn flour until the cocoa butter is completely melted and evenly distributed. The heat of the mixture will be enough to melt the cocoa butter. As the cocoa butter melts, the mixture will become more manageable.

Replace Evaporated Water:

As soon as the cocoa butter has melted, quickly weigh your pot/beaker again and top-up with distilled water until the final product weight is achieved (which you wrote down in step 2). Eg. My pot weighed 294g here, so I added 8g distilled water in order to achieve the final weight of 302g. You are replacing the water content that evaporated.
Optional: If you're using essential oils, add them now.

Transfer To Mould:

Stir in the replaced water until you have a uniform paste again, and then quickly press down this paste into your mould(s). The product starts to harden quickly, so you must work fast. You can always re-heat the paste to make it malleable again, but you will have to weigh and replace the evaporated water content each time you do so.

Unmould After 1 Day:

Leave the product to cool down and harden for 24 hours before you remove it from the mould.

Cure For 1 Week:

Let the shampoo bar cure for one week before you start using it. This curing time allows the bar to harden significantly. Skipping this step will result in a softer bar that may crumble or turn mushy when wet.

Storage Instructions:

Store on a well-draining wire rack or soap dish between uses to extend the life of your shampoo bar. It shouldn't sit on a wet surface or in a pool of water. It should be allowed to dry completely between uses.
Notes
Safety Precaution: Be very careful not to inhale SCI! Even when you're measuring SCI flakes, particles always become airborne. Always wear a well-fitted mask. I even hold my breath while measuring SCI, and then step outside to breathe while SCI settles down again.
Batch Sizes: You can multiply or divide the quantities to make a larger or smaller batch. If this is your first attempt, then I recommend halving the recipe quantities and testing the product first.
pH Testing: When I make this recipe, the shampoo tests at pH 4.6 which is perfect for hair. Therefore, I don't have to correct the pH of this product. You should do your own pH testing to be sure that your product is pH balanced (especially if you've substituted anything). Always test a dissolved solution of the product at room temperature with a digital pH meter or pH strips. For babies, make an extra effort to balance the pH to exactly pH 5.5.
Time-saving Tip: Buy SCI powder, or grind SCI flakes into a powder – it melts much quicker!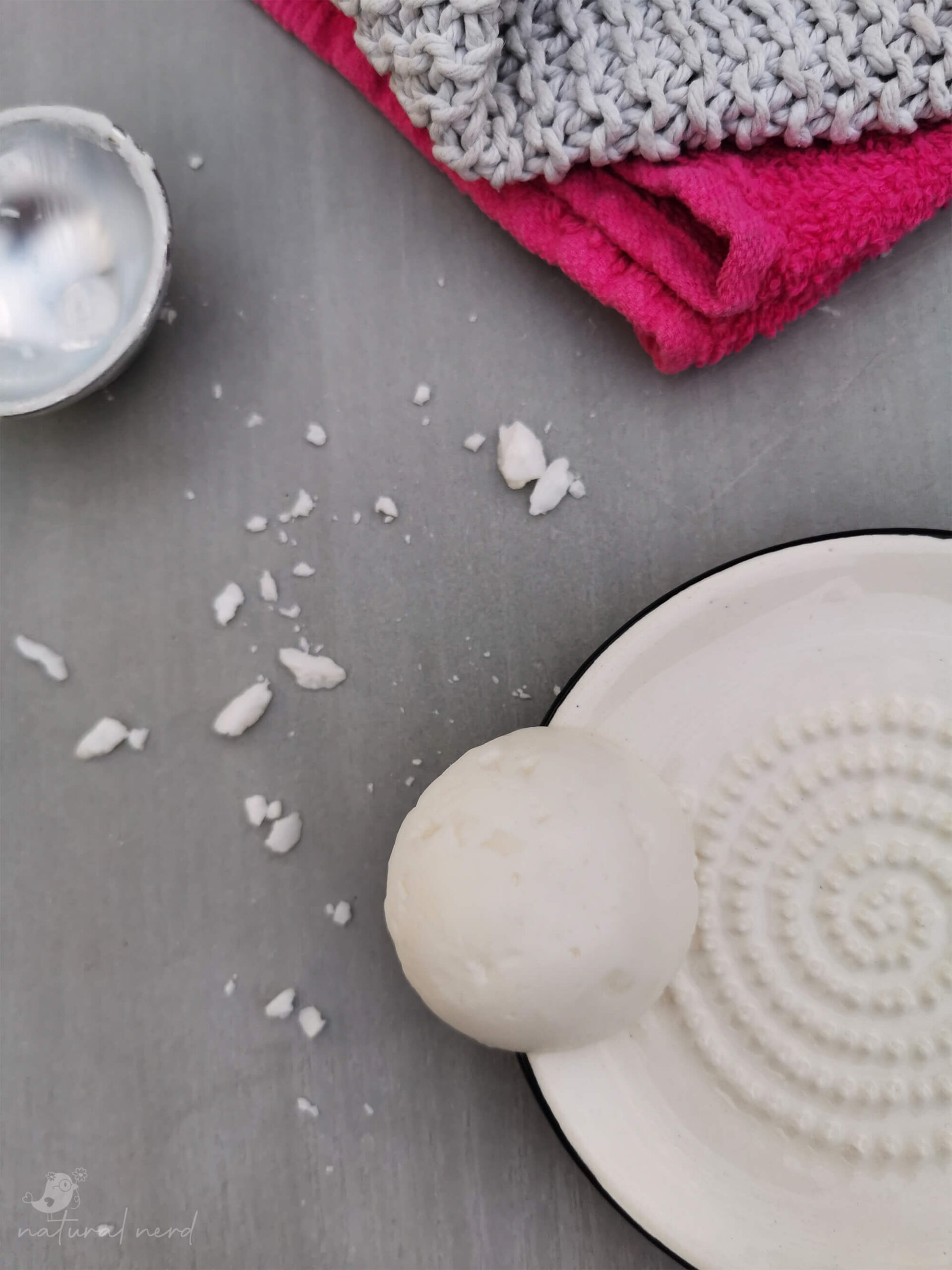 Recipe Variations & Substitutions
Sodium Cocoyl Isethionate:
I really don't recommend substituting the surfactant (SCI) in this recipe. Nevertheless, if you must substitute then the best 1:1 replacement for SCI will be Sodium Lauryl Sulfoacetate (SLSa). However, using SLSa means that the shampoo won't be palm-free.
Deionised water:
If you would like some fragrance or plant-powered properties, then you can replace the distilled water with a botanical hydrosol or floral water instead (like rose water). As always, you can also use distilled water instead of deionised water.
Cocoa Butter:
You can use another solid butter with a similar melting point like shea, avocado or mango butter (32-38°C). I chose cocoa butter mainly for its hard and brittle texture, which contributes to a harder shampoo bar overall. Cocoa butter has the texture of a slab of chocolate, whereas other butters may be softer/creamier in texture. I have even made this recipe using coconut oil before (which melts at 24°C), but that was in winter when coconut oil is solid at room temperature. I'm not sure how the bar would hold up in summer when coconut oil typically melts. If you live in a cold climate below 20°C then coconut oil will work. Cetostearyl alcohol also makes an excellent substitute for an even harder shampoo bar.
Corn Flour:
Corn flour (or corn starch) is an affordable ingredient that is already in most kitchens, and is widely available at grocery stores – making it perfect for beginners. However, you can also substitute the corn flour with arrowroot, rice or chickpea flour if you're inclined to be more creative.
Geogard Ultra (Preservative):
You can use any water-soluble, broad spectrum preservative which is compatible in an acidic pH range (and is not heat sensitive). Just remember to adjust my recipe according to the manufacturer's instructions and usage rates, and to test and correct the pH accordingly.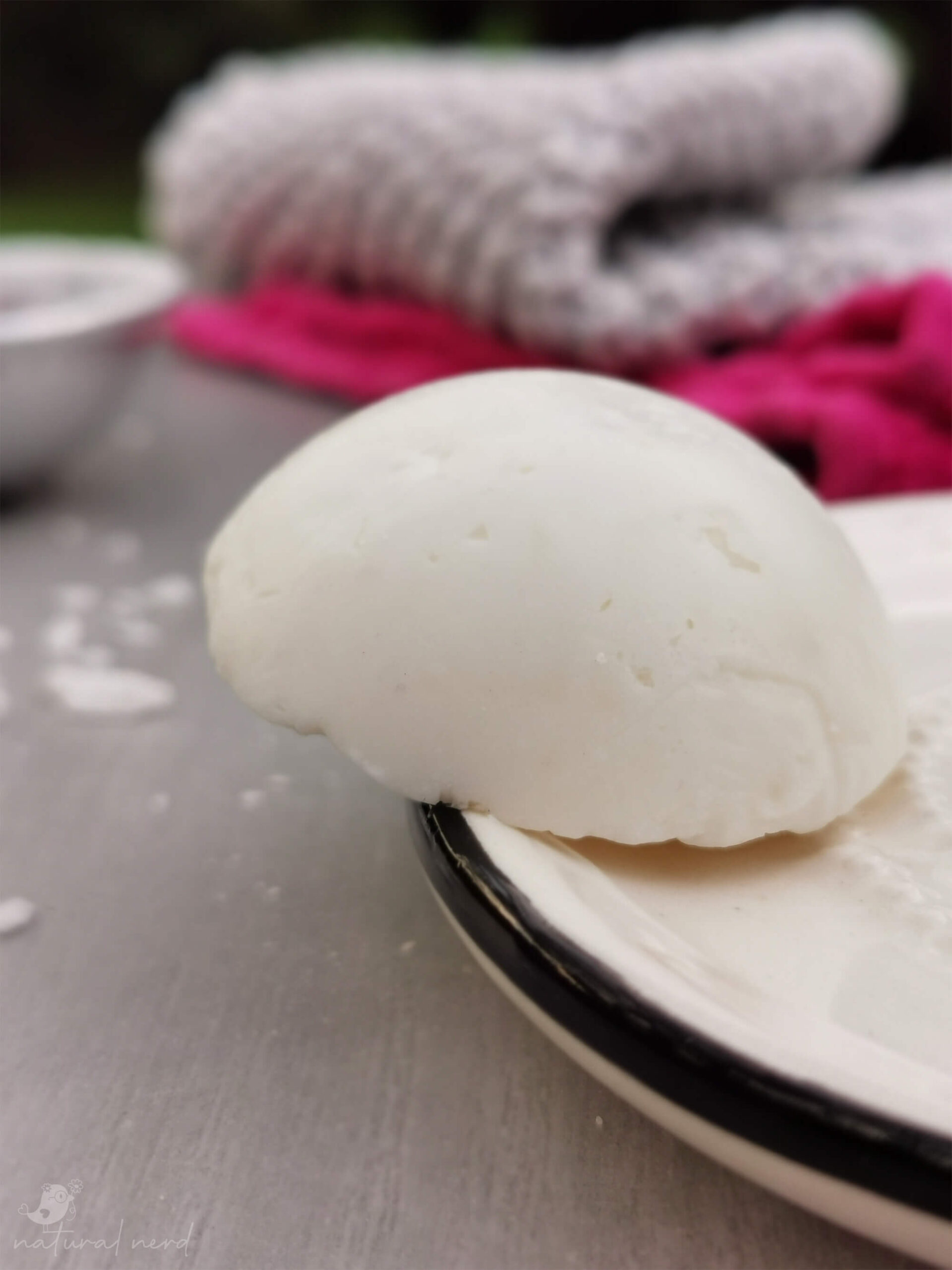 Cost & Shelf Life
Cost price: R58 per 100g. (Costs accurate at the time of writing in 2023)
Lasted me about: 3 months as a multipurpose shampoo and body wash.
Estimated shelf life: 6 months if stored out of direct sunlight, and allowed to dry properly between uses.
Challenge
No fancy active ingredients: It's just a mild cleanser for the hair and skin. This is basically like a pH-balanced soap bar.
Subtle detergent scent is noticeable from the SCI, since there is no added fragrance. If this bothers you, then substitute the plain distilled water for a fragrant hydrosol, or add up to 10 drops of essential oils before you mould. I find that using

raw

cocoa butter makes it smell a bit like Milky Bar white chocolate.
Cherry on Top
Vegan Friendly
Eczema friendly, but I can only speak for myself.
Sulfate Free
Silicone Free
Curly Girl approved ingredients
Multipurpose
Clarifying: You can use this as a clarifying shampoo before you dye your hair to remove product build-up.
Customisable: You can use this as a base recipe to substitute in your own butter, hydrosol and essential oil combination.
Palm Free
Contains no cocamidopropyl betaine: which is a common ingredient that many people have an allergy / irritation to (including myself).
Ingredients
Recommended Retail Option
If you'd rather buy a ready-made product, then I recommend Be.Bare Shampoo Bars as the closest retail equivalent of this recipe. Their Tame That Mane variety is also made with SCI as the primary cleanser, as well as cocoa butter. It is also fragrance-free. At the time of writing, this product was rated as a 5-star seller.
Safety Precaution
Please be very careful not to inhale SCI or any other solid surfactant! Even when you're measuring SCI flakes, tiny particles always become airborne that will irritate your lungs. Always wear a well-fitted mask. I even hold my breath while measuring SCI, and then step outside to breathe while the SCI settles down again. Leave your mask on until the SCI has been melted down into a liquid/ paste form.
Not sure where to find these, or other ingredients? My shopping guide may help you. Are you new to essential oils? Please read how to use them safely.
How has this solid cleanser recipe worked for you? Please share in the comments section below.