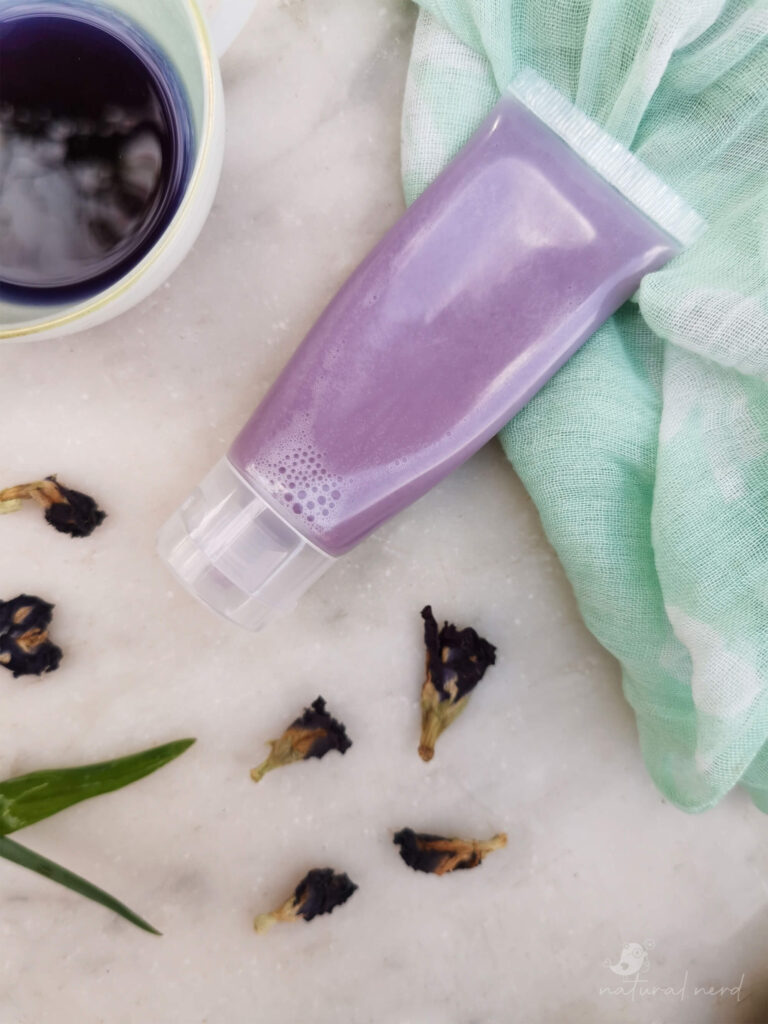 Superfood for hair – that's how I would describe this shampoo. While this is not a 2-in-1 product, this recipe certainly has extra conditioning power than my Mint & Rosemary shampoo. Budding herbalists will love that it contains a larger portion of botanical actives. Aloe and butterfly pea flowers are the star herbal ingredients, while lemongrass, peppermint and rosemary make a fragrant appearance. Plus, a pop of purple keeps things fun. 💜
High Performance Herbal Shampoo

An advanced herbal shampoo recipe that will repair and condition all hair types.

Ingredients
For The Glycerite Extract:
For The Infusion:
Instructions
Makes 200g.

Make the Butterfly Pea Extract:

About 1 week before you make the shampoo, you will first need to make your butterfly pea glycerite. Using sterilised equipment, stir the butterfly pea powder (or dried flowers) into the vegetable glycerine in a sterilised jar. Close the jar with a sterilised lid, and let it infuse for 5-7 days away from direct sunlight.

Strain The Extract:

After a week, strain the extract through coffee filter paper or a fine cheese cloth into a sterilised container for permanent storage up to 3 months in the refrigerator.

Weigh The Required Extract:

When you are ready to make the shampoo, measure out 10g of the glycerite for the recipe. Set aside for step 14.

Prepare Your Pot:

Measure the weight of the stainless steel pot or glass beaker that you will be making the shampoo in. Write down this weight. Also write down what the weight should be once you add the weight of the final shampoo (200g). For example, my pot weighs 202g, and with the final shampoo it should weigh 402g (Calculation: 202g pot + 200g product = 402g).

Make the Infusion:

Vigorously stir together the butterfly pea powder and the aloe liquid until a strong blue-purple colour is achieved. Just like making tea. Warm liquid is not necessary if you are using the powder, but it may be required if you are using dried flowers. Strain the infusion through filter paper or a cheese cloth.

Weigh the Infusion:

Measure out 112g of this infusion for the recipe. Set aside the extra leftovers for later in step 16.

Halve The Infusion:

Roughly divide the required infusion into two parts. You don't have to measure this, just divide what looks like half.

Prepare Actives In One Half:

In one half of the infusion, stir in the hydrolysed wheat protein and d-panthenol gel. Set aside for step 13.

Heat The Other Half:

Pour the other half of the infusion into your pot from step 5. Bring this half of the infusion to a boil.

Melt SCI:

As soon as it starts boiling, add the SCI flakes/powder into the boiling infusion until it has dissolved completely.

Remove From Heat:

When the SCI is dissolved, remove the pot/beaker from the heat. Place on an insulated surface like a cloth or wooden chopping board.

Add Remaining Infusion

: To this warm liquid, add the other half of the infusion which you set aside in step 9.

Prepare Gum Paste:

Now combine the glycerite extract, cationic guar gum and Geogard Ultra powder into a paste. Stir this paste into the liquid.

Combine Remaining Ingredients:

Next, combine the decyl glucoside, lamesoft PO65 and essential oils until uniform. Stir this blend into the shampoo.

Replace evaporated water

: Now weigh your pot/beaker again and top-up with the leftover infusion until the final product weight is achieved (which you wrote down in step 5). Eg. My pot weighed 386g here, so I added 16g infusion in order to achieve the final weight of 402g. You are replacing the water content that evaporated.

Cool Down Phase

: Cover your shampoo and let it stand for a 24 hours. It will slowly thicken and turn opaque as it cools down. You should see the final shampoo colour and texture in about 24 hours.

Test pH:

The next day, you can test and correct the pH if necessary to be between pH 4.5-5.5.

Bottle Up:

Transfer your shampoo into a sterilised bottle and use within 3 months. This shampoo will work in a pump bottle or squeeze tube.
Notes
Safety Precaution: Be very careful not to inhale SCI! Even when you're measuring SCI flakes, particles always become airborne. Always wear a well-fitted mask. I even hold my breath while measuring SCI, and then step outside to breathe while SCI settles down again.
Batch Sizes: You can multiply or divide the quantities to make a larger or smaller batch. If this is your first attempt, then I recommend halving the recipe quantities and testing the shampoo on your hair type first.
pH Testing: When I make this recipe, the shampoo tests at pH 4.5 which is perfect for hair. Therefore, I don't have to correct the pH of this shampoo. You should do your own pH testing to be sure that your product is pH balanced. Always test a solution at room temperature with a digital pH meter or pH strips.
Recipe Variations & Substitutions
Extracts:
You don't have to make the infusion and glycerite extracts. You can also just use plain aloe liquid instead of the infusion, and you can use plain vegetable glycerine instead of the butterfly pea glycerite. It will certainly save you time, but your shampoo will be white in colour and you'll miss out on the benefits of butterfly pea flowers for hair care.
Surfactants:
I really don't recommend substituting the surfactants in this recipe. Nevertheless, if you must substitute then the best 1:1 replacement for SCI will be Sodium Lauryl Sulfoacetate (SLSa). For the decyl glucoside, the best 1:1 substitute is coco glucoside . I wouldn't use lauryl glucoside in this recipe, because the shampoo might be too thick. You can experiment and use any blend of surfactants to find what works for you, but obviously it will be a completely different product to my recipe.
Aloe liquid:
If you'd like to be more cost-effective, then you can replace the aloe liquid with plain distilled water or deionised water. You can also substitute with any other botanical hydrosol or floral water instead (like rose water).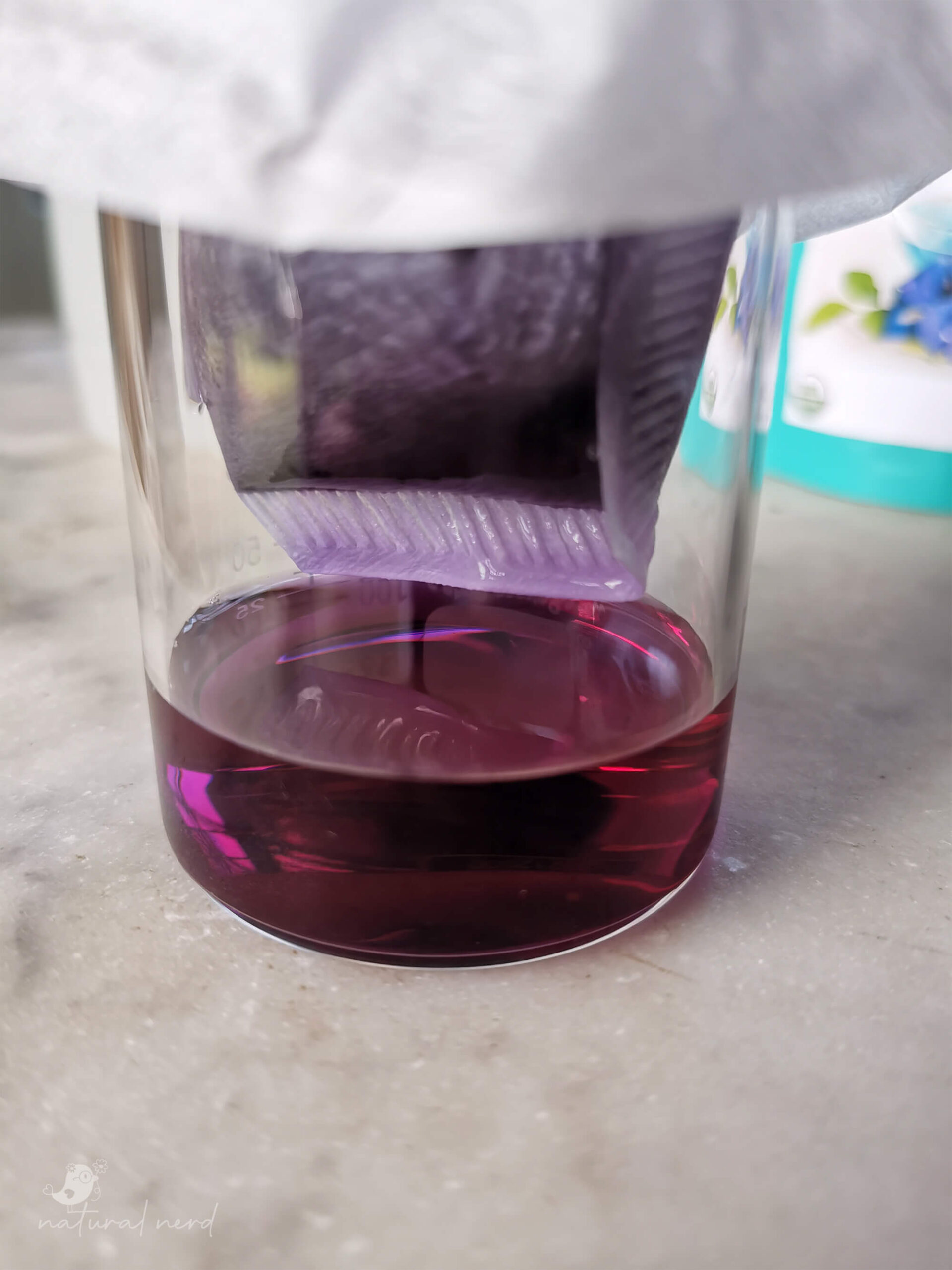 Active ingredients:
You can replace the hydrolysed wheat protein with any other hydrolysed protein (eg. rice, quinoa, keratin protein etc.). You can replace the d-panthenol gel with dl-panthenol powder, which is easier to work with, but synthetically produced. You could substitute the Lamesoft PO65 with pure Glyceryl Oleate or OliveM 300. You can use any essential oil blend. You could also exclude any of these active ingredients and replace with more aloe liquid / water instead.
Cationic Guar gum:
You can use another thickener, like xanthan, guar gum or carrageenan, but I would only use half the amount called for in the recipe. However, you will lose some of the conditioning properties of this shampoo when you exclude the cationic ingredient. You could make up for it by using another cationic ingredient like cationic wheat protein. Also bear in mind that each thickener has different properties in terms of how much it will thicken the product (more or less than my recipe) and what it will bring to the product texture, clarity and scent.
Geogard Ultra (Preservative):
You can use any water-soluble, broad spectrum preservative which is compatible in an acidic pH range. Just remember to adjust my recipe according to the manufacturer's instructions and usage rates, and to test and correct the pH accordingly.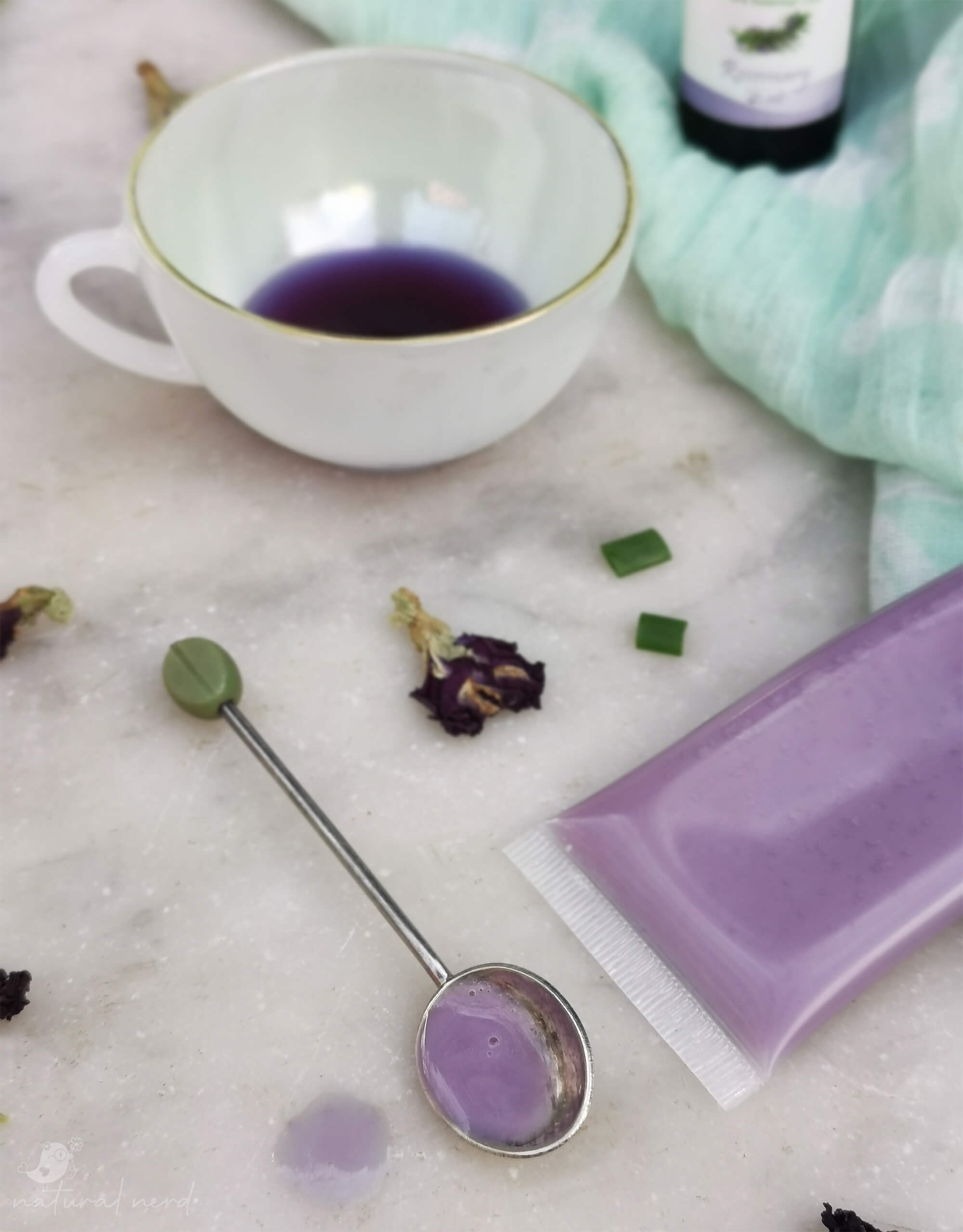 Cost & Shelf Life
Cost price: R224 per 200g for my exact recipe without substitutions. If the only change you make is to substitute distilled water for the aloe liquid, the cost of this recipe plummets to R87 per 200g. (Costs accurate at time of writing in 2023 & based on retail prices)
If you still want the benefits of aloe, it's cheaper to buy pure aloe juice and strain out the pulp with filter paper, or add concentrated aloe extract powder to distilled water. It's also cheaper to buy dried butterfly pea flowers than the powder.

Lasted me about: 2 months in a household of two people, with each of us using about a tablespoon of shampoo per week.
Estimated shelf life: 3 months if stored in a sterilised container, and out of direct sunlight.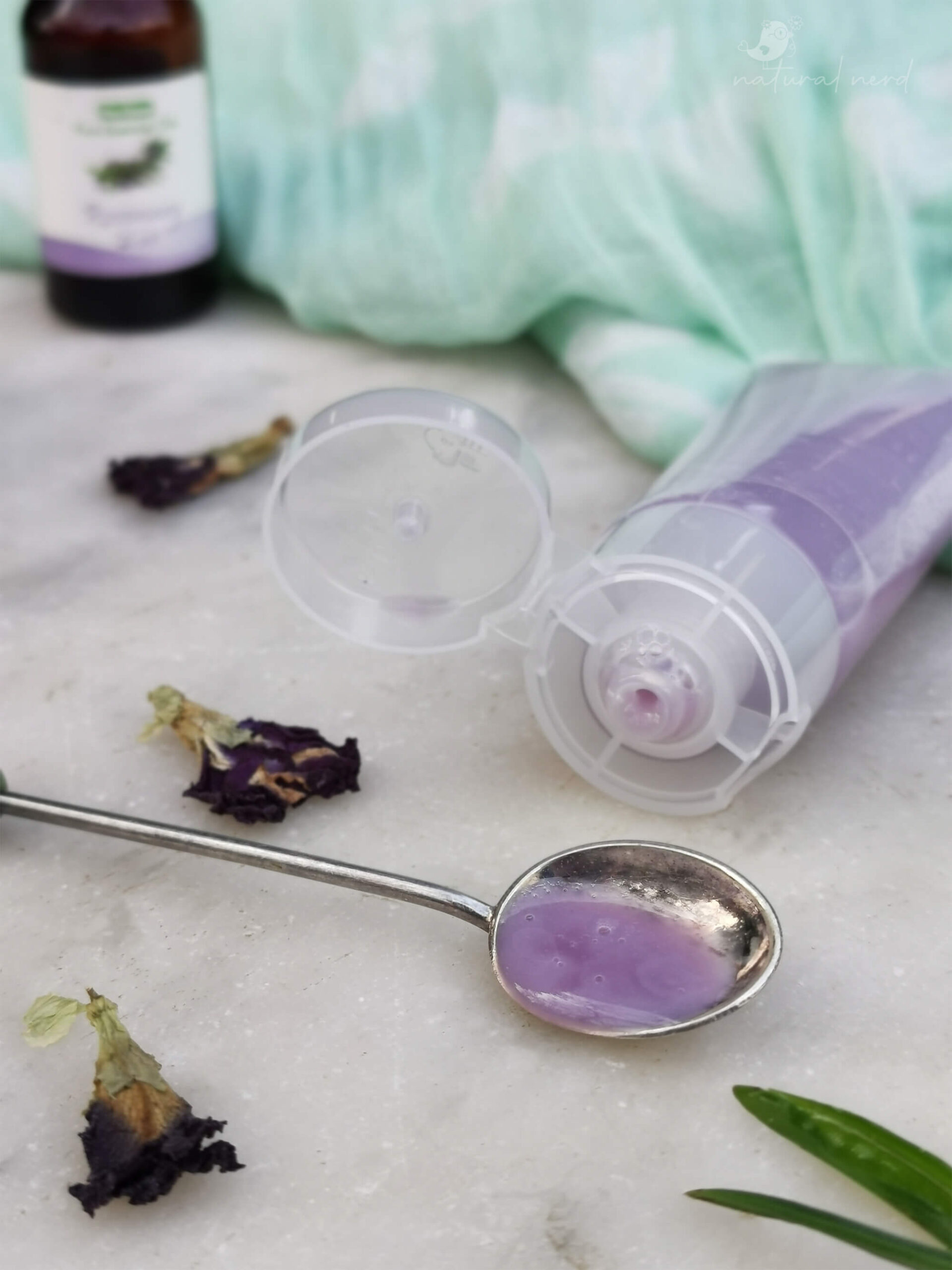 Challenge
Cost of using aloe more than doubles the price of this shampoo. To save money, rather use distilled water instead.
99.5% natural: In order for guar gum to have a cationic charge, a synthetic element is required. Cationic guar gum is allowed by ECOCERT (under 2%) for natural products , but the ingredient itself is only partly natural. Cationic guar gum is considered a "quat". You decide.
Product build-up: The cationic guar gum can cause product build-up, since it clings to your hair in order to condition it. Don't dye your hair after using this shampoo, because the dye may wash-out. Rather use a clarifying shampoo instead.
Cherry on Top
It's purple 💜
Sulfate Free
Silicone Free
Curly Girl approved ingredients
Multipurpose: This doubles-up as a conditioning body/hand wash.
Vegan Friendly (but always check the source of ingredients with your supplier)
Contains no cocamidopropyl betaine: which is a common ingredient that many people have an allergy / irritation to (including myself).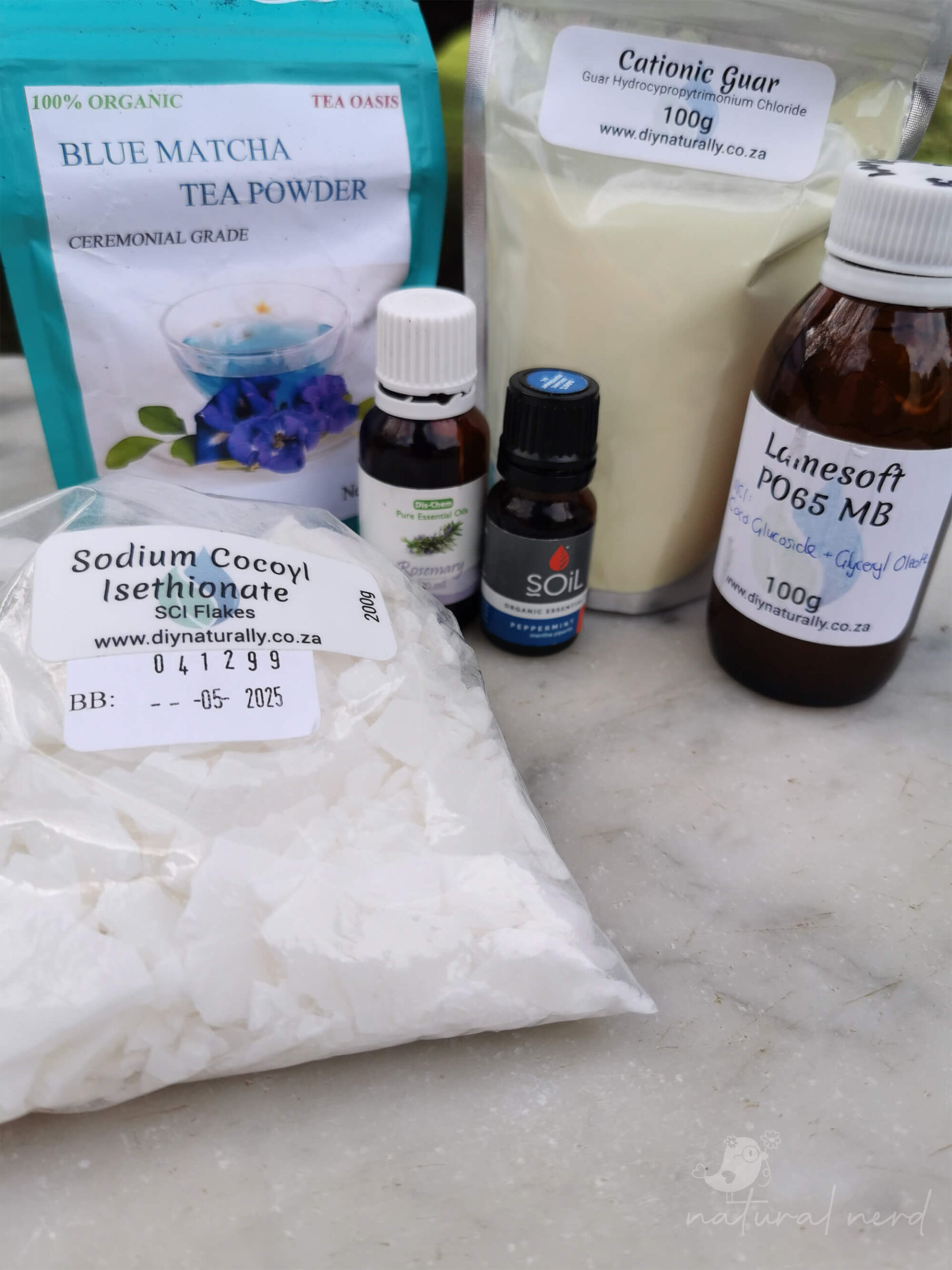 Ingredients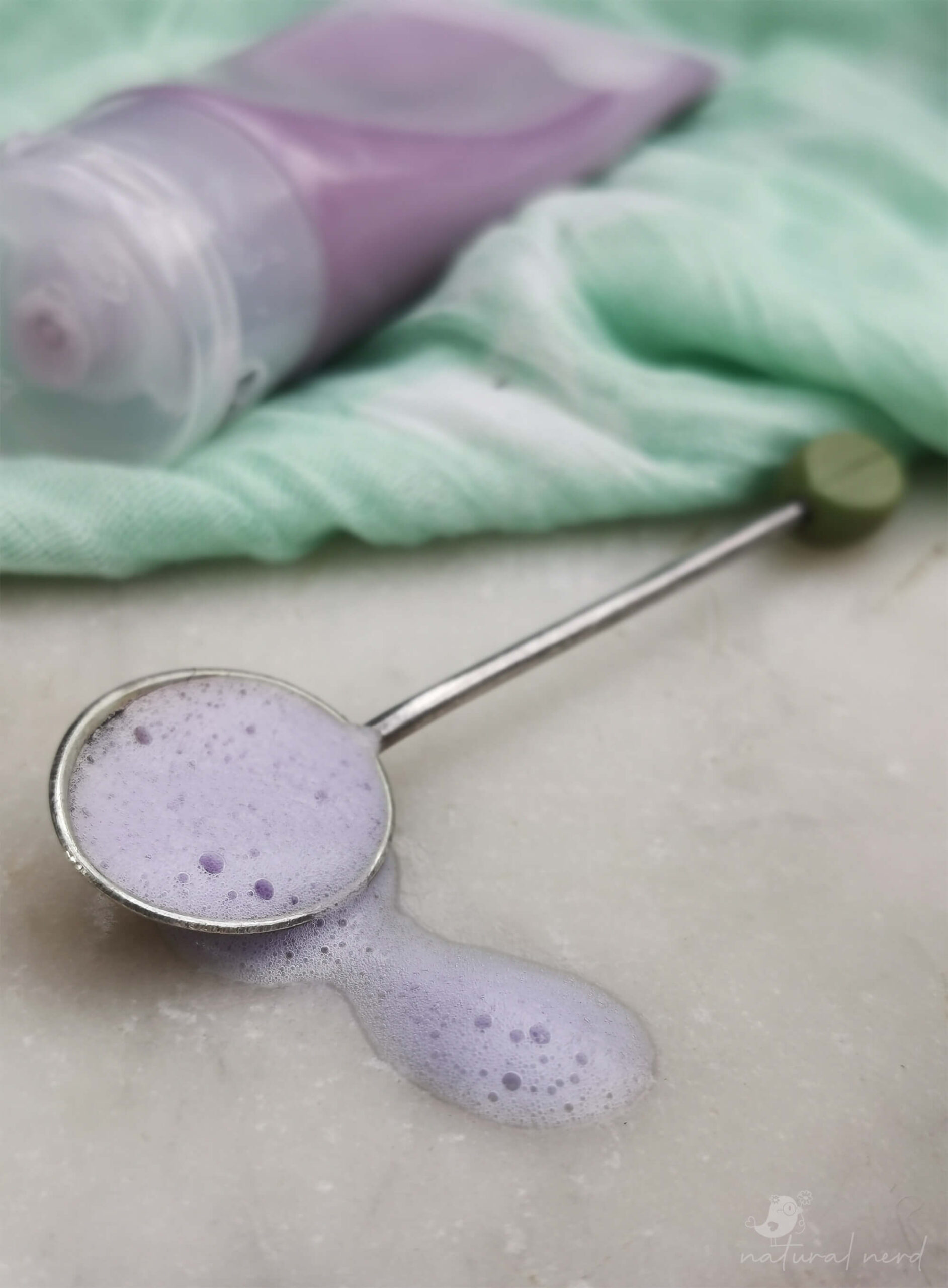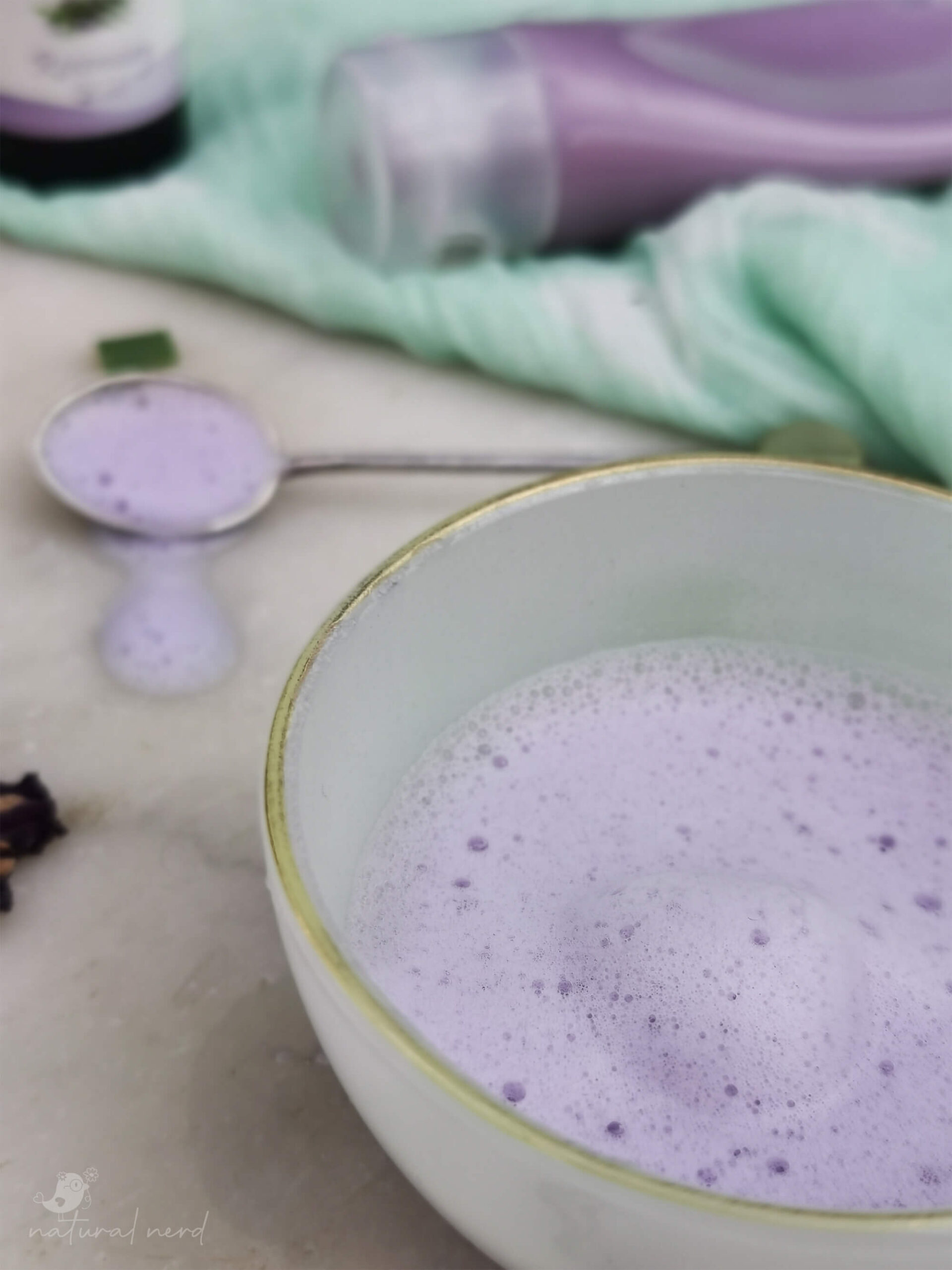 Recommended Retail Option
If you'd rather buy a ready-made shampoo, then Hey Gorgeous Aloe & Olive Shampoo is the closest retail equivalent to my formula (but it's also missing a lot). This is a highly-rated shampoo by customers. Their shampoo also contains aloe, pro-vitamin B5 and botanical infusions like my recipe. It is also one of very few natural shampoos on the market that don't contain cocamidopropyl betaine.
Safety Precaution
Please be very careful not to inhale SCI or any other solid surfactant! Even when you're measuring SCI flakes, tiny particles always become airborne that will irritate your lungs. Always wear a well-fitted mask. I even hold my breath while measuring SCI, and then step outside to breathe while the SCI settles down again. Leave your mask on until the SCI has been melted down into a liquid/ paste form.
Have you made this herbal shampoo – how did it go? Please share your feedback in the comments section below.
Not sure where to find these, or other ingredients? My shopping guide may help you. Are you new to essential oils? Please read how to use them safely.