Like my simpler one-ingredient conditioner, this hair treatment can be applied to both your hair and scalp. This leave-in hair oil will condition and improve the appearance of your hair and promote healthy, new hair growth. Although optional, the addition of salicylic acid maintains a healthy scalp by exfoliating dead skin cells and treating dandruff.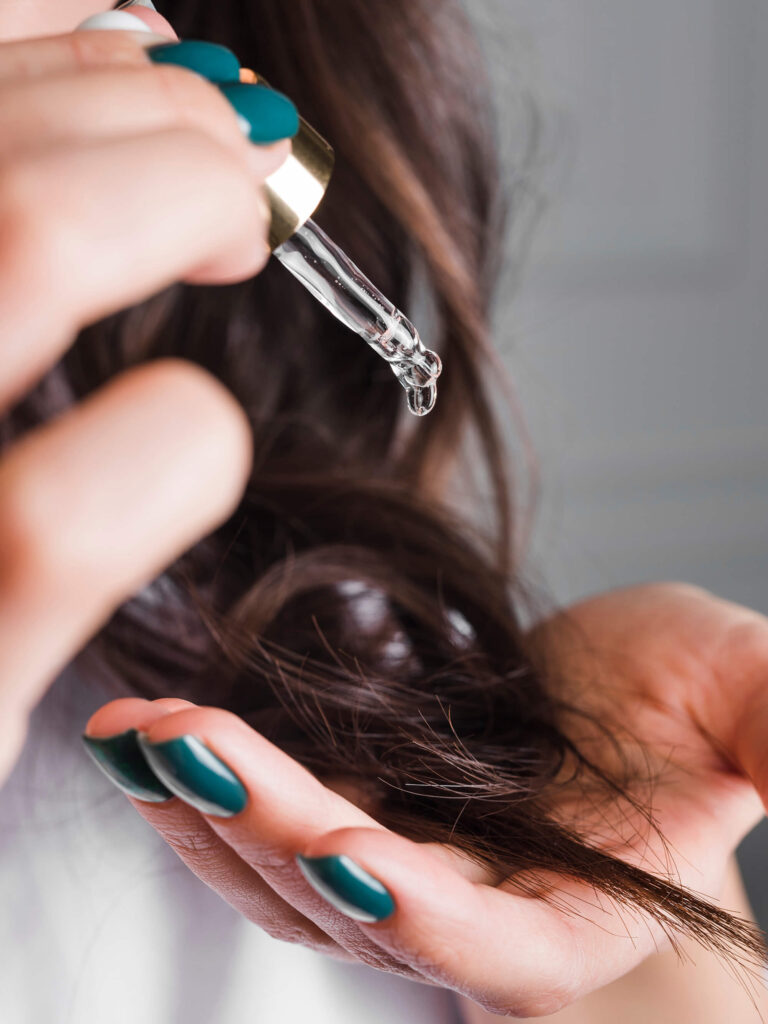 Hair Growth & Scalp Treatment Oil

A leave-in oil treatment that will visibly improve the health of your hair and scalp. Suitable for all hair types.

Instructions
Makes 100g.

Dissolve Salicylic Acid:

Over a double boiler, start gently warming the castor oil and salicylic acid together while stirring. Be careful not to overheat the castor oil and destroy it's beneficial properties – you just want the oil to be warm. As the castor oil warms up, the salicylic acid will start to dissolve. Keep stirring until you no longer see granules of salicylic acid and the mixture is clear. If you are not using salicylic acid, then skip this step completely.

Remove From Heat:

Once the salicylic acid is dissolved, remove the castor oil from the heat.

Add Remaining Ingredients:

Stir in the remaining ingredients – the essential oils, vitamin E oil and fractionated coconut oil.

Bottle It Up:

Transfer the product into a bottle, and store out of direct sunlight for up to one year. Bottles with a nozzle work best for application.

Directions For Use:

To use, apply a thin layer of oil directly on your scalp and massage it in. Then apply a thin layer of oil to your hair from root to tip. Gently spread it over with your hands. Comb your hair to distribute it evenly. Tie your hair up, if necessary. Leave in the oil treatment for at least 30 minutes, or as long as possible. While you have this hair oil on, you must stay out of the sun, because oil will cause you to sunburn. Wash it out with shampoo (you may have to wash twice depending on your hair type). Repeat this treatment every week for best results, or on every "wash day" as a pre-wash treatment.
Notes
How to make your own double boiler: You need a pot and a heat proof bowl, or two pots. Fill the larger pot with a few centimeters of water (about a quarter full). Once the water has come to a boil, place your heat-proof bowl (or smaller pot) on top of the larger pot of water. Make sure that no water can enter the smaller bowl. Leave the stove on a low heat. Place your ingredients in the suspended bowl, and wait for the ingredients to melt. It's that simple. It's the same concept as melting chocolate.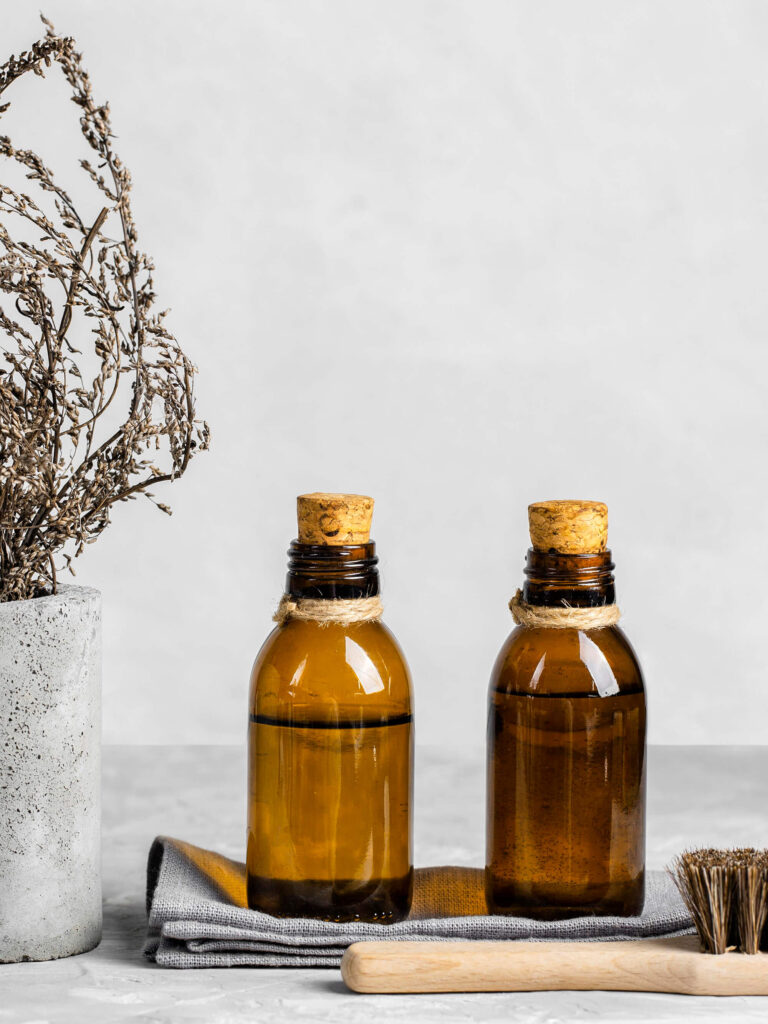 Recipe variations
Technically, you can substitute any carrier oils in this recipe. However, there are good reasons that I insist on castor oil and coconut oil for this hair treatment. Coconut oil is the most effective at penetrating the hair shaft to condition your hair from the inside. Fractionated coconut oil is liquid at room temperature, which makes it easier to apply directly on the scalp. You may use solid coconut oil instead of fractionated coconut oil, but your product will have a thicker texture and may not work in a bottle.
Unfortunately, there is no equivalent substitute for salicylic acid for this recipe – just exclude it and replace with more coconut oil. Natural vitamin E oil is only included to extend the shelf life of this product by protecting the plant oils from oxidation. You can exclude it and replace with more fractionated coconut oil instead.
If you can only afford one essential oil, then I would recommend lemongrass for dandruff; peppermint for soothing itchy scalp and balancing oil production (i.e. oily hair); and rosemary for the widest range of hair benefits (i.e. overall hair health).
Cost & Shelf Life
Cost Price: R57 per 100g using my exact recipe without substitutions. R50 per 100g when you exclude vitamin E and salicylic acid.
(Costs accurate at the time of writing in 2023 and based on retail prices)

Lasted me about: 1 month using about 2 tablespoons every week – I have long hair.
Estimated shelf life: 1 year if stored away from direct sunlight and moisture.
Challenge
It's Oily: If this is your first time applying oil to your hair, you may find it messier than a leave-in conditioner.
Waiting: For best results you should leave the treatment in your hair for as long as possible. I usually leave it in all day on the weekend, but you should try for at least 30 minutes before you wash it out.
Shampoo Twice: Most hair types will find that they need to shampoo twice in order for their hair to feel cleaned properly.
Cherry on Top
Preservative Free.
Plant-based and vegan-friendly.
Cheaper than buying (compared to most natural products I've seen).
Easy enough for beginners to make.
Curly girl approved ingredients.
Ingredients
Important note: Castor oil is not safe for pregnant women. Speak to your doctor before applying it topically.
Need help finding these, or other ingredients? My shopping guide may help you.
Recommended Retail Options
If you prefer to buy a ready-made product, then you can buy Black African Organics Hair Growth Serum, which is the closest retail equivalent to my recipe. Their product also uses castor oil and fractionated coconut oil as the primary oil blend (with some other oils too). It also contains vitamin E and their essential oil of choice is tea tree.
Have you noticed a difference in your hair since using this oil treatment? If you've tried it, please share your feedback in the comments below.