The choking hazard of throat lozenges are obviously not an option when your toddler has a sore throat. And I doubt they would enjoy sipping on med-lemon or ginger tea. So what is a parent to do? My sister-in-law comes to the rescue with these ingenious throat jellies. The rate at which my niece gobbles them up is proof that they are a winner – one that the whole family can enjoy too.
The proof is in the pudding right? Well, this pudding boasts cold-fighting, throat-soothing ingredients. Honey, lemon and fresh ginger is a well-known remedy for cold symptoms. Whip 'em up into a jelly, and you have a healing dessert. I never thought I'd use the words "healing" and "dessert" in the same sentence, but who's complaining?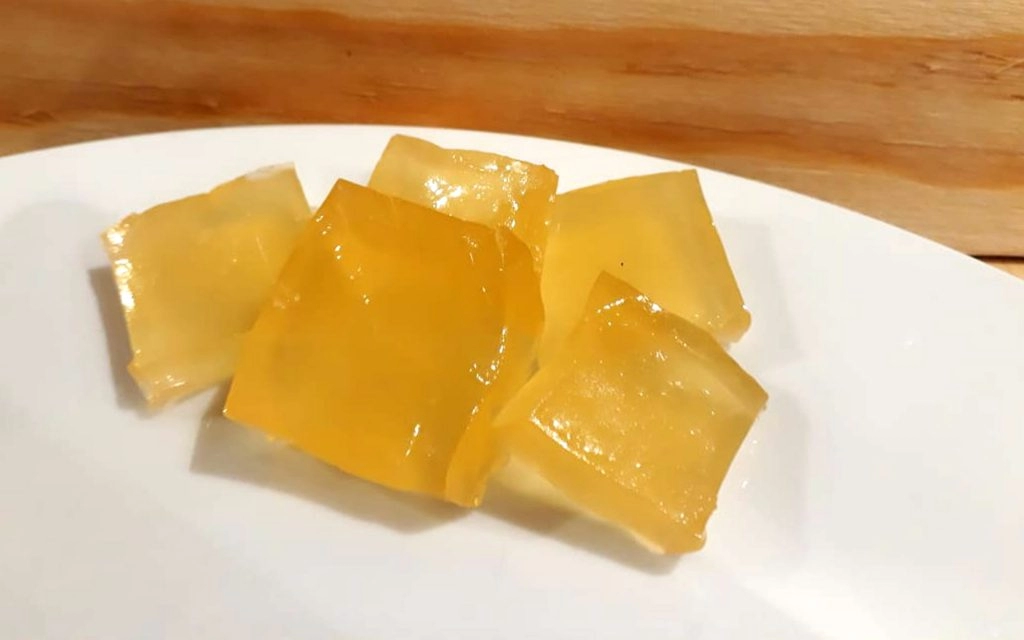 Instructions
Peel and finely chop the fresh ginger.
Add the fresh ginger to water in a pot. Bring to boil. Once it starts to boil turn the stove down to simmer for +/- 20 minutes with the lid on.
Strain out the ginger.
Place the ginger infused water back on the stove, and add the lemon juice and raw honey. Simmer.
Whisk the gelatin into the mixture one tablespoon at a time.
Pour the mixture into an ice tray (or other mould).
Place in the refrigerator until set.
Once set, place the throat jellies in a jar or tupperware and store in the fridge for up to 7 days. If you used a bigger mould, cut the jelly into squares.
Recipe Variations & Substitutions
You can find all of the ingredients at most grocery stores. Gelatine is usually in the baking aisle. If you are a vegan or vegetarian, you can use agar agar powder as a substitute for gelatin. You can find raw honey at Dischem or Faithful to Nature.
Have you made this recipe? Please let me know how effective this remedy was for you or your children, in the comments below.