Lipstick is not for everyone, and it's certainly not for every occasion either. Tinted lip balm, on the other hand, is perfect when you want a toned down natural look, and it's great to use everyday. It makes a great gift too! You can make this berry beautiful lip balm for under R10, and it'll be ready in just 10 minutes.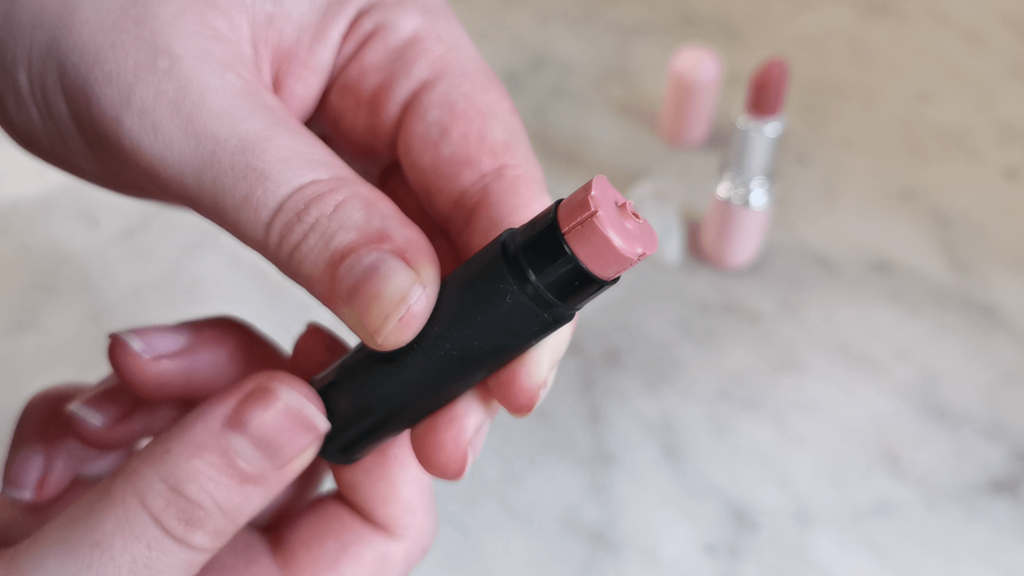 Instructions
Makes 15g (about three standard lip balm roll-up tubes).
In a heatproof pot or beaker, combine the sweet almond oil and pigments (zinc oxide and red iron oxide) until the colour is evenly distributed.
Add the bees wax and shea butter into the pot.
In a double boiler, start heating this mixture just until the bees wax and shea butter are melted. Stir until uniform. If you have solid bees wax chunks (instead of pellets), grate the bees wax so that it melts quicker.
Remove from the heat. If using the optional ingredients, quickly stir in the drops of essential oils and vitamin E oil. If you want to flavour your lip balm, add 2 drops of an essential oil that you think would taste nice. I personally recommend peppermint or vanilla.
Transfer the warm mixture into your container(s) immediately before it starts to harden.
The mixture will harden as it cools. If the mixture starts to harden before you get the chance to bottle, reheat the mixture until it melts again. Be careful not to overheat the ingredients, in order to preserve the beneficial nutrients. You just want the ingredients to melt, not boil.
Allow to cool completely before using. Place in the refrigerator to speed up the cooling process.
Notes
1.) How to make your own double boiler: You need a pot and a heat proof bowl, or two pots. Fill a pot about half way with water. Once the water has come to a boil, place your heat-proof bowl on top of the pot of water. Leave the stove on a low heat. Place your ingredients in the suspended bowl, and wait for the ingredients to melt. It's that simple. It's the same concept as melting chocolate.
2.) If you are making this lip balm just for your personal use, why not reuse one of your old lip balm containers, rather than buying new ones? It's cheaper, and better for the environment.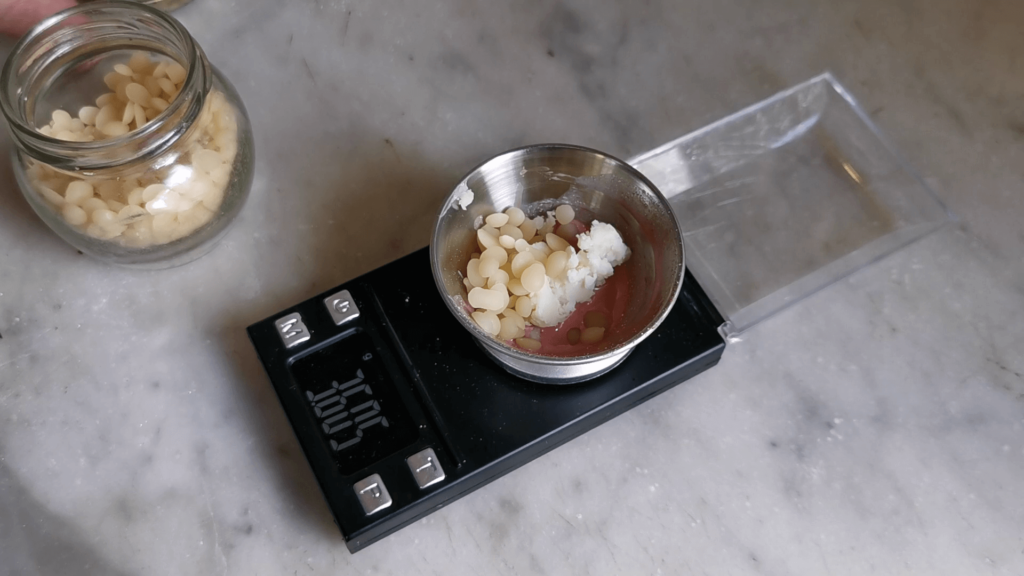 Recipe variations & substitutes
Oils & Waxes:
You can simply substitute the shea butter or sweet almond oil for any other butter and liquid oil equivalent. However, you need wax to harden the oil into a 'balmy' texture. If you are vegan, you may substitute the bees wax for soy wax or carnauba wax.
My general rule of thumb for any lip balm recipe is to use equal parts of a butter, wax and oil. So you can simply combine one part of any butter (eg. shea butter, cocoa butter, avocado butter etc.), with one part of any wax (eg. bees wax, carnauba wax, soy wax etc.) and one part of any liquid carrier oil (eg. olive, sunflower, grapeseed, sweet almond etc.). Therefore, the recipe is 1 part butter: 1 part wax: 1 part oil. That should simplify things for you in terms of what you can substitute. So the recipe I've shared above is just my personal favourite combination of butters, waxes and oils.
Iron oxide:
Iron oxides and mica powders really are the best way to colour a product. The second best option is to use a natural eye shadow or blush in a shade that you like and use a pinch of that powder instead (it contains mica and iron oxide).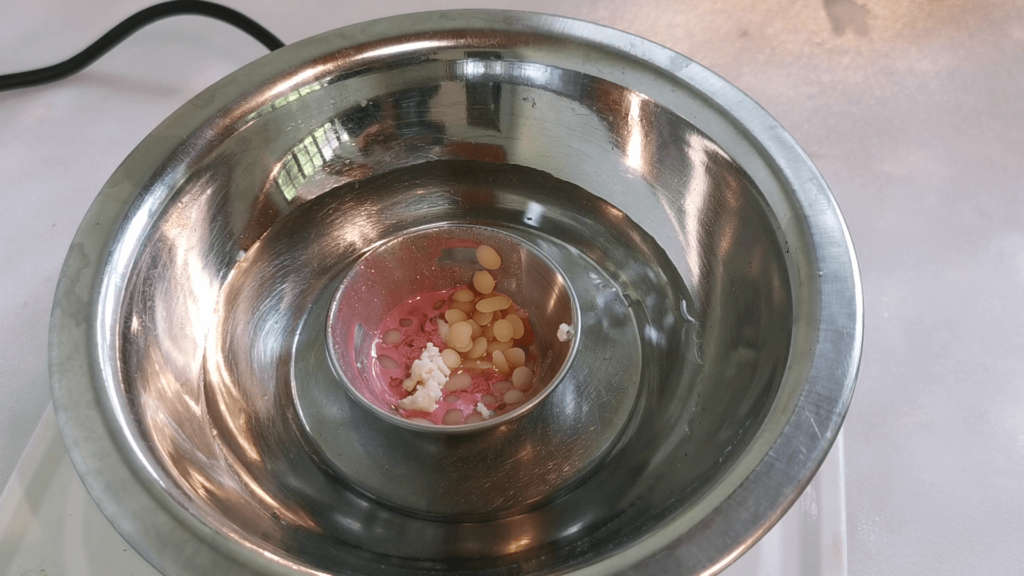 Cost & Shelf Life
Cost Price: R10 per 15ml (3 standard lip balm tubes)
Lasted me about: 3 months (using every morning)
Estimated shelf life: 6 months without natural vitamin E oil, and about 1 year with natural vitamin E oil.
*Costs accurate at time of writing. Costs based on retail prices.
Challenge
Oxide pigments may streak when the colour is applied. Make an extra effort to disperse these pigments properly with thorough mixing.
You have to work fast, otherwise the balm will harden before you can pour it into the mould.
Cherry on top
The cost price of this lip balm works out to be a tenth of the average price of tinted lip balm in stores (Eg. Labello goes for about R28 for 5ml, whereas this recipe costs about R3.50 for 5ml). Not to mention that this recipe is about thirty times cheaper than the average price of natural tinted lip balms (Mineral Fusion tinted lip balm retails for R299 for 3g, which I think is just crazy!).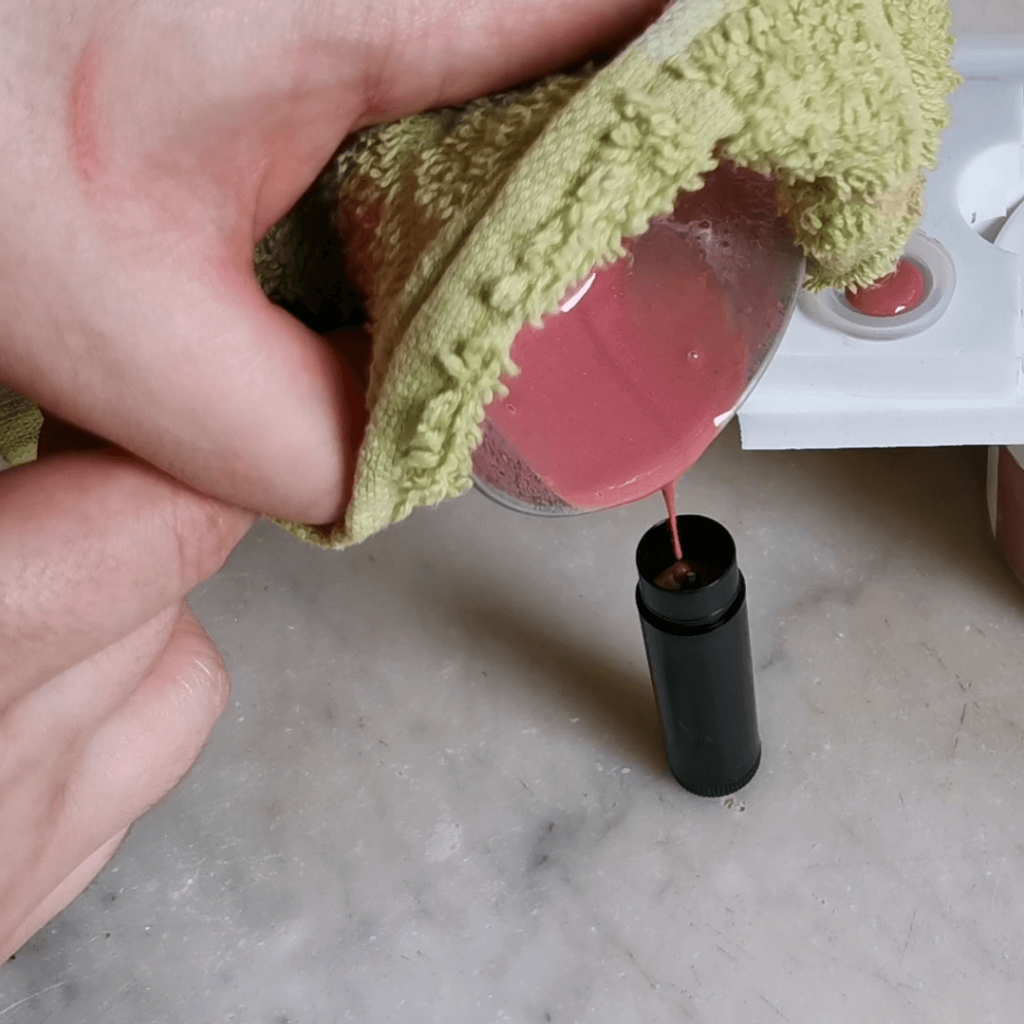 Ingredients
Not sure where to find these ingredients? My shopping guide may help you.
How do you like this tinted lip balm? Let me know in the comments below.
Are you new to essential oils? Please read how to use them safely.