Jump to recipe
One thing to always remember about making your own natural makeup is, don't expect too much. Don't expect the same coverage, colours and staying power as store-bought cosmetics. In order to make your own natural makeup at home (and not in a lab), the ingredients need to be simple to find and easy to combine. Having said that, let's all remember that natural makeup is just that – it's natural. And that goes for the kind of coverage and colours you can expect from it too. So it's best to keep your DIY makeup for everyday natural looks, and rather opt to buy a good brand of natural/ organic makeup products for more glamorous occasions. This is true for any homemade makeup, including my powder blush and cream blush recipes.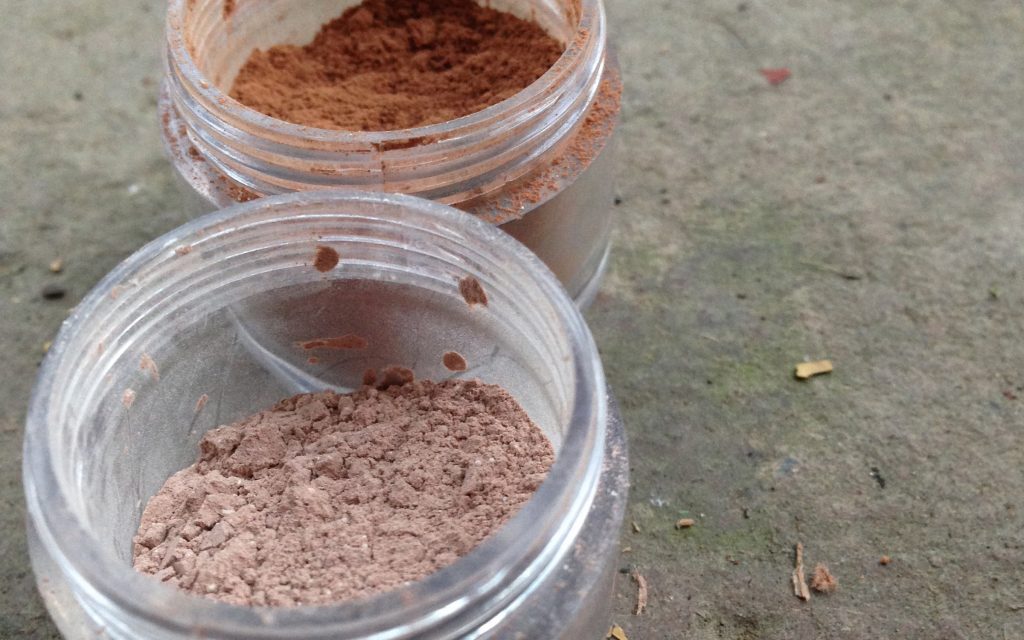 Instructions
Makes approximately 10ml.
A pinch at a time, add the iron oxide powder to the bentonite clay until you have the colour you prefer. The more iron oxide you add, the stronger the colour will be. Eg. If you want a soft beige, add very little brown iron oxide. Whereas if you want a dark brown shade, add all the brown iron oxide.
Combine the powders well.
Store in an airtight container away from moisture (i.e. steamy bathrooms are a bad idea unless you know your jar is airtight. You don't want it to form clumps.)
Notes
1.) You can substitute cocoa powder for brown iron oxide, and activated charcoal for black iron oxide, but the texture and coverage is not as great as iron oxide.
2.) You can use any colour of iron oxide powder to make various shades of eye shadow. I personally prefer brown shades of eyeshadow, which is why it is used in this recipe. Black iron oxide will make black and grey shades. Red iron oxide will make red and pink shades. Yellow iron oxide will make yellow and cream shades. You can also combine oxides to achieve different shades.
3.) If you want a white-grey colour, exclude the iron oxide and use the bentonite clay only. Alternatively, zinc oxide powder will give you white shade.
4.) If you want a really strong colour, start with the iron oxide as your base, and lighten it accordingly by adding the bentonite mixture a little bit at a time.
5.) If you want to make this a compact eye shadow, simply add a few drops of alcohol or any carrier oil. Combine well so that the entire mixture becomes crumbly (not muddy wet), then press it down to compact it. It will harden as it dries and stay in the shape that you compacted it.

RECIPE VARIATIONS & SUBSTITUTIONS
Bentonite Clay:
You can substitute corn flour or arrowroot powder instead of the bentonite clay, however the bentonite clay has a better application to skin and stays put for longer, whereas these substitutes are easily dusted or wiped off. A better option is to substitute any other natural clay, but just keep the colour of the clay in mind, because it will affect the colour of your eyeshadow. Bentonite clay is the closest to a white coloured clay. Rhassoul clay, Yellow French clay and Kaolin clay are good alternatives. Rhassoul clay has a reddish brown tint, so bear that in mind.
Iron Oxide:
Iron oxide and mica powder really is the best way to colour a product. However, I have not been able to find mica in South Africa – whereas iron oxide is readily available. You will have to buy mica powder internationally from a website like Amazon. You can substitute cocoa powder for brown iron oxide, and activated charcoal for black iron oxide, but the texture and coverage is not as great as iron oxide.
Colour Adjustments:
You can adjust the strength of the colour by adding more or less iron oxide to the clay base. You can also mix more than one iron oxide together to achieve different shades (eg. you could combine yellow iron oxide with black iron oxide, or with zinc oxide).
Cost & Shelf Life
Cost Price: R2.09 per 10ml.
Lasted me about: 1 year (using occasionally).
Estimated shelf life: 1 year (stored in an airtight container away from moisture).
*Costs accurate at the time of writing, and based on the best retail prices I've found.
CHALLENGE
Limited colours: The shades are limited to the iron oxides that are available – red, brown, black and yellow. You can mix these powders to achieve different colours, but you are still limited in the range of colours you can mix.
Wipes off more easily than mineral makeup and mica powder. Applying it to well-moisturised skin helps it stay put. Otherwise, you may want to look into buying a good organic or natural eyeshadow. I personally recommend buying from Inthusiasm, as their products are the most affordable and contain only a few simple and necessary ingredients (compared to other natural products with long lists of ingredients I know nothing about).
CHERRY ON TOP
Only takes a quick minute to make, and is really cheap!
INGREDIENT BENEFITS
Bentonite clay: Rich in minerals and detoxifies the skin by absorbing toxins beneath the skin. (buy here)
Iron oxide: is a natural pigment used to colour skin care products. Rust is iron oxide – so basically, iron oxides are different colours of rust ground up as a powder. Iron oxides are available in a few different colours – black, red, brown and yellow – which you can use to make different shades of eyeshadows. (buy here)
Not sure where to find these or other ingredients? My shopping guide may help you.
Please note: I have not been able to source mica powder locally, except from this wholesaler (i.e. It's not available to the general public. They are a business-to-business supplier). The closest thing I've found which is available to the public is Inthusiam's powder which contains mica powder and other natural minerals, and it comes in a variety of colours. In the meantime, you will have to buy pure mica powder internationally from a website like Amazon. If you happen to find a local supplier, please let me know so I can share the details on my blog. I'd really appreciate it.
Recommended Retail Option
If DIY just isn't your thing, or if you are looking for a variety of colours that iron oxides just can't provide, then I recommend purchasing Inthusiasm's Trio Compact Eye Enhancers or their individual eye shadows shades which I have personally used and approved. I have used their Green Trio Compact (pictured above), and their individual Chocolate, Gold, Hunter's Green and Cream shades.
How has this natural eyeshadow worked for you? Let me know in the comments below.