Making liquid soap from scratch is a little complicated, which is not for everyone. If that's you, then you will be happy to know that you can easily make liquid soap from a bar of soap. You can use this liquid soap for household cleaning or as part of your skincare regime. Liquid soap is a MUST-DO on a natural DIY list, because this one recipe can replace multiple products in your home.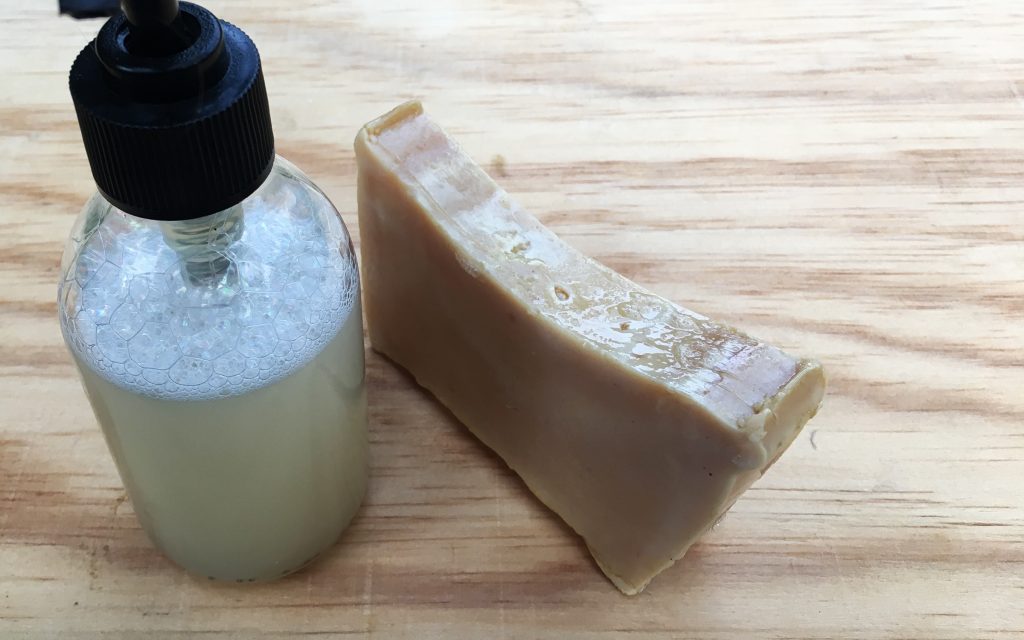 How to make liquid soap from a soap bar

A simple method of achieving a liquid soap by dissolving a natural soap bar. This liquid soap is not suitable for re-selling, but is a good option for personal use.

Instructions
One standard soap bar, makes about 250ml of liquid soap.
Grate your bar of soap in a medium sized pot.
Boil the distilled water, and add gently to the grated soap.
Mix gently until all the soap dissolves. Avoid mixing too vigorously, as this will destroy the bubbles.
If you find that it is taking too long for the soap to dissolve, put the pot on the stove (lowest heat) to help the soap dissolve faster. Otherwise, let the pot just stand for a few hours and check on it again then.
When all the soap has dissolved, transfer the mixture to your container with a funnel.
If using essential oils or other additives, wait for the mixture to completely cool before adding these.
Notes
1.) Uses: Dishwashing liquid, multipurpose home cleaner, body wash, shampoo, shaving soap.
2.) Essential oil suggestions:
For strong antibacterial action for home cleaning -> Tea tree, Thyme, Eucalyptus
For shampoo -> Rosemary
For body wash -> Lavender, Chamomile, Geranium, Rose
3.) To make a thicker, gel-like texture use less water (+/- 50ml water per bar of soap)

TIP:
You can change the thickness of the texture by adding less water.
Melt-and-pour liquid soap, takes a few minutes to make once you have a hard bar of natural soap. If you don't have a bar of soap, then make your own soap bar (here's my soap bar recipe). If you want to make proper liquid soap from scratch (i.e. not diluting a bar of soap), here is my liquid soap recipe. That's the long way around – which is totally worth it if you want professional liquid soap for selling purposes. But for home-use, the melt-and-pour method described in this post is all you need to have liquid soap quickly and easily. By the way, if you are interested in making castile liquid, you will need to make or use an olive oil soap bar in this recipe.
Once you've made this liquid soap, you can transform it for different uses with different essential oils and additives, or you can embark on making some of my other recipes: Moisturising honey & coconut body wash; and Shampoo.
You can also enrol in my online soap-making course, or join me for a real-life soap-making lesson. If you're interested in attending one of my soap-making workshops, you can sign-up to be notified about the next workshop in your area.
COST & SHELF LIFE
Approximate cost: R10,69 per 250ml (this is how much it costs to make one bar of a coconut-olive oil soap)
Lasted me about: 3 weeks (using every day as body wash)
Estimated shelf life: 6 months (stored in an airtight container away from direct sunlight).
*Costs accurate at time of writing this blog post. Costs based on the best retail prices I've found.
CHALLENGE
Consistency: This method can result in a lumpy or layered consistency. The consistency is not as even and clear as making liquid soap from scratch. But it is an effective liquid soap. So if aesthetics isn't a problem, then this method is perfectly suitable. If you want to sell your own liquid soap, you will need to make it from scratch.
CHERRY ON TOP
Easier and quicker than making liquid soap from scratch, especially if you are nervous about using lye.
Versatile: I have saved so much money, since I no longer have to buy separate cleaning products anymore. This one soap works on everything I need it to! In order to transform this soap from Sunlight dishwashing liquid to a Radox-like body wash, you just need to use different essential oils, add a bit of honey and Vitamin E oil.
Not sure where to find ingredients? My shopping guide may help you.
RECOMMENDED RETAIL OPTION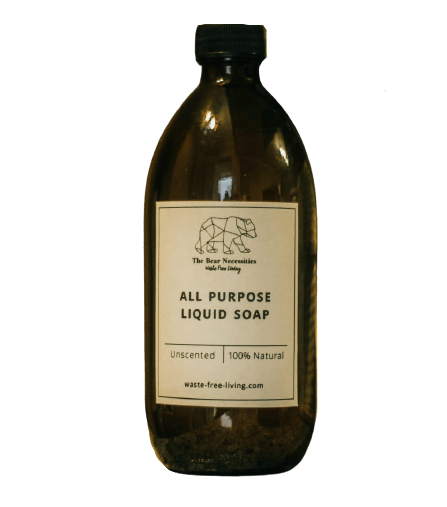 If DIY isn't your thing, I recommend buying the liquid soap made by The Bear Necessities, which I personally rate is the best liquid soap on the natural market, and one of the most affordable too. Plus it's packaged in glass. Other alternatives that I have used include Pure Simple's Castile liquid , as well as Triple Orange All Purpose Cleaner Wonder Gel. However, both of these are packaged in plastic, and they do not lather as well as The Bear Necessities' liquid soap.
How have you used this liquid soap? Let me know in the comments below.