After using this body wash for a month, I discovered a sprouting plant in my shower's drain. If that doesn't tell you it's good for the environment, I don't know what will. Besides turning your drain into a pot plant, this body wash is incredibly nourishing for your skin too. For those of you that are not in the habit of moisturising regularly, this wash is also the perfect 2-in-1 cleanser and gentle moisturiser. However, if you are looking for a more hard working soap like dear old Protex, you should try my hard bar soap recipe.
Instructions
Makes 250ml (1 cup).
Combine all the ingredients well, except the liquid soap.
Add the liquid soap to this mixture, and gently combine without stirring too vigorously; as this will destroy what 'bubbly power' there is.
Pour into a container of your choice. Glass is always best, but recycling an old container is a good idea too.
For best results, tip the bottle upside down and upright again before use, because the body wash may separate into layers. Don't shake the bottle.
Notes
1.) If children will be using this body wash, do not exceed 40 drops of essential oils in this recipe. Please also be careful which essential oils you choose to use. Tea tree, lavender and chamomile essential oils are generally safe for most children.
2.) Use raw, untreated and unheated honey - not the processed stuff that's everywhere. Make sure that the label says RAW honey.
3.) The body wash may separate into layers, depending on the liquid soap that you use. Avoid shaking vigorously, as this will kill what bubbles are left! Rather gently turn your bottle so that the layers combine.
4.) If you want better "bubbly action" and are not particularly looking for a moisturising product, then exclude the sweet almond oil from this recipe.

For my first body wash, I found a recipe that used coconut milk and castile liquid soap – what a failure! The wash itself was fine, but it went rancid within a week, and no one wants to be left smelling like a rotten coconut after showering. So in an attempt to solve this problem, I used another nourishing ingredient that I know has an everlasting shelf life. Honey. What can I say, I love the stuff.
Recipe Variations & Substitutions
Liquid soap:
The best liquid soap to buy or make is one made with coconut oil. It is the best cleanser and produces the best lather. Otherwise, you can make your own liquid soap. Here is my coconut-based liquid soap recipe. You can also use liquid Castile soap. However, the lather is not as great. If having few bubbles doesn't deter you, then Castile liquid is a perfect substitute. There will be bubbles, but they're not nearly as fluffy as the ones you're accustomed to.
Oils:
You can also substitute the sweet almond oil for any nourishing carrier oil. I just like that sweet almond oil is very light and absorbs easily into the skin (as opposed to thicker oils like olive oil). Other light oils include jojoba and grapeseed oil.
Vitamin E:
Instead of buying liquid vitamin E, which you may think is pricey, you can also buy the ordinary vitamin E oil soft capsules that you take as a supplement. I usually buy Vitaforce 400iu Vitamin E and pop one capsule with a needle, and squeeze it out. One capsule is equivalent to about one teaspoon. The cheapest option is Brunel's Vitamin E oil, but it only provides 100iu of vitamin E and is diluted with liquid paraffin, which I choose to avoid in my skincare.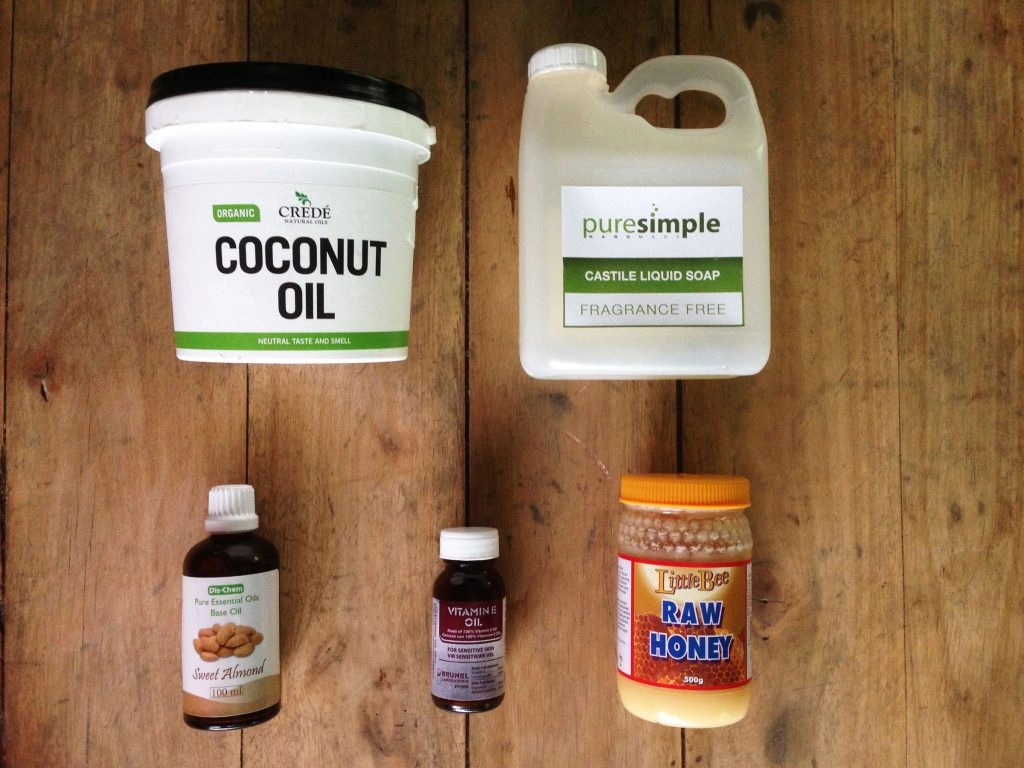 Cost & Shelf Life
Cost price: R28.71 per 250ml
Lasted me about: 1 month (using every day)
Estimated shelf life: 3 months
*Costs accurate at time of writing, and based on the best retail prices I've found.
Challenge
The scents of essential oils don't seem to last very long, therefore I've personally opted to go fragrance-free, as it saves me having to wash my expensive essential oils down the drain. I make myself smell fresh with essential oils in my moisturiser instead. However, if you do want some fragrance, I have found that base notes like cinnamon, vanilla, sandalwood and ginger essential oils last particularly long.
Cherry on top
No need to apply moisturiser afterwards.
The honey helps clear some skin conditions like eczema and breakouts.
Ingredient benefits
Not sure which brand to buy, and where to buy it? My shopping guide may help you.
Which essential oil fragrance combinations work for you in this body wash? Please share in the comments below.
Are you new to essential oils? Please read how to use them safely.