Was there ever a super cheap, all-in-one moisturiser that was easier to make than a sandwich? This recipe would be it. This moisturiser repairs skin, treats acne and is anti-ageing. There are many ways to moisturise your skin that are even simpler than this recipe. For example, you can just apply olive or coconut oil as it is to your skin. But if you are looking for a little bit more than just 'moisturising', then this recipe will nourish, heal and protect your skin with its few additional ingredients.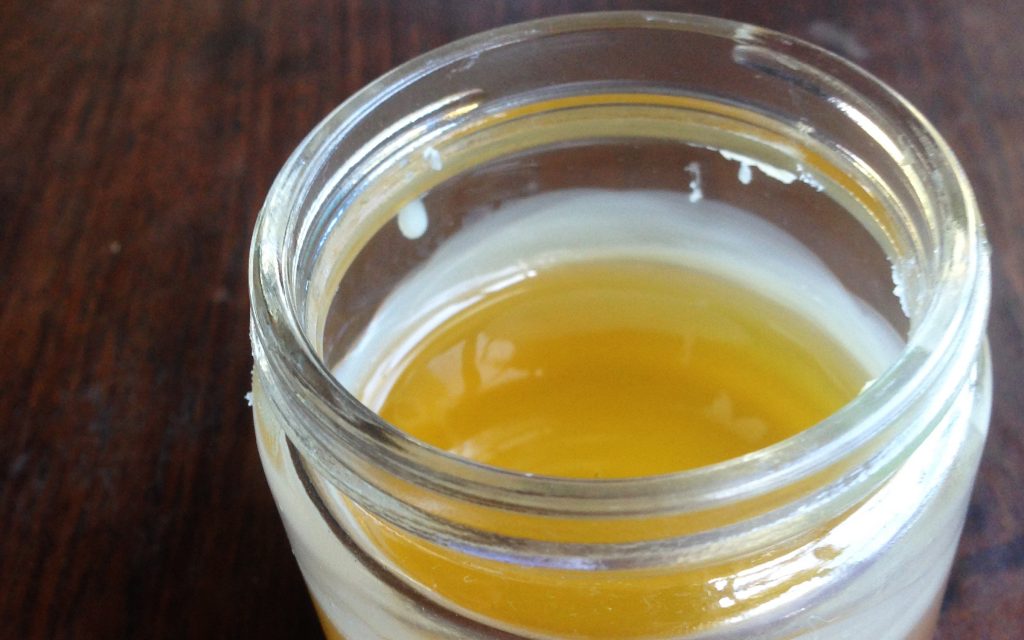 Instructions
Makes 125ml.
Over a double boiler, add the beeswax and a tablespoon of the coconut oil. If you have solid bees wax chunks (instead of pellets), grate the bees wax so that it melts quicker.
As soon as all the bees wax has melted, add the remaining coconut oil and vitamin E oil. Some of the beeswax may re-harden when you do this. Simply keep mixing until the texture is a uniform liquid (without any hard clumps). Be careful not to overheat, as you will destroy the nutrients of the oils - you just want everything to be melted, not boiling hot.
Pour the warm oil mixture into your desired container, and

immediately

stir in your essential oils while the oil is still warm. The mixture will harden as it cools, so you must add the essential oils quickly.
Product is ready to use when it has cooled completely.
Notes
1.) How to make your own double boiler: You need a pot and a heat proof bowl, or two pots. Fill a pot about half way with water. Once the water has come to a boil, place your heat-proof bowl on top of the pot of water. Leave the stove on a low heat. Place your ingredients in the suspended bowl. The hot steam will heat the bowl and gently melt the ingredients. It's that simple. It's the same concept as melting chocolate.
2.) Do not ingest tea tree oil, or any essential oil for that matter. Read how to use essential oils safely.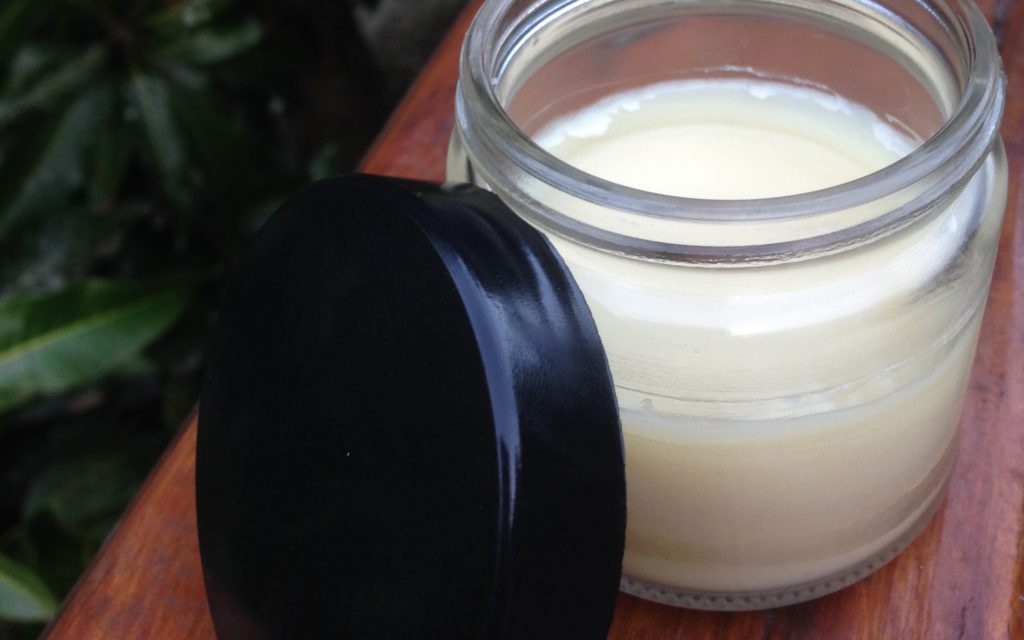 Recipe Variations & Substitutions
You can simply substitute the coconut oil for any nourishing oil (eg. olive oil, sunflower oil, avocado oil etc.). However, if you are substituting in a liquid oil, you will need the bees wax to achieve a firm texture. You cannot exclude it, otherwise it will just be like a liquid massage oil. If you live in a cold climate (below 24 degrees Celsius), then you can exclude the bees wax, because the coconut oil will remain solid and firm without the need for wax. If you are vegan, you may substitute soy wax or carnauba wax instead of bees wax. You can use any essential oils in this recipe. It's totally customisable.
COST & SHELF LIFE
Cost price: R17.48 per 125ml.
Lasted me about: 3 months (using every day).
Estimated shelf life: 1 year if stored away from direct sunlight and moisture.
*Costs accurate at time of writing, and based on best retail prices I've found.
CHALLENGE
Texture may be too hard if you live in a cold climate: South Africa is generally a warm country , with temperatures often being over 24 degrees Celsius. That's the melting point of coconut oil, so that's why I've included bees wax in this recipe to keep the texture firm. However, if you live in a cold climate or if it's winter, adding the beeswax will result in a rock-hard product. To fix this, simply exclude the bees wax in this recipe.
Not a good hand cream: You may find that it doesn't absorb well into the hands to be an effective hand cream. If so, I suggest making my nourishing hand cream recipe.
Oily texture: The primary ingredient is coconut oil after all, so naturally, you can expect an oily residue. If this is not for you, then I recommend making a true lotion – which is an emulsion of water and oil. It's more complicated, but the end product absorbs completely into your skin without any oily residue. Here's my lotion recipe.
CHERRY ON TOP
Super cheap, yet effective anti-ageing cream with a very long shelf life.
This is the quickest and simplest natural moisturiser recipe. Nothing complicated to it at all (unlike emulsions).
Customisable: You can use this as a base for your essential oils to make an ailment specific topical treatment. For example, for an insect repellent lotion add citronella essential oil to the coconut oil & vitamin e mixture. The essential oils used in this specific recipe work well for anti-ageing and also treats skin prone to breakouts.
INGREDIENT BENEFITS
Need help finding these ingredients? My shopping guide may help you. Are you new to essential oils? Please read how to use them safely.
What do you use to moisturise your skin naturally? Please share in the comments below.