You think making soap is complicated, right? Not really. I don't know why I was so daunted by the idea of making soap. It's not as difficult as I'd expected. Yes, it involves more effort than my usual recipes, but this basic soap bar recipe just requires some common sense. So if you've got time and common sense, you've got this.
This post shares how to make a basic fragrance-free soap. You can use this as a base to add your own fragrance and colour as you please. I have purposely chosen affordable oils for this recipe, since it is a formulation for beginners who have never made soap before. That way, if you do mess up, at least it won't cost you a fortune compared to if you decided to start with extra virgin olive oil, for example! I've even included step-by-step photos that'll guide you to your bubbly bliss.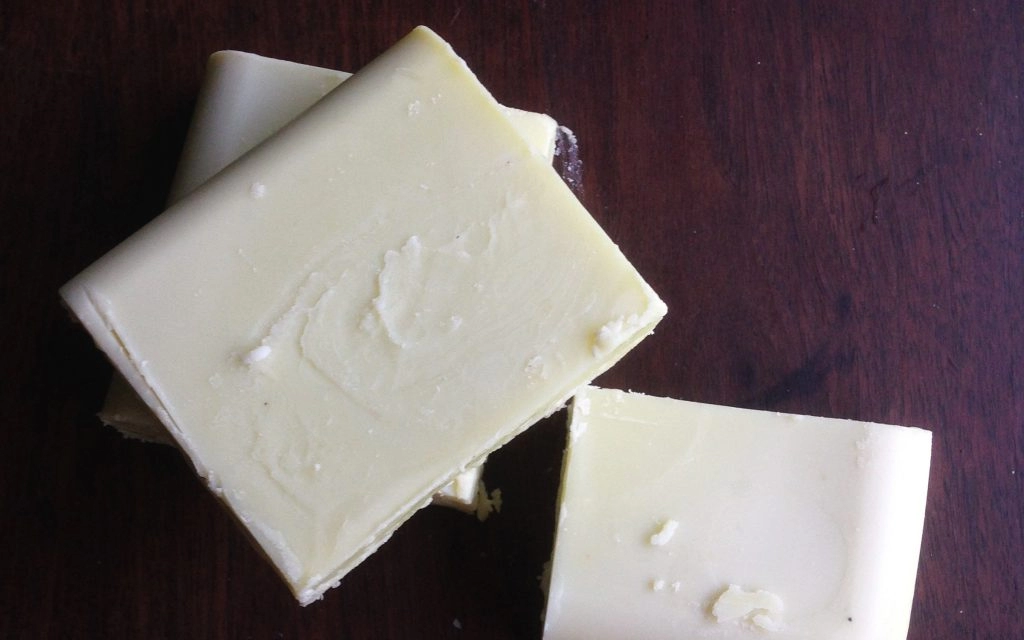 After a bit of practice, I'm sure you will also be whipping up soap in less than half an hour. If not, then you can enrol in my soap-making course. Before we lather up, let me deal with a few FAQs…

Frequently Asked Questions
Soap Bar Recipe (With Step-By-Step Photos)
This makes about 1.5 litres of soap, which is roughly 15 bars. That's enough to last one person six months or more!
This recipe has been formulated to be used on your skin. It is bubbly, yet moisturising. Although you can use it for other cleaning purposes, it is best used for skincare. If you are looking for a tough, cleansing bar for dishes and laundry, I recommend using my multipurpose soap bar recipe.
Beginner Soap Bar

A fragrance-free soap bar recipe which is ideal for beginners who have never made soap before. This soap recipe has been formulated to be used for skincare.

Ingredients
For the Soap:
Equipment & Tools:
A kitchen scale
A heat-proof glass bowl for the water. Check that the bowl is microwave and dishwasher safe.
Large

stainless steel pot

for oils & water (minimum capacity: 2 litres)
Immersion blender, or electric two-prong whisk
Stainless steel spoon
Stainless steel chopping knife
Soap moulds for 1.5 litres of soap (ice-cream/ margarine containers work really well too)
White vinegar for cleaning any spills
A cloth soaked in white vinegar for cleaning
Instructions
Measure out the quantities exactly with a scale:

This recipe is like chemistry. Unfortunately, there's no compromise and you have to use a scale, and follow all instructions to a tee.

Make the lye solution:

Slowly add caustic soda to water in a glass mixing bowl (NOT the other way around). Do this in a well-ventilated area. Outdoors away from any pets is best . Do not inhale any of the fumes from the reaction. The solution will be murky and it will become hot, this is normal. This solution is known as lye.

Start heating the oil:

Heat the oil in a genuine stainless steel pot. Do not let it get to boiling point, this is way too hot. If the oil is too hot, your soap will flop and turn into a volcano. If you have a thermometer, the ideal temperature for the oil is 50°C. You should be able to touch the oil and not burn – not that I'm encouraging you to touch hot oil, this is just to give you an idea of what 50°C feels like. The oil is hot, but nowhere near boiling. While the oil is heating up, your lye solution will be cooling down. The lye should start looking more clear (less murky) with time. Make sure that all the caustic soda crystals are dissolved by stirring with a stainless steel spoon.

Combine lye with the oil:

First switch the stove off. Once both the oil and lye solution are roughly the same temperature (approximately 50°C), add the lye mixture to the oil. Do not touch the lye mixture to determine the temperature please – you will suffer a chemical burn. Rather touch the side of the glass bowl, or use a thermometer. Once combined, start blending with an electric mixer or immersion blender. Mixing by hand can take hours! Again, please make sure that the stove is turned off at this point.

Blend until you reach "trace":

Trace is basically the state when the soap mixture is ready to be transferred into your moulds. You know you've reached trace once the mixture has the texture of instant pudding. When drops of the mixture fall back into the pot and show a visible trace of themselves on the surface, this is trace. The droplets shouldn't sink back in quickly, or disappear immediately. The time it takes to reach trace depends on your oil and the speed of your electric beater. It takes me about 5-10 minutes to reach trace with this recipe when using an immersion blender, and 10-15 minutes using a two-prong electric beater (the one in the image below). If my description has just confused you more, I do hope the picture helps!

Add your additives (optional):

If you'd like to add essential oils, fragrance oils, spices, herbs, clays, iron oxides or a few drops of liquid colouring – Now is the time. Don't add too much, as you can upset the soap formula and end up with oily or crumbly soap. I'd recommend about 5-10ml of essential oils, 5ml of fragrance oils, and up to 2 tablespoons of herbs, powders or other oils and butters.

Transfer the soap mixture into your mould:

I like to use empty ice-cream and margarine containers, because the plastic is thick enough not to melt, yet flexible enough to get the soap out easily once it hardens. Some people use proper wooden soap molds lined with freezer paper, or even silicone baking molds. Do not use tin foil to line your moulds, and do not use your metal baking tins or Tupperware as moulds – you will destroy both the soap and the tins/ Tupperware.

Insulate your mould with a towel or blanket, and store in a warm and dark place overnight:

I put the lids on my ice-cream/ margarine tubs, wrap the containers in towels for insulation and store in a cupboard overnight.

Cut soap into bars after 24-48 hours:

The soap is firm enough to remove from the mould, yet soft enough to be cut into bars. If you wait longer than 48 hours, it may be difficult to cut your soap, and it will crumble. Cut your soap with a stainless steel knife. It will be like the texture of a hard cheese. Do not use your soap at this point, it still needs to cure. If you use it, your skin might suffer from a chemical burn. The lye is still reacting with the oil, only once this process is complete (curing), then you can use your soap.

Let your soap cure:

Like good wine, good soap needs time to cure. The saponification process is still taking place, and your soap is still not safe to use. Place your bars in a well-ventilated area, away from direct sunlight and allow them to cure for a minimum of 1 week until it is safe to use, and 3-6 months for best results. I let my soap cure on an open shelf that doesn't get direct sun. The longer the cure, the better (but not more than 10 months). Remember to turn them occasionally (every week is good), so that each side gets exposure to the air.

Lather up!

You can use this soap as a body wash or shampoo bar. If you want to make a soap bar that is perfect for washing dishes and laundry, here is my multipurpose soap bar recipe.
Notes
Plastics that are safe for soap-making: HDPE and PP (look for these codes on the label/ packaging).
You cannot substitute the oils in this recipe. If you do, you'll have to run it through a lye calculator again to make sure you have enough caustic soda for the oils you want to use.
You may multiply the quantities in this recipe to make a larger batch.
Consider enroling in my soap-making course to learn how to use soap calculators to formulate your own, unique soap recipes using the oils that you want.
Cost & Shelf Life
Cost price: R3.76 per 100g soap bar, or R56,50 for the entire 1.5kg batch (in 2019, based on the best retail prices I've found).
Lasted me about: 2 weeks using every day (one bar).
Shelf life: 2 years if stored away from direct sunlight.
Challenge
Long curing time: One week is not necessarily a long time, but when you've just made your first batch of soap, you will obviously be eager to try it out, so one week may seem like forever. This recipe uses the room temperature/ cold process (CP) method, but if you'd like to cut the curing time substantially, then you may want to consider the hot process (HP) method. You can use HP soap immediately, whereas you must wait at least one week before you can use CP soap. However, the HP method requires you to be much more precise with temperatures, you need a crock pot/ slow cooker and the method is much longer (2 hours to the mould step). Whereas, the cold process method is very quick (less than 30 minutes to the mould step), but the curing stage is longer.
Cherry on Top
Customizable: You can completely customize this soap recipe. You can use any essential oils or fragrance oils, colouring and textures.
Save money: You can make natural soap in bulk, and save the cost of purchasing it all the time. Natural soap is expensive to buy.
Friendly soap: This soap is super friendly. It's eco-friendly, grey-water friendly, septic tank friendly, aquatic life friendly. It only contains what you need in a soap bar.
Ingredient Information
Caustic soda: is also known as sodium hydroxide (NaOH), which most people know as drain cleaner. It is a highly alkaline substance (pH 14) used to dissolve fats in drains, and saponify oils into soap. Although it is a hazardous chemical, in the soap-making process it is necessary to convert all oil into soap. When measured accurately, there will be zero caustic soda in your final soap bar. The final products of the chemical reaction are sodium salt, glycerine and soap. This is why it is safe in natural soap, but it should be used with caution. i.e. Water + Caustic Soda + Oil —> Salt + Soap + Glycerine. (buy here)
Coconut oil: is used to create a hard, cleansing bar of soap with good lather. Since all the oil turns to soap in the chemical reaction, I recommend using the cheapest and most refined coconut oil. Remember, it also washes down the drain anyway. (buy here)
Sunflower oil: is used to create a moisturising and gentle bar of soap. (buy here)
Let me know how your soap making journey goes in the comments below. I'd also love to know what additives you've chosen to use, so please share. Photos are welcome too 🙂