Some beginner DIYers have told me that they avoid making their own moisturisers, because most DIY recipes are oil-based and they do not like the oily residue. This recipe is for those people. I created this nourishing, yet non-greasy suspension which you can whip up in less than five minutes. 
This moisturiser uses aloe vera gel as its base. The trick to creating a non-greasy moisturiser – a true lotion – is to mix oil and water. Oil nourishes, and water is easily absorbed and non-greasy. Mix the two together, and you have a perfectly nourishing lotion that doesn't leave you looking like a glazed donut. However, in order to mix oil and water you need something called an emulsifier. This recipe, however, is the simplest non-greasy moisturiser, because it doesn't require an emulsifier. It is a suspension, not an emulsion. If you want to go down that slightly-more-complicated road, then here is my basic emulsion recipe, which will have the same texture as store-bought lotions.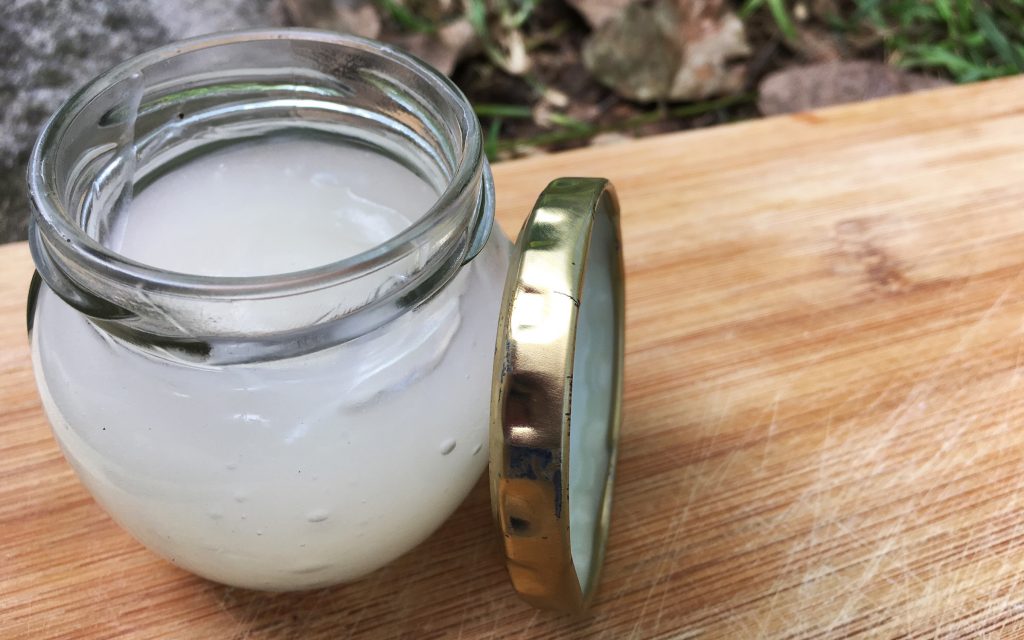 Non-Greasy Moisturiser

A light moisturiser recipe that is quick to make and won't leave a greasy residue.

Instructions
Combine jojoba oil, carrot seed oil and vitamin E oil together. Mix well.
Add this oil mixture to the aloe vera gel, and mix thoroughly until combined. Stir until you no longer notice any visible layer of oil. The oil droplets should be suspended evenly throughout the aloe gel.
Transfer mixture into a sterilised container.
Store in a cool place, out of direct sunlight and use within 6 months.
Notes
You can use any essential oil(s) of your choice in this recipe. I use carrot seed for its anti-ageing properties.

Recipe variations
The most basic recipe only requires aloe vera gel and vitamin e oil – all other ingredients are optional. You can use any aloe gel (like aloe ferox, for example) it doesn't have to be aloe vera. You could also use freshly harvested aloe gel from your garden, however, the shelf life will be significantly shorter and you will have to use the product immediately. To extend the shelf life of fresh aloe, you will have to add a preservative. Although I think jojoba oil works best, you can substitute this with any other carrier oil. You can also use whichever essential oils you prefer – I chose carrot seed for its anti-ageing properties.
COST & SHELF LIFE
Cost Price: R107.90 per 100ml.
Lasted me about: 2 months using a pea-sized amount on my face every morning and evening.
Estimated shelf life: 6 months if stored away from direct sunlight and moisture.
*Costs accurate at the time of writing, and based on the best retail prices I've found.
CHALLENGE
Aloe vera gel is expensive: Even without the optional ingredients, aloe vera gel is more expensive to use as a base, when you compare it to the cost of oil-based recipes.
CHERRY ON TOP
No oily or greasy residue: This moisturiser absorbs perfectly while still providing your skin with the nourishment it needs.
INGREDIENTS
Need help finding these, or other ingredients? My shopping guide may help you.
RECOMMENDED RETAIL OPTIONS
If you don't want to make it yourself, then these are some natural aloe gel-based products which I have personally used and approved:
1.) Natraloe Regenerating Aloe Gel: This is the most cost-effective aloe gel I've found, and it also contains the best ingredients. You get the most bang for your buck here at about R185 for 250ml. When I cannot find 100% aloe vera gel, I use this in my recipe instead.
2.) Totally Wild Organic Aloe Gel: This is the more costly option at about R100 for 100ml, but it is a certified organic product after all. That said, it's a great price for a certified organic product. It contains magnificent ingredients and has a lovely texture, although the fragrance may not be for everyone.
Do you think that this is a good non-greasy moisturiser recipe? If you've tried it, please share your feedback in the comments below.