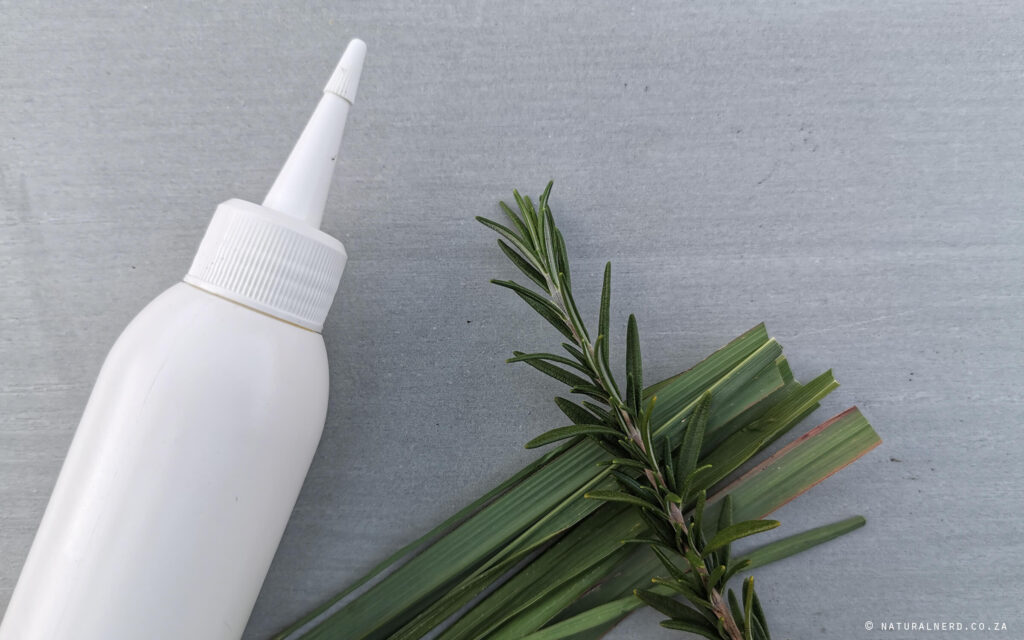 This non-greasy tonic will moisturise the skin on your scalp, relieve itchiness, and help to keep your hair follicles clean. My scalp tonic is not a cure for dandruff, because there are many causes of dandruff and dry scalp. However, it is for anyone who wants to moisturise their scalp and maintain good scalp health. The herbs used in my recipe have been shown to hinder the growth of common bacteria and fungus that grow on the scalp, and to promote healthy hair growth.
Herbal Scalp Tonic For Dry Scalp

A light, water-based tonic which helps treat dry scalp and dandruff with herbal ingredients.

Instructions
Makes 100g.
Combine the decyl glucoside and essential oils. Stir well until the mixture turns uniformly creamy and there is no separation.
In a separate bowl, combine the glycerine and preservative (Geogard Ultra powder).
Combine the glycerine mixture and essential oil mixture from step 2 & 3.
Slowly stir in the rosemary hydrosol a bit at a time, until everything is incorporated.
Once all the Geogard Ultra powder is dissolved, test the pH of the final product and, if necessary, correct it to be between pH 4 – 5. See notes for more information. You may have to cover the product and let it stand for an hour or two until the Geogard Ultra powder dissolves – it can take a while.
Transfer into a sterilised container, and use within 3 months.
Directions for use: Apply directly to scalp, and use your fingers to massage it around until the tonic is thinly distributed around the entire scalp area. Do not rinse off, as this is a leave-on product. Re-apply every day. Since the product is water-based, you can apply it in the morning and leave it on for the day, without it making your hair look greasy.
Notes
When I make this recipe the product tests at pH 5, which is perfect, and needs no adjustment. You should always do your own pH testing, especially if you've changed anything.
Essential oils for dandruff: Lemongrass, Oregano, Tea tree, Eucalyptus.
Essential oils for dry, itchy skin: Lavender, Peppermint, Sandalwood, Frankincense, Geranium.
How to correct pH: Always test pH at room temperature with pH strips or a digital pH meter. The pH of hair is 4.5-5. If the pH tests too high, add a few drops of diluted citric acid and re-test. If the pH is too low, add a few drops of diluted bicarbonate of soda and re-test. Repeat, a few drops at a time, until you achieve the correct pH. I recommend making a 25% dilution. In other words, dissolve 1 part with 4 parts distilled water (by weight).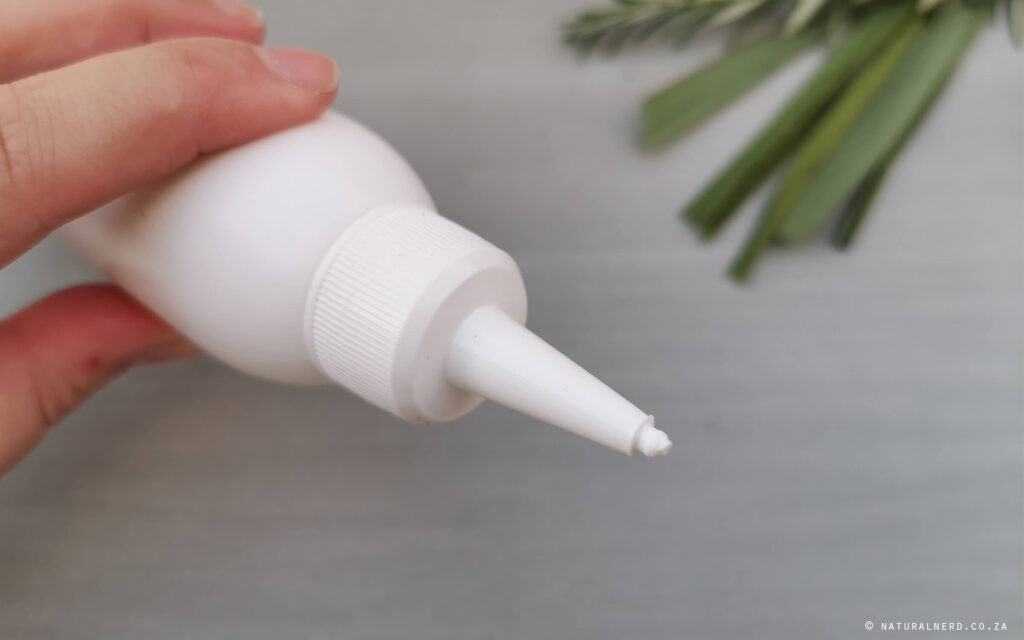 Dandruff vs. Dry Scalp
Let me quickly clarify that there is a difference between dandruff and dry scalp. Dry scalp is usually caused by a lack of moisture in the skin, or due to an allergic reaction from certain products used on the scalp (eg. shampoo, hair spray, certain ingredients like alcohol or fragrances etc.). Whereas, Dandruff is usually caused by too much oil on the scalp. This may be due to the overgrowth of a fungus called malassezia, stress, hormones, age, diet, or even your DNA. One key difference is that dry scalp often shows up as small, dry flakes, whereas dandruff flakes are large and oily. Washing your hair frequently may help control dandruff by reducing the amount of oil on your scalp, but it may need the intervention of medicinal shampoo or a visit to the dermatologist. [1]
The effectiveness of some essential oils on dandruff has been researched. The most promising essential oils which have shown an inhibitory effect on the fungus malassezia include lemongrass, oregano, garlic and tea tree [2, 3, 4, 5, 6].
Recipe Variations & Substitutions
Essential oils
To make the simplest version of this recipe (and without essential oils), you can actually just create a blend of hydrosols and stir in some glycerine. That's it. For example, you can blend rosemary, lemongrass, lavender and peppermint hydrosol together with glycerine. You won't need the solubiliser (decyl glucoside) or essential oils. The only reason that I don't do it the easy way is simply, because these hydrosols are not always available to me, but the essential oils are always readily available.
Rosemary Hydrosol
You may use plain deionised or distilled water instead of rosemary hydrosol, or any other hydrosol for that matter. I've seen both lemongrass and tea tree hydrosol before, which would make an excellent substitute for those with dandruff, but it's not widely available enough for me to include in my recipe. If you struggle with dry scalp rather than dandruff, good substitutes are chamomile, frankincense or geranium hydrosol. You can also use pure aloe liquid instead of a hydrosol. Another option is to make a rosemary water by making your own rosemary glycerite, and using that instead of the glycerine in water.
Decyl Glucoside
Decyl glucoside is a natural, plant-based surfactant. The sole purpose of this ingredient is to solubilise the essential oils – in other words, to dilute and evenly disperse them throughout the product. An even better performing natural substitute is actually caprylyl/capryl glucoside – if you can find it. Decyl glucoside is the best option that's widely available in South Africa. You can also substitute the decyl glucoside for another alkyl glucoside like coco glucoside. Better yet, you can use a proper natural solubilizer like SymbioSolv Clear Plus or Polyglyceryl-4 Caprate instead of a surfactant (again, if you can find these). As a last resort, you can even use a natural liquid soap. Soap is a poor solubilizer and will cause layering in your product, but it will at least dilute the essential oils. It's better than nothing. The "unnatural" solubilizer options are polysorbate 20 and polysorbate 80. Remember to adjust my recipe according to the manufacturer's instructions.
Geogard Ultra
You can substitute with another water-soluble, broad spectrum preservative. Your product will probably have a different pH though. Remember to adjust my recipe to fit the manufacturer's instructions of your preservative and to test and adjust the pH accordingly.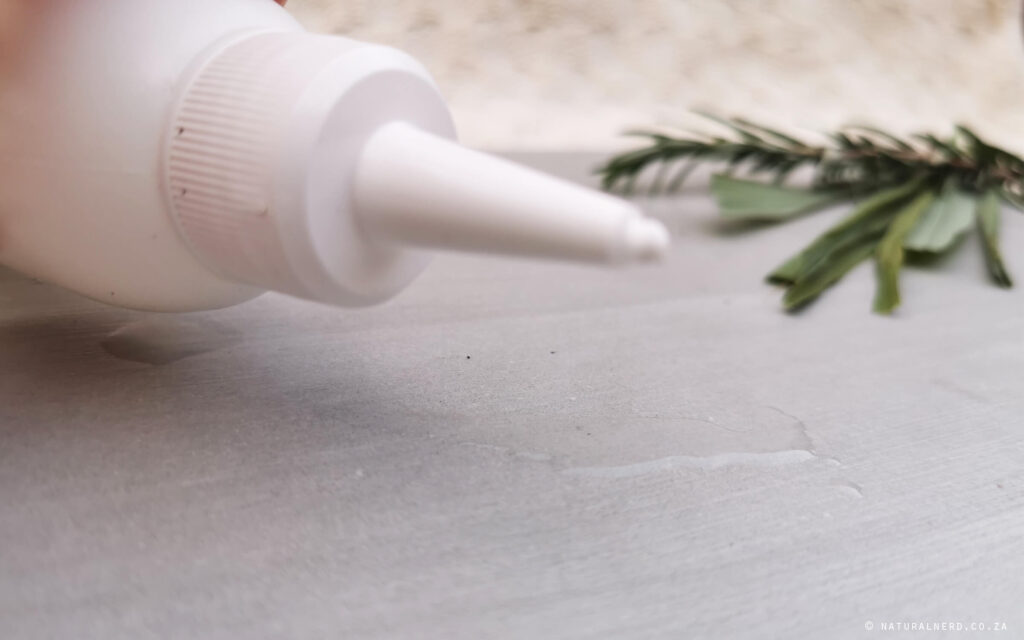 Cost & Shelf Life
Cost Price: R70 per 100g. (Costs accurate at the time of writing in 2023).
Lasted me about: 2 weeks using everyday.
Estimated shelf life: 3 months if stored in a sterilised bottle, and out of direct sunlight.
Challenge
You must remember to apply this tonic regularly to see results.
Cherry on top
Plant-based and vegan recipe.
It won't make your hair greasy, so you don't have to wash it out. You can wear it all day, everyday.
Ingredient Information
Need help finding these, or other ingredients? My shopping guide may help you. Are you new to essential oils? Please read how to use them safely.
Recommended Retail Option
Dr. Hauschka Revitalising Hair & Scalp Tonic is the most similar retail product to my recipe. I have not personally used this product, but based on the positive reviews from customers, this is a great choice if you are looking to buy a certified organic product for dry scalp and dandruff. The primary herb used in their formulation is Neem.
Have you made this recipe? How has this scalp tonic worked for you? Please share in the comments below.