There is no miracle plant that will shed kilos for us while we sit and laze about eating cakes and watching TV all day. In order to lose weight, we all need to exercise and eat healthy. However, on top of that, regular massage and application of certain essential oils will definitely help tone your skin, improve circulation and reduce the appearance of cellulite. The essential oils used in this recipe will improve your body tissue tone, and many also have a diuretic effect which will help your body eliminate some toxins associated with cellulite. Since the essential oils are the active 'toning' ingredients, you can use any natural cream base, even my simple coconut oil lotion. However, the ingredients used in this particular recipe are incredibly nourishing and moisturising, just as you would expect of a body butter.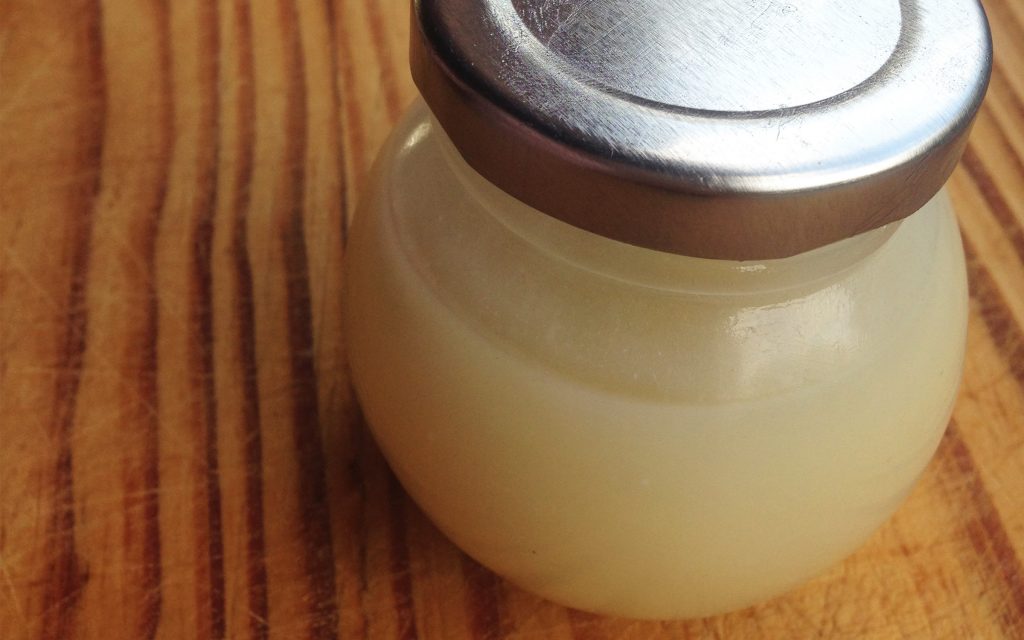 Skin Toning Body Butter

A natural body butter recipe which includes essential oils that improve circulation and skin tone.

Instructions
Makes about 300ml.
In a double boiler, melt the beeswax with 1 tablespoon of the coconut oil. Be careful not to overheat, you just want the beeswax to melt, not boil.
Once the beeswax has melted, add the shea butter and remaining coconut oil. Let it melt.
Once this mixture has melted, add the vitamin E oil and glycerine. Stir well.
Transfer to your container while the mixture is still warm, and quickly add your essential oils. Mix well.
Allow to cool. As the mixture cools, it will harden to a cream-like texture.
Optional: Once cool, you may whip the butter with a whisk or fork to create a "whipped" body butter.
Store away from direct sunlight and use within 6 months.
Notes
1.) Essential oils for cellulite & improved skin tone: Grapefruit, Lemon, Rosemary, Basil, Orange, Lavender, Thyme, Lime, Lemongrass.
2.) My personal essential oil blend for this body butter: 15 drops grapefruit, 15 drops rosemary, 10 drops lemon, 5 drops thyme, 5 drops orange.
3.) Substitutes: Bees wax is optional, especially if you live in a colder climate. Since coconut oil melts in warm weather, the bees wax ensures a solid cream texture even through summer.
4.) Caution: Citrus essential oils will make your skin sensitive to UV light, which will cause you to sunburn more easily/ quickly. If you choose to use these in your recipe, I recommend applying this body butter in the evening to avoid sunburn.
5.) How to make your own double boiler: You need a pot and a heat proof bowl, or two pots. Fill a pot about half way with water. Once the water has come to a boil, place your heat-proof bowl on top of the pot of water. Leave the stove on a low heat. Place your ingredients in the suspended bowl, and wait for the ingredients to melt. It's that simple. It's the same concept as melting chocolate.

COST & SHELF LIFE
Cost Price: R54.23 per 300ml
Lasted me about: 1 month (using daily).
Estimated shelf life: 6 months (if stored away from direct sunlight).
*Costs accurate at the time of writing, and based on the best retail prices I've found.
CHALLENGE
Need to be careful of sun exposure, because citrus essential oils are photo-toxic. In other words, they may cause you to get sunburned quicker/ more easily. I highly recommend applying this body butter in the evening if you choose to use citrus oils.
CHERRY ON TOP
The citrus scent is so fresh and smells divine.
INGREDIENT BENEFITS
Need help finding these, or other ingredients? My shopping guide may help you. If you are pregnant, nursing or new to essential oils please read how to use them safely.
Have you made this recipe – what do you think? Please share in the comments below.